---
DUmmie FUnnies 07-02-08 ("Wow. Just wow.": Obama moves right, DUmmies fight!)
DUmmie FUnnies ^ | July 2, 2008 | DUmmies and Charles Henrickson


Posted on 07/02/2008 8:48:43 AM PDT by Charles Henrickson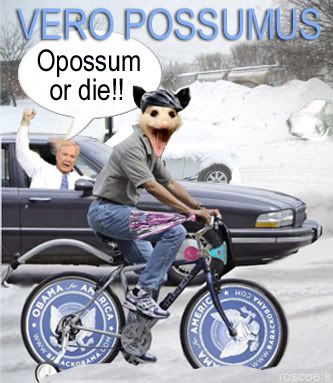 Obama moves right, DUmmies fight! Barack Opossum's recent (phony) moves to the right have got DUmmieland in an uproar. The DUmmies want their Obamassiah to remain true blue to looney leftist orthodoxy--and SOUND like it! No pandering on such repugnant themes as "patriotism" and "faith"! So Barry's speeches the last few days have got them all in a tizzy. Some are declaring they WILL NOT VOTE for the Possumptive Democrat Nominee. Vertigo Posthumous: This campaign is dying so fast it'll make your head spin! Others DUmmies, more cynical, recognize that B.O. Plenty is simply LYING with this Typical-American-Person-sounding stuff, in order to get elected. In any case, DUmmieland is all shook up, as witnessed in this THREAD, "Wow. Just wow."
So let us now gaze into our DUmmie Ant Farm and see our little friends scurrying to and fro, in Bolshevik Red, while the commentary of your humble guest correspondent, Charles Henrickson, reminding you that today is the last voting day for the baseball All-Stars, is in the [Barackets]:
Wow. Just wow.
[Hee. Just hee.]
What on earth has happened to cause so much in-fighting?
[The sun came up? In-fighting is Condition: Normal in DUmmieland.]
this mornings activity looks like a freepers wet dream: threads upon threads of anger, lack of real debate and conversation, and attacks... Lots of attacks.
[Dreams from My FReeper.]
I thought we got over this now that the Primaries have all but concluded.
[You don't have Hillary Clinton to kick around any more, so now you're taking your anger out on Barry.]
May I interject in the conversation that Obama's move to the center was about as predictable as the sun rising in the East this morning.
[Thus as predictable as DUmmie in-fighting.]
Obama was our choice - the choice we got fired up about and the best shot at winning back the white house.
[I sense some "buyer's remorse" here.]
It's more advantagious for them to change the subject to Obama's lack of patriotism than to talk about $4 dollar a gallon gas. . . . So it makes sense to talk about it now. . . .
[I say, let's talk about how gas prices have skyrocketed the most, ever since the DEMOCRAT Drill-Nothing Congress has taken over. Then let's talk about Barack Hussein's lack of patriotism, too.]
Reading GD: P threads today, they just seemed so knee-jerk to me.
[To me, they just seemed like jerks.]
Nominated!
[This thread, or Obama? Unfortunately for you guys, it's too late to change the latter.]
KICK
[. . . Obama to the curb.]
If I see one more "F*ck this or f*ck that" post here . . .
[Should take about 15 seconds.]
it's taken on the air of tantrumming. I'm going to try and just create an enormous ignore file with the tantrummers. . . .
[ignoreallposts.doc]
One: FISA-don't spy on me, or my family...
Two: Faith based programs-Seperation of church and state please....
Three: Funding of the war-Just end it already-it was a lie.....
[Four: I hate Obama....
Careful, you're on the verge of tantrumming!]
There's a lot of trolls running around.
[That was no troll, that was Dennis Kucinich!]
pragmatism will win the day. . . .
[Pragmatism = phony patriotism.]
Pragmatism - what an uninspiring word.
[Veto pragmatus.]
I was at the speech yesterday in Independence and I came home just glowing. . . .
[Like Moses coming down from Mount Sinai! Yes, you were in the presence of Obamassiah!]
Obama simply acknowledged McCain's patriotism and his own and moved on.
[Not really. The point was to insulate HIMSELF against criticisms of his OWN patriotism. "I won't criticize anyone else's patriotism . . . so you better not criticize mine!"]
Seems Democrats really are Dumbocrats sometimes. . . .
[Make that "DUmmiecrats." "Dumbo-crat" would be Mr. Big Ears.]
Obama chose a natural lull in the campaign just before July 4 to address patriotism, and seems to have done it just as effectively as the Wright issue.
[Thanx for mentioning Barry's de facto running mate this fall, namely, Jeremiah "God D*MN AmeriKKKa!" Wright. Even though he's been thrown under the bus, Crazy Uncle Jerry will indeed be running wright beside Barry. Obama's campaign slogan might just as well be, "In your heart you know he's Wright."]
sometimes the means justifies the ends.
[Is this Obama's "New Politics"?]
I would think the Alert button could be used more.
[I would think the Albert button could be used more when voting for the All-Stars.]
I usually filter the threads I look at by focusing on the Greatest Thread list. Hope that doesn't make me a thread elitist.
[THREADIST! A true progessive would read EVERY thread! Down with "Greatest" anything--Greatest Thread, Greatest Country, whatever!]
if young and dumb wants to fire a torpedo at old and evil be prepared - our knees jerk very very swiftly, if not wisely.
[The young and the DUmb are being swift-jerked!]
Memo to Obama: Moving to the Middle is for Losers
[Signed, Dennis Kucinich]
now he is becoming PREDICTABLE DEMOCRAT TRYING TO GO ALL CENTERY. . . .
[A Bridge to the Plenty-Worst Centery.]
kucinich was the man if change is what you wanted and we missed our chance.
[Where have you gone, Dennis Kucinich?]
Oy. Just Oy.
[Goy. Just Goy.]
It's not simply that Obama disappoints. He horrifies.
[I'm sorry, that qualifies as tantrumming. Time out for you.]
People really do need to get their knickers unknotted.
[Did you say "knicker"?! Off to rehab with you!]
I don't like him, I don't trust him and I'm not voting for him.
[But . . . but . . . he's Obamassiah!]
The borgs rule. Their message is simple: "Obey. You Will Be Assimilated. Resistance Is Futile. We Are Borg." This board has become borgheaven.
[DUmmieland.borg]
I read 100 pages of "Dreams from My Father" last night. . . .
[Still couldn't get to sleep though, huh?]
Our most progressive Democrats like Ted Kennedy, Al Gore, Russ Feingold, Barbara Boxer, etc. will help him and bring him along.
[The Dream Team. Yikes!]
Oh ye DUers of little faith. . .
[BELIEEEEEEEEEEEEEEEEVE in Obamassiah!!!!!!!!!!!!!]
Step One: don't let the "Conservatives" get in our heads, and GET OUR MAN IN OFFICE.
Step Two: after our man is in office, stay active and DEMAND GOOD GOVERNMENT.
[Step Three: MOVE TO FRANCE.]
I have literally had someone tell me that they would try to get me banned if I didn't just "tow the line" (their mispelling) and stop questioning the candidate's policies. Stupid little whelp, I'm wearing his balls for earrings right this moment.
[Is that you, benburch?]
The negativity around here is disturbing to say the least.
[There's a disturbance in the Farce.]
You give me faith because I was starting to conclude that most DUers are one-note morons.
[No, some of them are two-or-three-note morons.]
It's a first election for a lot of people.
[WilliamPitt--yes, THE William Pitt--wakes up and chimes in! Rough night at Bukowski's, eh, Will?]
And if the Dems lose lose the WH and a larger majority, it may be the last one for all of us.
[Opossum or die!!]

---
TOPICS: Humor
KEYWORDS: dufu; dummie; dummiefunnies; dummies; obama
---
Navigation: use the links below to view more comments.
first 1-20, 21-40, 41-53 next last
---
---
---
---
---
---
---
---
---
---
---
---
---
---
---
---
---
---
---
---
---
Navigation: use the links below to view more comments.
first 1-20, 21-40, 41-53 next last
---
---