---
To: ckilmer
As to the famous newsclipping in Hawaii that states that bama was born there in 1961--there is evidence to suggest that the house named as the place where Obama was born -- was lived in by someone else besides his parents.
Quite likely, since I doubt they could have afforded the rent. However, they might well have rented the cottage in back of the house.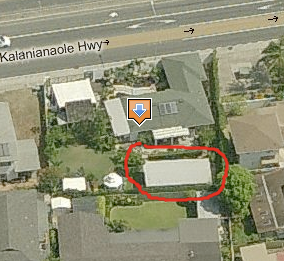 ---
To: cynwoody
there is no way that outhouse was built prior or even in 1961.
40
posted on
07/23/2009 12:02:51 PM PDT
by
LeoOshkosh
(Crazy Leo is right again)
---
To: cynwoody
According to
ObAMAfILE
How does July 22, 2008 sound as the birth announcement discovery date. The "birth announcement" is on microfilm/fiche from the Honolulu public library microfilm of a notice placed in the Sunday Advertiser Aug. 13, 1961. The announcement in the "Births, Marriages, Death" section read: "Mr. and Mrs. Barack H. Obama, 6085 Kalanianaole Hwy., son, Aug. 4."
The problem is, Orland Scott Lefforge owned and occupied the house at 6085 Kalanianaole Highway. The "Obamas" didn't live there.
In 1961 the Dunhams lived on Kamehameha Avenue, while Obama Sr. lived on 11th Avenue. The Lefforge family, including their 3 children under the age of seven were residing at the luxury home listed on Obama's newly found birth announcement -- 6085 Kalanianaole Highway.
I have never seen any evidence that Obama Sr. and Anna Dunham ever lived as a married couple anywhere.
.................
According to
WND
Arakaki told Baro's investigators she had no recollection of Obama being born or of the family living next door having a black child born to a white mother.
Baro sent a team of investigators to Honolulu to explore records regarding current residents of Kalanianaole Highway and to track down residents back to 1961.
Baro's investigators were unable to locate any current or past resident of Kalanianaole Highway who could recall Obama or his family living at the address listed in the Sunday Advertiser announcement.
Baro also sent investigators to the newspaper offices to examine files, but the Advertiser could not confirm who actually placed the ad.
According to Baro's affidavit, Beatrice Arakaki affirmed she was a neighbor of the address listed. She has lived at her current residence of 6075 Kalanianaole Highway from before 1961 to the present.
Moreover, Arakaki said she believed that when Obama lived with the Dunhams, his grandparents, the family address was in Waikiki, not on Kalanianaole Highway.
---
To: cynwoody
The young doctor and his wife who had twins in the same day time frame as Stanley is reported to have had Barry may have been living at the address then moved. The address may have been left in the microfiche and the name removed and replaced by the obama names. But you keep trying to sow that doubt you're instructed to share with us at FR. It is amusing.
56
posted on
07/23/2009 6:32:29 PM PDT
by
MHGinTN
(Believing they cannot be deceived, they cannot be convinced when they are deceived.)
---
FreeRepublic.com is powered by software copyright 2000-2008 John Robinson