Indeed!
Who, or "what" constituted a natural born citizen was well known to the framers. Jay would not have made such a suggestion to others (Washington & the rest of those in attendance at the Constitutional Convention) unless there was a clear understanding of what that term meant. The definition comes from a source that not only were the framers familiar with, but the founders (many who were both) as well.
NBC in the Constitutional drafts:
June 18th, 1787 - Alexander Hamilton suggests that the requirement be added, as: "No person shall be eligible to the office of President of the United States unless he be now a Citizen of one of the States, or hereafter be born a Citizen of the United States." http://en.wikipedia.org/wiki/Natural_born_citizen_of_the_United_States
July 25, 1787 (~5 weeks later) - John Jay writes a letter to General Washington (president of the Constitutional Convention): "Permit me to hint, whether it would be wise and seasonable to provide a strong check to the admission of Foreigners into the administration of our national Government; and to declare expressly that the Commander in Chief of the American army shall not be given to nor devolve on, any but a natural born Citizen." [the word born is underlined in Jay's letter which signifies the importance of allegiance from birth.] http://rs6.loc.gov/cgi-bin/query/r?ammem/hlaw:@field%28DOCID+@lit%28fr00379%29%29:
September 2nd, 1787 George Washington pens a letter to John Jay. The last line reads: "I thank you for the hints contained in your letter"
http://www.consource.org/index.asp?bid=582&fid=600&documentid=71483
September 4th, 1787 (~6 weeks after Jay's letter and just 2 days after Washington wrote back to Jay) - The "Natural Born Citizen" requirement is now found in their drafts. Madison's notes of the Convention
The proposal passed unanimously without debate.
Original French version of Vattel's Law of Nations:
Emer de Vattel, Le droit des gens, ou Principes de la loi naturelle, vol. 1 (of 2) [1758]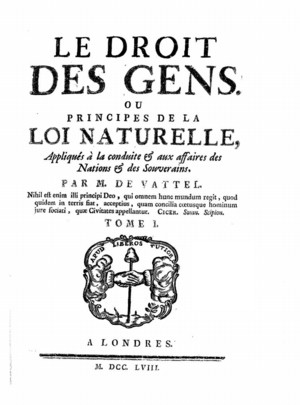 From Chapter XIX, 212 (page 248 of 592):
Title in French: "Des citoyens et naturels"
To English: "Citizens and natural"
French text (about citizens): "Les citoyens sont les membres de la societe civile : lies a cette societe par certains devoirs et soumis a son autorite, ils participent avec egalite a ses avantages."
-------------------
To English: "The citizens are the members of the civil society: dregs has this company by certain duties and subjected has its authority, they take part with equality has its advantages."
----------------------------------------------------------------------------------------
French text (about "natural" born citizens): "Les naturels, ou indigenes, sont ceux qui sont nes dans le pays, de parens citoyens"
-------------------
To English, gives this: "the natural, or indigenous, are those born in the country, parents who are citizens"
The same defintion was referenced in the dicta of many early SCOTUS cases as well...some examples:
"THE VENUS, 12 U.S. (8 Cranch) 253, 289 (1814) (Marshall, C.J. concurring) (cites Vattel's definition of Natural Born Citizen)
SHANKS V. DUPONT, 28 U.S. 242, 245 (1830) (same definition without citing Vattel)
MINOR V. HAPPERSETT, 88 U.S.162,167-168 ( 1875) (same definition without citing Vattel)
EX PARTE REYNOLDS, 1879, 5 Dill., 394, 402 (same definition and cites Vattel)
UNITED STATES V WARD, 42 F.320 (C.C.S.D. Cal. 1890) (same definition and cites Vattel.)"
http://www.scribd.com/doc/17519578/Kerchner-v-Obama-Congress-DOC-34-Plaintiffs-Brief-Opposing-Defendants-Motion-to-Dismiss
A detailed, historical, entomology of the term "Natural Born Citizen" can be found here: http://www.greschak.com/essays/natborn/index.htm