---
To: curth
(09/20/2009) "You might think a posthumous Medal of Honor award ceremony would be a somber occasion, but not everyone would agree with you. Either this is an especially skillful photo shop effort or Michelle Obama has no clue whatsoever about the nature of this event. U.S. Army Sergeant First Class Jared C. Monti's parents received the award for him. I hope they didn't notice the first lady's stunningly inappropriate dress, but that's unlikely."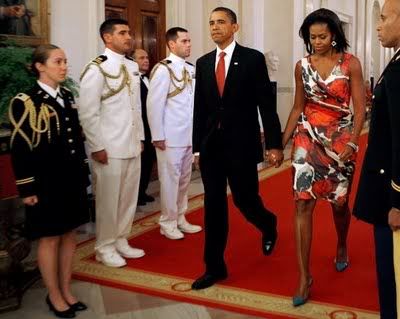 http://www.freerepublic.com/focus/news/2344378/posts?page=351
---
To: anglian
who's the midget?
is that Robert Reichhhhhhhshhhha?
54
posted on
06/24/2011 8:15:28 AM PDT
by
WOBBLY BOB
( "I don't want the majority if we don't stand for something"- Jim Demint)
---
To: anglian
Wow! If that's the award ceremony, it's putting it mildly to say that she's inappropriately dressed. Also, she looks like the Incredible Hulk in that picture (or the Incredible Hulk's backside, at least). I know she can't help being a giantess, but she sure could have worn something more appropriate.
---
FreeRepublic.com is powered by software copyright 2000-2008 John Robinson