---
Say What? Silly Things Liberals Say...Nov 29th Edition
Flopping Aces ^ | 11-29-11 | Gary Kukis


Posted on 11/29/2011 3:06:31 PM PST by Starman417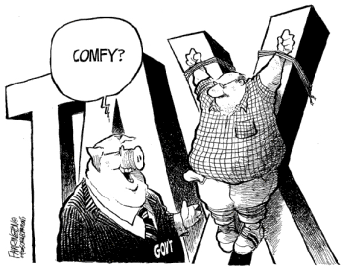 Liberals:
New York City Mayor Michael Bloomberg: "All the president has to do - and I'm not trying to hold him more responsible, but he is the chief executive, he was elected to lead this country - all he's got to do is stand up and say, `I will veto any extension of any of the Bush-era tax cuts.' Everybody. Not just the rich, but everybody."
Barack Obama to Reverend Al Sharpton: "Look, there's no doubt that I'm disappointed that not just Congress generally, but the Republicans in particular, are not willing to put serious revenue on the table as part of a balanced plan. . . So the position they're taking is short-sighted. Uh, but, uh, you know, I, uh, it, it, it must be my, uh, religious faith, reverend, cause, uh, hope springs eternal and I continue to believe that at some point common sense will prevail and we'll be able to work something out...we've got to have a balanced plan that's fair, which everybody is sacrificing for the greater good."
Senate leader Harry Reid: "The American people are tired of their elected leaders listening to the extreme voices in their party instead of the voices of reason. I am disappointed that Republicans never found the courage to ignore Tea Party extremists and millionaire lobbyists such as Grover Norquist, and listen instead to the millions of Americans - including the vast majority of Republicans - who want a balanced approach to deficit reduction. For the good of our country, Democrats were prepared to strike a grand bargain that would make painful cuts while asking millionaires to pay their fair share, and we put our willingness on paper. But Republicans never came close to meeting us halfway."
Occupy WalMart sign: "DON'T BE A CONSUMER WHORE. STEP FEEDING THE BEAST."
Jennifer, at Occupy Macy's NYC: "We're here to let people know about corporate greed, and Macy's is a major corporate place."
Older demonstrator in Occupy Oakland: "The SDS is back by popular demand." He was not an actual member of SDS, but of MOBE (?) which came later (I don't know who they are either). "We want to make sure that we're not seen as scary to the 99%."
Note from Occupier handed to Barack Obama: "Mr. President: Over 4000 peaceful protesters have been arrested. While bankers continue to destroy the American economy. You must stop the assault on our 1st amendment rights. Your silence sends a message that police brutality is acceptable. Banks got bailed out. We got sold out. "
Natasha Lennard, explaining why she has left the main stream media: "Journalism must break the chains of objectivity and report truth -- and the Occupy movement led me to do just that"
The Reverend Al Sharpton speaking of what he was thankful for this Thanksgiving: "Last year we had just come out of the midterm elections where the Republicans gained 61 seats and we were under siege by the tea party. This year, Occupy Wall Street, whatever its shortcomings, it changed the conversation to where we are now talking about economic inequality - 1 percent versus 99. I am grateful for that."
President Barack Obama's Thanksgiving message: "We're also grateful for the Americans who are taking time out of their holiday to serve in soup kitchens and shelters, making sure their neighbors have a hot meal and a place to stay. This sense of mutual responsibility - the idea that I am my brother's keeper; that I am my sister's keeper - has always been a part of what makes our country special. And it's one of the reasons the Thanksgiving tradition has endured. I know that for many of you, this Thanksgiving is more difficult than most. But no matter how tough things are right now, we still give thanks for that most American of blessings, the chance to determine our own destiny. The problems we face didn't develop overnight, and we won't solve them overnight. But we will solve them. All it takes is for each of us to do our part."
Democrat Dennis Kucinich on the occupy movement: "What we're looking at here is a burgeoning social and economic movement that is a sharp protest to the maldistribution of wealth, to the practices of Wall Street that have helped collapse this economy. It's an authentic expression of the concern that the American people have about the direction that the country is going in. We need to listen to that, rather than just denigrate it."
Comedienne and actress Janeane Garofalo on the TEA party types: "It always works on a certain segment of the population. If you are trying to appeal to the worst in us. Quite literally, the worst in us and you're trying to go to the limbic brain of anxiety, fear, intolerance, hatred, bitterness, ignorance, you have to just use these very simple, as they say, dog whistle words...But they [TEA party types] do love a black man like Herman Cain, and Michael Steele, and is it Ron Christie? Any of these pundits who pretend we're in a post-racial society. They like that kind of black person."
Film maker Michael Moore: "The images of this [the UC Davis Pepper Spray Incident] have resonated around the world in the same way that the lone young man standing in front of the tanks at Tiananmen Square."
Minister Louis Farrakhan said that the failure of a bi-partisan economic commission: "The confusion is the sign of the end...And as you are witnessing partisan politics is killing democracy and killing the United States of America as a world power."
(Excerpt) Read more at floppingaces.net...

---
TOPICS: Government; Politics
KEYWORDS: bloomberg; obama; reid



---
To: Starman417
Ummmmmm
Calypso Louie may have a point there!
Out of the mouths of babes come great truths?
A stopped clock is right twice a day?
2
posted on
11/29/2011 3:11:43 PM PST
by
noprogs
(Borders, Language, Culture....all should be preserved)
---
To: Starman417
"you have to pass this bill in order to see what's in it"
3
posted on
11/29/2011 3:14:33 PM PST
by
Doogle
((USAF.68-73..8th TFW Ubon Thailand..never store a threat you should have eliminated))
---
To: Starman417
That image is a bit too reminiscent of the legend of how the apostle Andrew was crucified. Wonder if the artist realizes that?
---
FreeRepublic.com is powered by software copyright 2000-2008 John Robinson