---
Two Thirds Want Newt to Stay in - 55% Don't Trust Romney
PolitiJim.com ^ | 4/4/2012 | PolitiJim (@politiJim)


Posted on 04/04/2012 1:48:07 PM PDT by rightjb
KEEP FIGHTING NEWT!
That's the message from the GOP. Only 26% want to crown Mitt and call it a day. Only 32% of Republican voters think it should only be Romney and Rick. And 42% respond to the Romney/Rick show with "none of the above."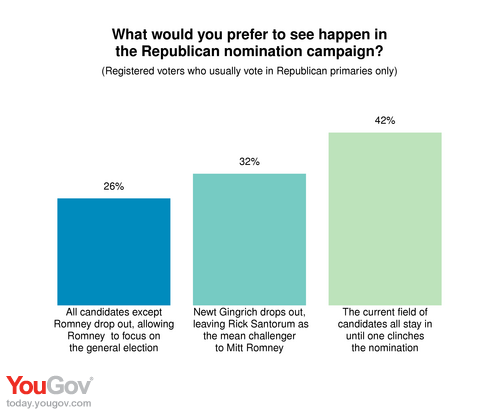 There are a couple of reasons for this in my opinion. First, it is clear that many of us find RINO Romney simply the wrong rival to wrest control from the Cloward-Piven in Chief. It turns out even the GOP INSIDERS may agree as Joe Scarborough spills in this morning spew:
(h/t LegalInsurrection.com)
Continued at: http://www.politijim.com/2012/04/two-thirds-of-gop-want-newt-to-continue.html

(Excerpt) Read more at politijim.com ...
---
TOPICS: Politics
KEYWORDS: gingrich; mittromney; newt; ricksantorum; romney; santorum
---
Navigation: use the links below to view more comments.
first previous 1-20, 21-40, 41-60, 61 next last
---
---
---
---
---
---
---
---
---
---
---
---
---
---
---
---
---
---
---
---
---
Navigation: use the links below to view more comments.
first previous 1-20, 21-40, 41-60, 61 next last
---
---