THREE FACTORS DROVE HIS IMPROVEMENT IN THE POLLS
Three factors combined to produce leads for Donald Trump in this time period.
1. Media focus on opponent - Hillary became the focus of negative attention beginning on July 5th, when Director Comey did not recommend prosecution. His speech outlining her lies was so striking, that the question of why she wasn't prosecuted consumed the headlines for the three weeks leading up to the convention.
2. Republican unity - The selection of Mike Pence and the convention in Cleveland achieved much more unity than Trump had seen to date. Ted Cruz's speech actually brought much of the party together.
3. Obama out of the spotlight - The controversial nature of the decision not to prosecute Clinton as well as the Republican National Convention combined to keep Obama off the television. When he's gone, Hillary suffers.
ONLY ONE FACTOR, THE MEDIA FOCUS ON TRUMP'S OPPONENT, DROVE THIS IMPROVEMENT IN THE POLLS
1. Until the first presidential debate, media focus on his opponent benefited Trump.
2. Republican unity - There was little sniping, but no affirmative support of new Republicans manifested like it did in July.
3. Obama was a focus of attention beginning with Trump's acknowledgment that he was born in the US, and Obama was in the news, so this was probably a factor that weighed against Trump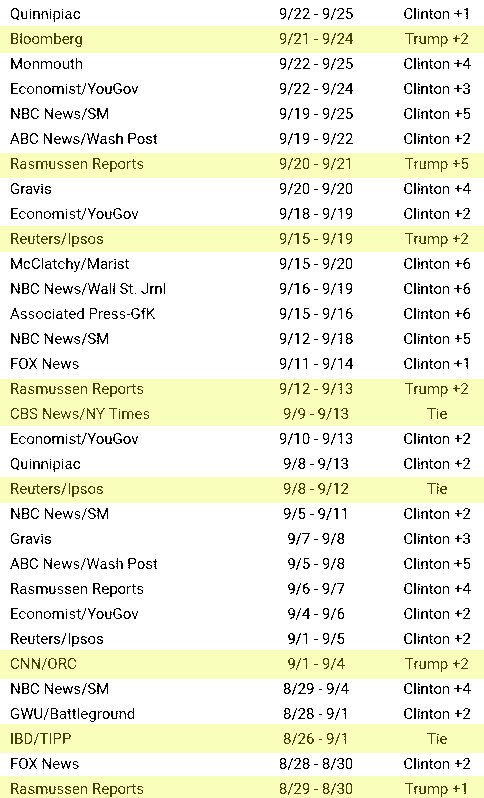 1. Media focus will almost certainly remain on Hillary for the remainder of the election. If the Democrats or their media allies had additional opposition research to hit Trump with, one would imagine that it would have come out already. Recall that the Access Hollywood tape came out the same day that Wikileaks began. This factor alone would be sufficient to produce a lead for Trump.
2. Republicans are coming home. Trump is not exceeding Hillary in support from his own party in the latest ABC poll, pulling 87% of his own group. This is near the 90% that most pundits expect will produce a victory. The endorsement by Governor Nikki Haley signaled what looks to be a return to focus on policy rather than the man.
3. We have heard that Attorney General Lynch and Deputy Attorney General Sally Yates informed Director Comey that he should not deliver the letter to Congress. They claimed that the action would violated DOJ policy against commenting on an investigation close to an election. Certainly Obama probably was brought into the loop, although that was not evident. Despite Obama claiming in public that he doesn't believe Comey is trying to influence the election, if you want to know what Obama really thinks you can probably assume he shares the view of Eric Holder. Holder wrote, Comey's actions leave him "astonished and perplexed." Obama surely shares that opinion. Because of the toxicity involved in this subject matter, one can assume that Obama is finished with intervening this cycle. It's now a matter of legacy.
4. Trump is now spending more on ads than Hillary Clinton. We saw the polls begin to close before Comey's announcement. No doubt this ad spending advantage played a role in that. Because Trump's strategy is to tear Hillary down, his ads will hit with twice the impact because Hillary's media coverage is also very negative.
5. Voters discovered about a week ago that Obamacare premiums will skyrocket in 2017. Many of the voters who Democrats probably hoped to rely on will get hit by these premium increases. This issue is like a bomb going off within Hillary's foundation of voter support, where voters who they thought would be grateful for health coverage are now angry. But this issue has a two prong benefit for Trump in that it galvanizes his Republican support, even among those who have opposed him in the past.
6. Polling Analysis: Discount many of the polls that do not make voter enthusiasm a primary factor. If a poll like this is showing a tie or a one or two point Hillary lead, you can rest assured it's wrong.
LA Times/Daybreak, which factors voter intensity heavily, is breaking for Trump
They will miss the marginal voters, the ones who just barely get into the voting booth and the ones who just barely fail to get out of the door to go vote. These people will make a big difference this time around.
Fundamental to their polling error is the fact that Hillary is very weak among black and millennial voters, but they are assuming she is strong. She needs a huge turnout among them. More traditional pollsters have assumed she will have a big turnout among them without good evidence for that assumption. Pollsters made a mistake in 2012 in assuming they wouldn't turn out. Now they are gun shy and afraid making the same mistake. As they often do, they have over-adjusted and are missing the mark.
If their voter turnout assumption is off by only a small margin, say the Democrats have a +3 advantage instead of a +6 like they did last time, that is enough to put Trump ahead in the polls. It is certainly possible that Republicans might even match Democrats in turnout this time around, in which case Trump will win an electoral landslide.
This race was already breaking Trump's way before James Comey's announcement