---
A Very Special PCottraux FReeptoon (ZOT Graphics and a New Poll)
December 27, 2005 | pcottraux


Posted on 12/27/2005 2:59:42 PM PST by pcottraux

A special FReeptoon



With Christmas coming and going, I honestly figured this week that I kind of deserved a little break (not much of a break, since some of these were harder to make than my usual toons). Instead of making my usual FReeptoons, I decided to do something special for today: special, genuine hand-crafted ZOT GRAPHICS!!! You know we all love them. You know we all can't get enough of them.



I made four personally hand-crafted graphics for the special occasion of sending trolls to their well-deserved graves. Feel free to use these or send them to any friends as much as you want; they should play a valuable service in our on-going war against the fiendish trolls.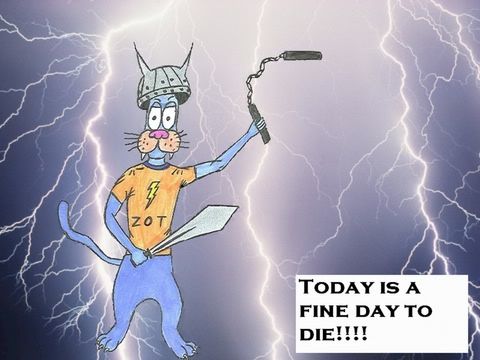 Sorry about the size, everyone.


And now for another big announcement. This one will take some explaining.


Years ago, in my last year of high school, I created and drew a cartoon series, a non-political one, about a boy's misadventures during…high school. Loosely based on my own life, the strip was entitled "The Dinkelmeyer Zone." The main character, Freddy Dinkelmeyer, was in the grand tradition of Charlie Brown a lovable loser whom nothing but bad things happened to. But he always remained optimistic and never learned his lesson.


The strip was very informal: I simply drew it in a notebook with pencil. It started out by doodling in class but evolved into something more. If anyone wanted to read it, they would walk up to my desk and look over my shoulder or ask to see the whole notebook. It was actually very popular and well-liked in all of my classes.


Now for the announcement: I am taking a poll to see if any of my FReeptoon readers would like to see "The Dinkelmeyer Zone" as well. If you would like to see them, send me a FReepmail or leave a post here: either one is fine. If at least ten people say they would like to see it, starting next week, I will dig up my old notebook from the closet and start running the strip along with my FReeptoons as sort of a bonus toon. Don't worry: it will not interfere with the FReeptoons themselves.


Hopefully this isn't my jump-the-shark moment. I've only been doing this a few months!


I must warn ahead of time that the Dinkelmeyer cartoons are not very well drawn. They were really just advanced doodles in class. But I was told by loyal readers and classmates that the writing was very funny and got a lot of laughs. The strip was started as a personal expression of loneliness and poignancy, but at some point it took a turn and became funnier, goofier, and more cartoonishly outrageous.


That is all. Enjoy.

---
TOPICS:
Humor
KEYWORDS:
freeptoons
---
Navigation: use the links below to view more comments.
first 1-20, 21-40, 41-60, 61-80 ... 121-136 next last
---
---
---
---
---
---
---
---
---
---
---
---
---
---
---
---
---
---
---
---
---
Navigation: use the links below to view more comments.
first 1-20, 21-40, 41-60, 61-80 ... 121-136 next last
---
---