---
The ***Official*** Singles Thread: Farewell to Pcottraux's FReeptoons
November 3, 2006 | pcottraux


Posted on 11/03/2006 5:52:55 PM PST by pcottraux

The Final FReeptoon

By Pcottraux

It is with great sadness that I, pcottraux, on this Singles thread of November 3-5, am posting my last FReeptoon. This is the end.

For those of you who may be unfamiliar, I've drawn a series of politically-themed cartoon strips as sort of a hobby and posted them on FR for a little over a year now. And I have to say that it has been a complete blast. When I first started, I never anticipated all the warmth, well-reception, and overall fun I've had not to mention all the new friends I've made. The web can be a great place, and as far as web sites go, FR is one of the best!

The decision to end the FReeptoons was not an easy one. Mostly, it all boiled down to time constraints. I just don't have as much time to devote to it like I used to. When I first started, I was unemployed and kind of bored, and was able to crank out 2 a week. Nowadays, I barely have time to draw one. And because of this lack of time, I'm also unable to put as much effort into each toon, ultimately leaving me unsatisfied with the results.

As a side, I also for a long time have posted an extra "bonus" cartoon, if you will. This toon is a very old series of doodles that I used to make in High School, called the "Dinkelmeyer Zone." (I normally just call them the "Dinkelmeyers.") This strip chronicles the adventures of a lovable loser in HS just trying to make the best of life. There are still about 40 Dinkelmeyer strips left, so for those who request it, I'll be sending links out about once per week of several Dinks at a time. But you absolutely MUST request it in order to receive these via PM. So while this is the end of the FReeptoons, the little bonus cartoons will still last for a few more weeks.

Also, I have the full FReeptoons archives at the bottom of my home page, and they will always remain there for anyone who wants to look.

But what am I doing blabbing on? We're here to see…

The Last FReeptoon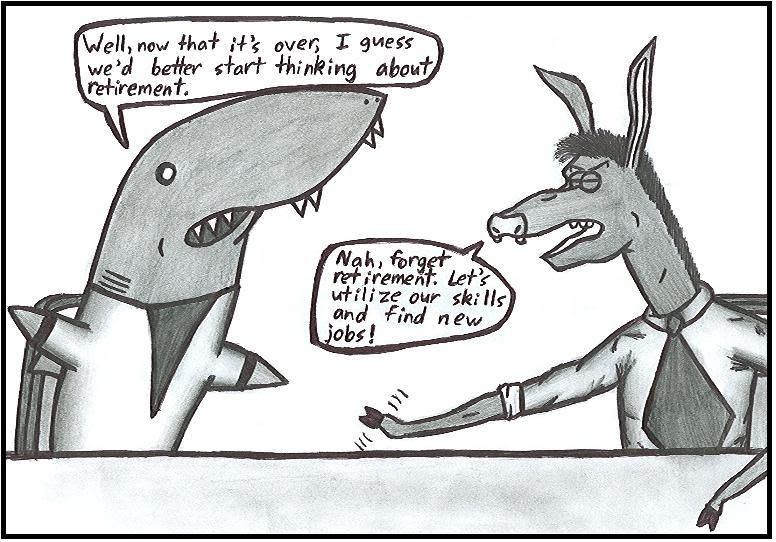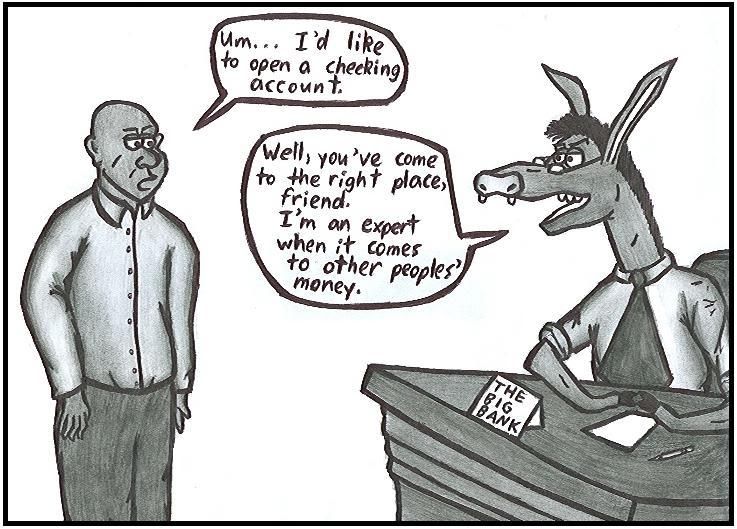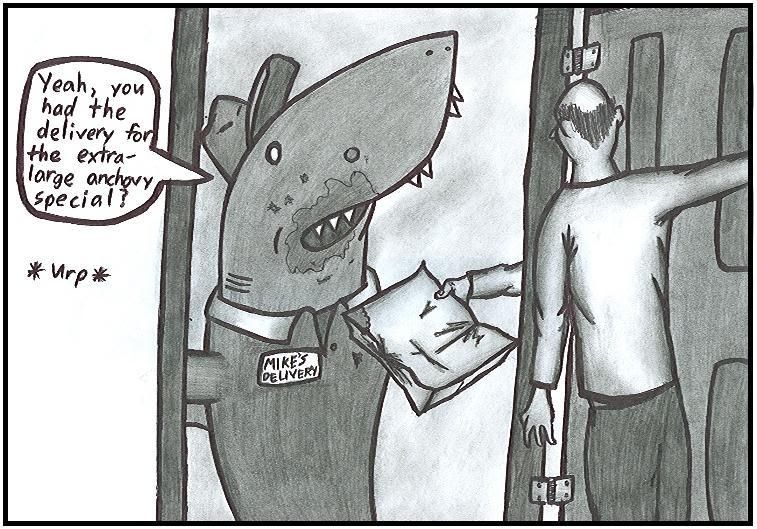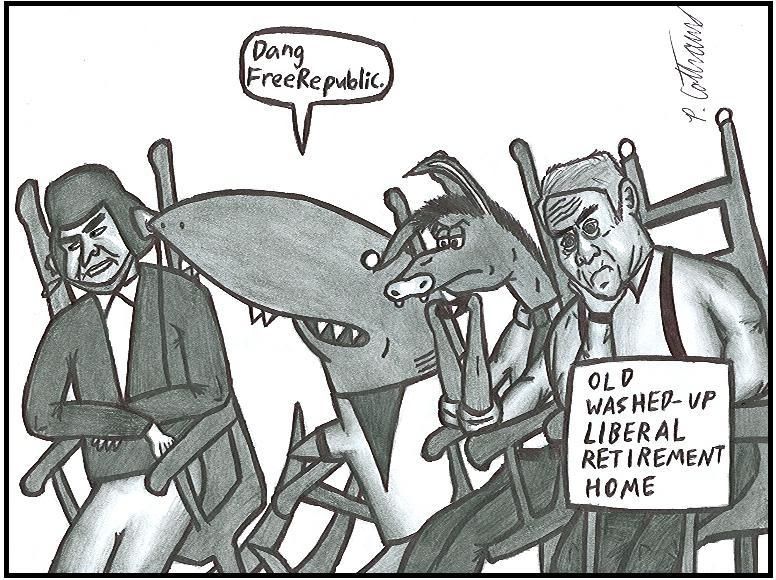 But that's not all! I'd like to take some time to briefly recall the FReeptoons history, and maybe provide a little insight into them:
The FReeptoons: A Look Back
The main driving force behind the strip is a simple concept. You read political cartoons all the time, and it's nothing new or strange to see the Democratic Party being represented by a donkey, who says something snide, or what-have-you. However, that's usually just one panel, and you've got a witty remark/sledgehammer message in one shebang. My idea was to take this and make it more like a daily strip, and actually make that symbolic representation into a character, who you get to know, who has quirks and an interesting personality.
Another driving force is also pretty simple: I like to make fun of stuff. People, situations, events, you name it. I just enjoy not taking a lot of things very seriously. When you have George Clooney or some other Hollywood blowhard getting up on a podium accepting an Oscar and snootily declaring himself to be "smarter than the American people," that kind of pretentious garbage just screams to be ridiculed.
Where exactly the idea for the FReeptoons first came is unclear, even to me. I do remember that I wanted to get back into drawing; I hadn't done much art since college. It just sort of hit me one day: why not start drawing political cartoons and posting them on FR? Sounded like a novel concept, and I have to say that I was pretty excited by the first chance to do it. I sort of formulated some characters/situations in my mind, and then cranked something out. Cindy Sheehan was my first target, and in an attention-grabbing flash, the cartoon first burst onto the scene: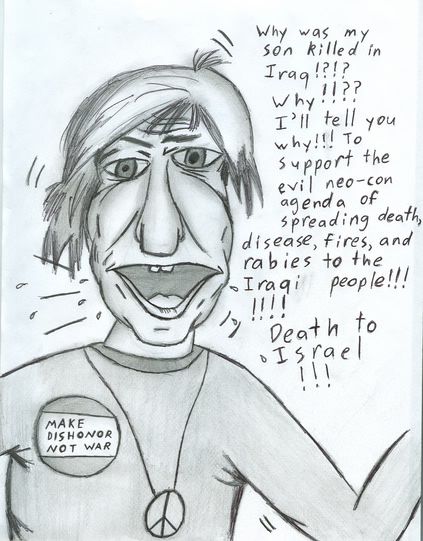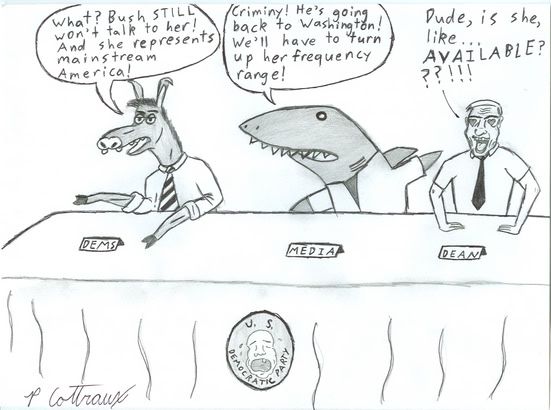 Man, does it look a lot different now!
The first thread I posted is lost, and it wouldn't matter because the original uploaded pics have been deleted. Sadly, the toons were off to a rocky start; it was hard to get anyone interested in reading them, plus my scanner stopped working for about a month! I almost gave up, but after deciding to hang in there a liiiiittle while longer, things started to improve. I have this thread (the Singles thread) to thank for that, because it was here I first started making FRiends, who also happened to show interest in my work. Thanks, guys!
The Characters:
The Donkey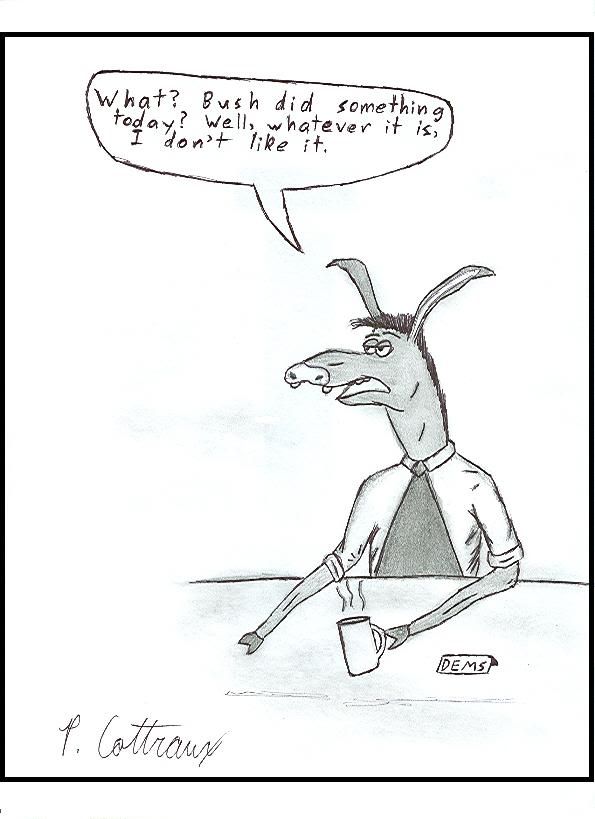 The Donkey is the main character, and a symbolic representation of the Democratic Party. I thought it would be interesting to mostly show the strip through the views of an anti-hero. The Donkey is not a likable guy; in fictional lingo, you'd call him the "Character we love to hate." His personality is snide, slightly arrogant, and vain; he was somewhat modeled after Dan Fielding, the John Laroquette character from "Night Court." I hint at times that he is also a womanizer. In a weird paradox, he has a donkey-like head and hooves, but a very human-like body.
However, at times (putting on my flame suit), it's also possible to sympathize with Donkey. In this picture, we see him reminiscing about "The good old days," when he was less pessimistic and tougher on foreign policy: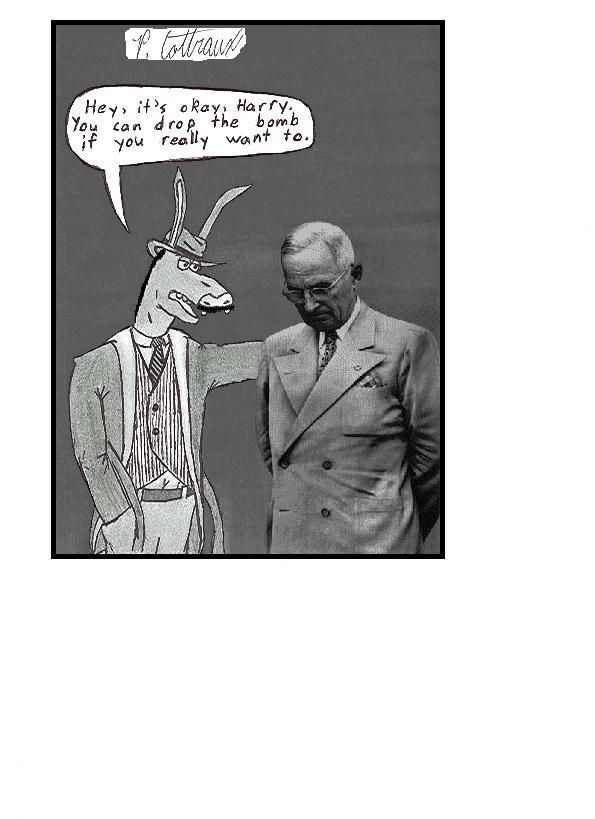 The Shark
The Shark is a fan favorite, and may be the strip's funniest character (I think he's my favorite as well). He is a symbolic representation of the left-wing American media. At the beginning of the strip, I tagged a "Media" sign on him so people would know that; however, I removed it pretty quickly because I trusted my readers to know/figure out who he was themselves. Like Laurel and Hardy or R2D2 and C3PO (and like the real media and Democratic Party), Shark and Donkey are practically inseparable.
The Shark is funny because of his personality. He is unabashedly biased towards the left, but has a very apathetic attitude towards it. Like the real mainstream media…and like a real shark…he has a very cold detachment from what he does, and never seems to question why he does it. He also accepts his what's going on around him with little interest.
I like to play around with what this character is. He eats chum, has gills, and his fins are useless, but I've never been able to explain how he can breathe air and walk among us. He just "goes home to his aquarium" every night.
The Elephant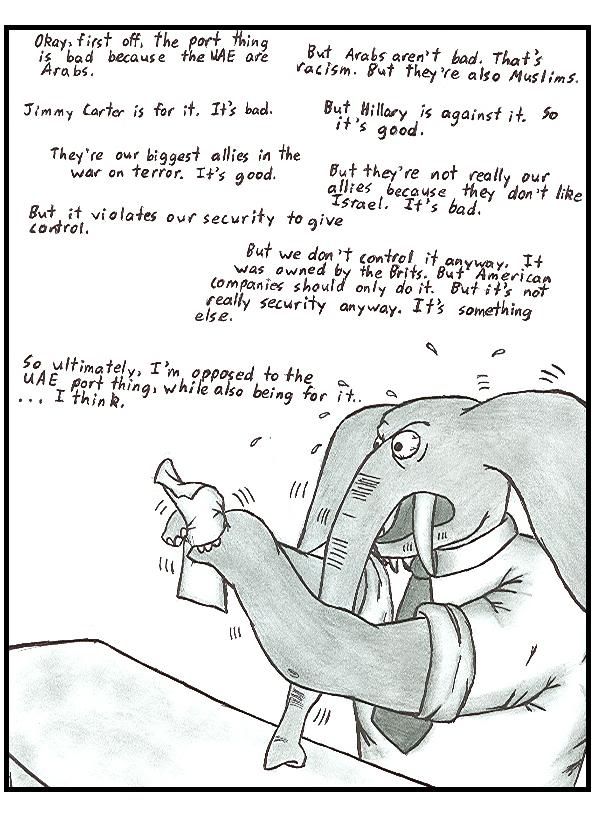 Needless to say, the Elephant represents the Republican Party. And, of course, he is the Donkey's arch-nemesis. However, to be perfectly honest, he doesn't appear nearly as much simply because the Donkey and Shark are just more interesting characters. He's been heroic before (during the Xmas strip, he saved Santa from the ACLU), but mostly, I try to portray him as a poor schlub who's exhausted from his job and worn down, nervous, and stressed-out from years of politicking. Much like the real Republican party, he started off with sincere intentions but seems to be losing his way.
Hillary/The Empress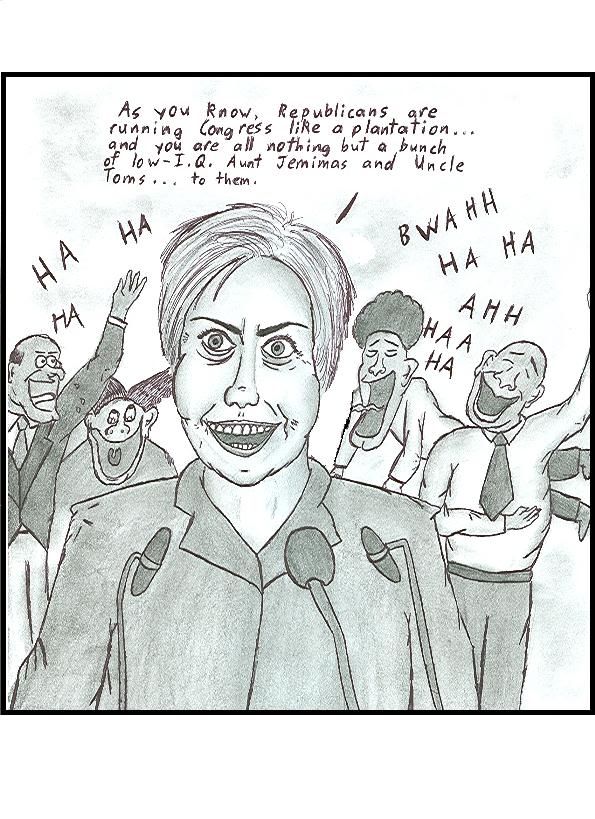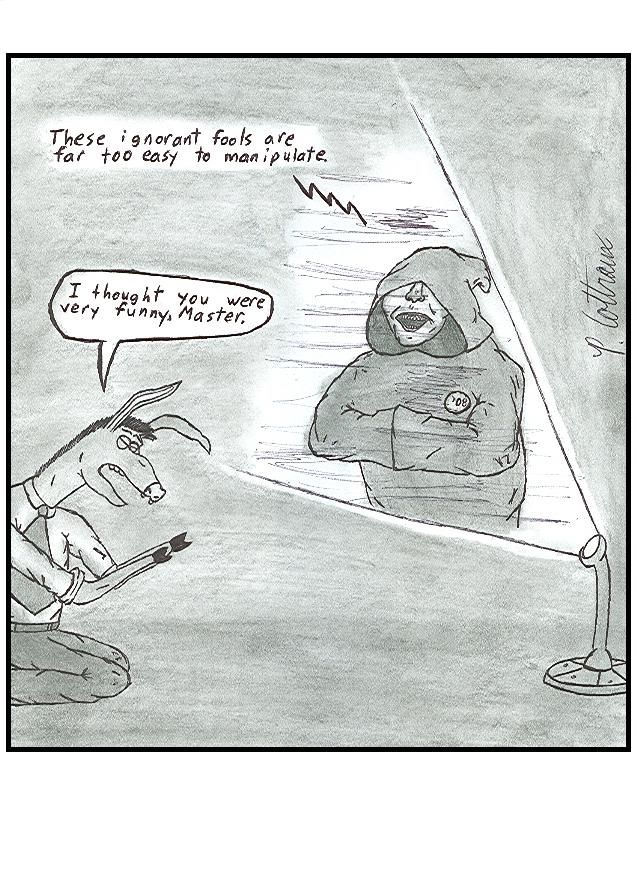 The Hillary Clinton/Evil Empress duality is a gimmicky parody of the Star Wars Emperor Palpatine/Sith Lord. Mainly, the Donkey fears her and bows to her every word, while secretly wondering how this woman took over his party. The idea comes from the fact that so many liberals compare the Republicans to the Sith and Bush to the evil Emperor, when Hillary—with her goody-goody public image disguising her sinister plans—is SO much more of a legitimate comparison.
Cindy Sheehan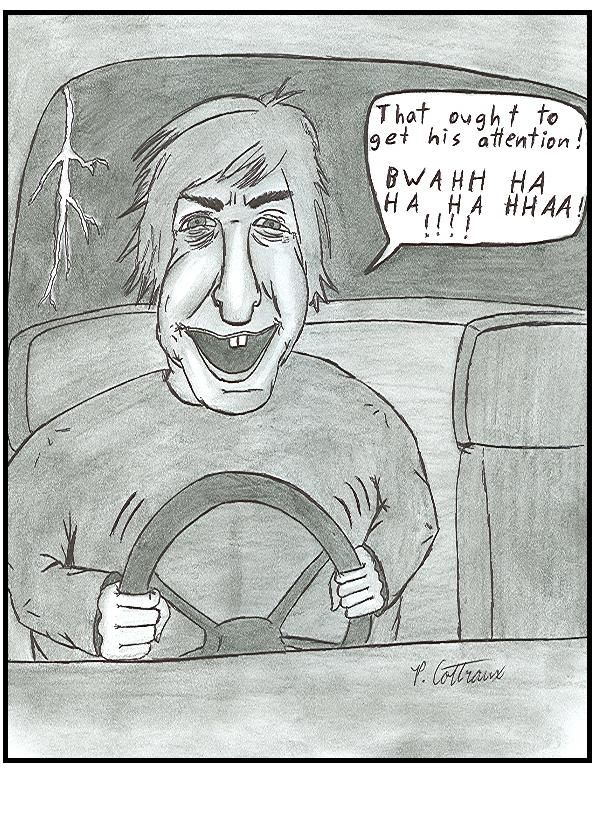 Starting from the beginning, Cindy Sheehan had a recurring role. Early in the strip, the Shark drops her like a bad date, and she responds by turning into a creepy stalker desperately trying to get his attention. Not sure how different that is from real life.
Howard Dean started off with a recurring role in the strip. Originally, the partnership was a trio, with the Donkey, Shark, and Dean (who is portrayed as a completely deranged, self-destructive psychopath). However, Dean himself has kind of been out of the news for a while (I think the Dems must have him gagged and bound somewhere), so the character didn't quite work out.
A Final WordWell, that's it for now, guys. If you want to see the rest of it, you'll just have to click on my homepage, scroll down, and see what's going on!
And for those of you who have been with me from the beginning, I want to say thank you for all the fun and laughs. And for the recent readers, too…I want to thank everyone for all you've done, and it just wouldn't have been worth it if not for the good times I had with everyone!
And so, on that final note, I'd like to wish everyone "a warm and heart-felt goodnight."
The End
---
TOPICS: Chit/Chat; Humor
KEYWORDS: freeptoons; singles
---
Navigation: use the links below to view more comments.
first 1-20, 21-40, 41-60, 61-80 ... 201-220 next last
---
---
---
---
---
---
---
---
---
---
---
---
---
---
---
---
---
---
---
---
---
Navigation: use the links below to view more comments.
first 1-20, 21-40, 41-60, 61-80 ... 201-220 next last
---
---