---
To: CindyDawg; Duchess47; MissTargets; FrogInABlender
It IS very nice to see you all posting again. I've missed the FR Saddle Club. MT, nice horse, looks like fun and reminds me of riding Frogs horse when she was here. Very good luck with him. Duchess, sorry about Bob, hopeing for a speedy recovery, and you a quick retirement:) Cindy, what kind of dog? This is the lastest addition to my family: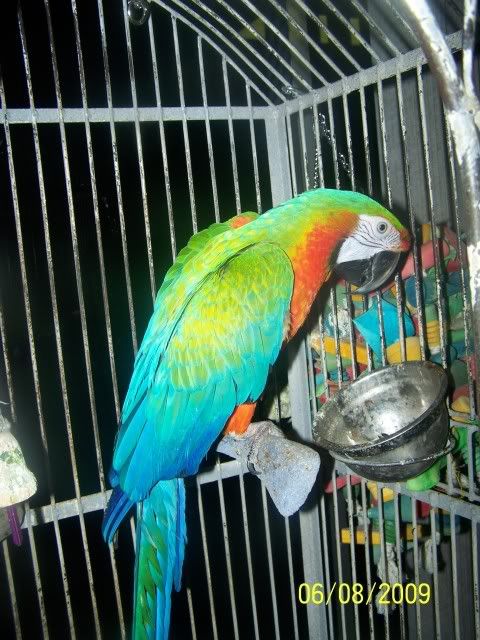 I have sold my house and closed on it last week.
---
To: PayNoAttentionManBehindCurtain
Congrats on selling the house! Such a beautiful place. I often thought of Dot and what a nice horse she was to ride. The kind I needed.
Neat, a parrot(or Macaw). Talk much? What do you call him/her?

---
To: PayNoAttentionManBehindCurtain
I am so glad you got the house sold!! What a load off your mind that must be.
That is one colorful addition to the family :) What's his/her name? And how did your apartment turn out, is it finished yet?
Bob is getting better, just more slowly this time. I think part of it was depression and feeling sorry for himself (which I totally understand) but he's starting to look forward to riding again. We've had rain here almost every day since the third week of May so that didn't help. I'm beginning to think the poles have begun to shift - we are having the strangest weather.
Janelle and Tuffy are doing great. She has been roping off him, herding cows, and of course, playing with balls and tarps. He thinks everything is fun. He's being bred to a couple of mares this year to see what he throws and she does plan on showing him in July at an ApHC show.
Sonny has a carcinoma on his sheath that has been removed and then burned off. He's fine and it's not bothering him at all, just will need daily meds to help control the return and checkups to remove it if it does come back.
Take care :)
11,240
posted on
06/14/2009 8:13:07 AM PDT
by
Duchess47
("One day I will leave this world and dream myself to Reality" Crazy Horse)
---
FreeRepublic.com is powered by software copyright 2000-2008 John Robinson