---
To: JustAmy; Kitty Mittens; All
To All The Poetry And Potpourri Fans




Play Day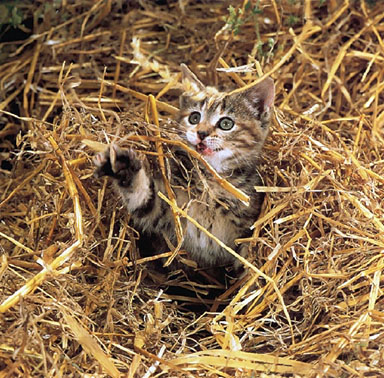 Mother has been keeping busy with the Horses throughout the Day


Leaving lots of time for me to roam around, explore and play


Across the smooth dirt floor then slowly along the angled ladder to The Loft


All by myself without Mother's omniscient supervision!



I set off on my very first quest of personally fulfilling expedition


Up where there's huge mounds of dry grass that is incredibly soft


Heaped and piled high to feed the Horses and Cows down below


Mother says that it is also a great protector from Winter's cold and snow


Due to its ability to be mesh and lattice and become more dense



Which seems to make perfectly logical Feline sense


Since this dried out sometimes brittle stuff called 'Hay'


Seems to part so easily as I decide to dive right in without delay


Making warm and cozy tunnels as my paws plunge and curl and sweep


To take me well inside, though not too dangerously deep



I taste the scents of mold, dusty sweet corn and lingering loam


While my ears detect the sound of a slithering snake who shares this home


I also hear the sound of Mother's paws upon my newest lair


So, I think I will surprise her when I suddenly come up for air!




Jack Deth ~ 06/01/08.
12
posted on
06/01/2008 7:55:29 AM PDT
by
Jack Deth
(Knight Errant and Resident FReeper Kitty Poem /Haiku Guy)
---
To: Jack Deth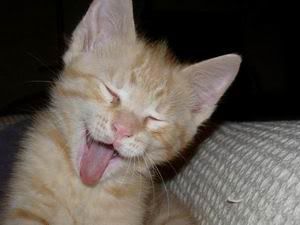 Delightful, Jack..Thank you!
---
To: Jack Deth
I Love your Kitty Poetry So Much, Jack; they are Always Enjoyable and Fun to Read. Thank you!
15
posted on
06/01/2008 8:37:28 AM PDT
by
Kitty Mittens
(To God Be All Excellent Praise!!)
---
To: Jack Deth
Good evening, Jack. That kitten picture is precious. Thank you.
I love your kitten poems. Thank you for sharing.
42
posted on
06/01/2008 8:11:43 PM PDT
by
JustAmy
(I wear red every Friday, but I support our Military everyday!!)
---
FreeRepublic.com is powered by software copyright 2000-2008 John Robinson