---
To: Arthur Wildfire! March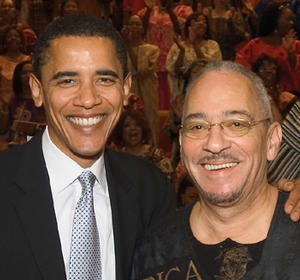 "Black theology will accept only the love of God which participates in the destruction of the white enemy. What we need is the divine love as expressed in Black Power, which is the power of black people to destroy their oppressors here and now by any means at their disposal".
--James (Jim) Cone,
African American Religious Thought: An Anthology (Paperback)
by Cornel West (Editor), Eddie S. Glaude Jr. (Editor)
SEAN HANNITY: But Reverend Jeremiah Wright is not backing down and has not for years and in his strong stance on the teaching of black liberation theology is nothing new. He had the same things to say last spring when he appeared on "Hannity & Colmes:"
WRIGHT: If you're not going to talk about theology in context, if you're not going to talk about liberation theology that came out of the '60s, systematized black liberation theology that started with Jim Cone in 1968 and the writings of Cone and the writings of Dwight Hopkins and the writings of womynist theologians and Asian theologians and Hispanic theologians, then you can't talk about the black value system.
HANNITY: But I'm a — reverend
WRIGHT: Do you know liberation theology, sir?
http://www.foxnews.com/story/0,2933,354158,00.html
____________________________________________
"Their founding document [the Weather Underground's] called for the establishment of a "white fighting force" to be allied with the "Black Liberation Movement" and other "anti-colonial" movements[1] to achieve "the destruction of US imperialism and the achievement of a classless world: world communism."..."-Berger, Dan (2006). Outlaws of America: The Weather Underground and the Politics of Solidarity. AK Press, 95.
http://en.wikipedia.org/wiki/Weatherman_Underground#cite_ref-Berger_0-0
Outlaws of America: The Weather Underground and the Politics of Solidarity (Paperback) by Dan Berger
http://www.amazon.com/Outlaws-America-Underground-Politics-Solidarity/dp/1904859410
____________________________________________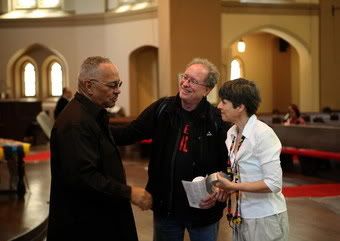 Rev. Dr. Jeremiah Wright and Dr. William Ayers
are greeted by Rebekah Levin with the Committee
for a Just Peace in Israel and Palestine.
(Chuck Berman/Chicago Tribune / May 17, 2009)
http://www.chicagotribune.com/news/local/chi-ayers_wrightmay18,0,6689521.story
____________________________________________
From the New York Times, August 24, 2003
"they [the Weather Underground] employed revolutionary jargon, advocated armed struggle and black liberation and began bombing buildings, taking responsibility for at least 20 attacks. Estimates of their number ranged at times from several dozen to several hundred."
Article: Quieter Lives for 60's Militants, but Intensity of Beliefs Hasn't Faded
http://query.nytimes.com/gst/fullpage.html?res=9F04E4DE1539F937A1575BC0A9659C8B63&sec=&spon=&pagewanted=2

15
posted on
03/04/2010 8:53:24 AM PST
by
ETL
(ALL (most?) of the Obama-commie connections at my FR Home page: http://www.freerepublic.com/~etl/)
---
To: ETL
17
posted on
03/04/2010 3:16:54 PM PST
by
Arthur Wildfire! March
(Barack Hussein Obama, mmm, mmm, mmm. [Only leftist intellectuals publicly pick their noses.])
---
To: ETL; All
52
posted on
03/07/2010 12:00:30 PM PST
by
Arthur Wildfire! March
(Barack Hussein Obama, mmm, mmm, mmm. [Only leftist intellectuals publicly pick their noses.])
---
FreeRepublic.com is powered by software copyright 2000-2008 John Robinson