---
To: Monkey Face
Photos coming up.
Here's the DeutscheBahn bullet train I took from Paris to Saarbruecken. It attains speeds over 200 MPH -- faster than my aircraft (Airbus A330) attained this morning when it lifted off from the runway! I've seen these in previous visits; amazingly fast and the movie "Atlas Shrugged" brought them to mind. Add a little speed and keep the price competitive, I'd choose these over crummy Alaska Airlines (air? what air? you need to breathe or sumpin?) in a flash.
Here's what it looks like in First Class (4 Euros more than coach for this trip). I didn't expect the nice lunch they served.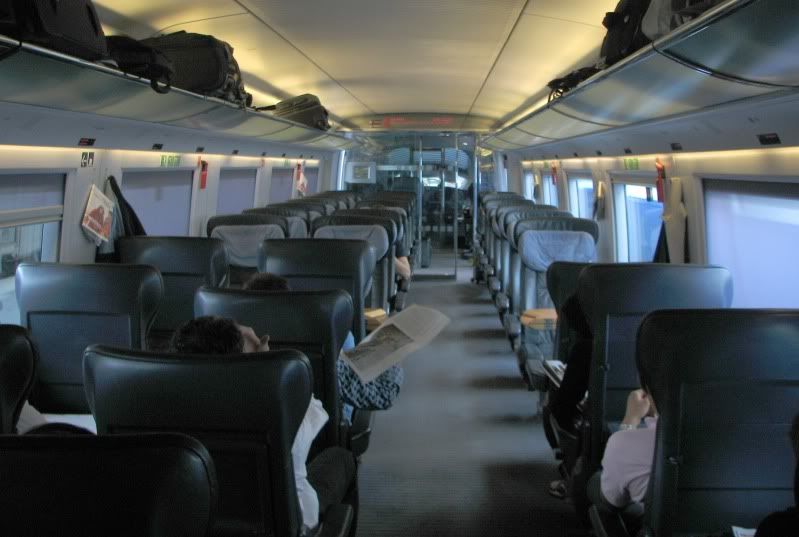 879
posted on
05/15/2011 7:14:24 PM PDT
by
sionnsar
(IranAzadi|5yst3m 0wn3d-it's N0t Y0ur5:SONY|http://pure-gas.org|Must be a day for changing taglines)
---
To: sionnsar
Ay-yi-yi!
What an AWESOME place to be!
I can't help but wish I had the gelt...
881
posted on
05/15/2011 7:17:39 PM PDT
by
Monkey Face
(It's bad luck to be superstitious.)
---
FreeRepublic.com is powered by software copyright 2000-2008 John Robinson