---
(-:(-:(-:THE OFFICIAL FRIDAY SILLINESS THREAD:-):-):-)
Posted on 11/11/2011 5:04:24 AM PST by Lucky9teen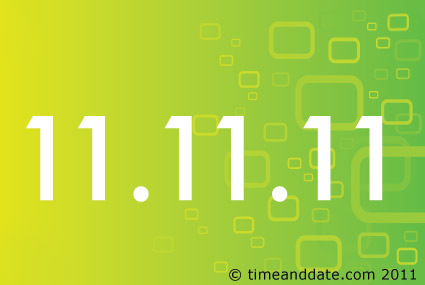 11/11/11 : Welcome to the Age of Prophecy and Mass Stupidity
Significance of 11/11/11
Based on past calendar dates such as 10/10/10, or October 10, 2010, no significant or unusual phenomenon occurs simply because of a date that has the same numbers in a sequence.
The numerical sequence of November 11 holds a special significance in the binary numeral system, which is the base-2 number system that represents numeric values using two symbols, 0 and 1. The date of November 11 has a binary number of 111110 where it has a decimal equivalent of 62 in the year 2010, and a binary number of 111111 with a decimal equivalent of 63 in the year 2011.
The number eleven has a special characteristic in mathematics where it is the sixth prime number. It contains some interesting peculiarities where the number eleven times itself equals a palindrome:

(2 digits) 11 x 11 = 121
(6 digits) 111111 x 111111 = 12345654321
(9 digits) 111111111 x 111111111 = 12345678987654321
11/11/11 (a.k.a. 11-11-11); Friday, November 11, 2011: Singularity Summary
It's a Sarah Palindrome
---
Lest we forget, Veterans Day and Armistice Day is on 11/11/11, but that is so like humans to blow off the important holidays we create. So let us please have a moment of silence for our fallen and living soldiers.



Amen.
---
---
TOPICS: Humor
KEYWORDS: 111111; friday; ofst; silliness
---
Navigation: use the links below to view more comments.
first previous 1-20, 21-40, 41-59 next last
---
---
---
---
---
---
---
---
---
---
---
---
---
---
---
---
---
---
---
---
---
Navigation: use the links below to view more comments.
first previous 1-20, 21-40, 41-59 next last
---
---