---
To: Billie; MEG33; jaycee; Mama_Bear; yorkie; Kitty Mittens; The Mayor; GodBlessUSA; gardengirl; ...
April 17, 2012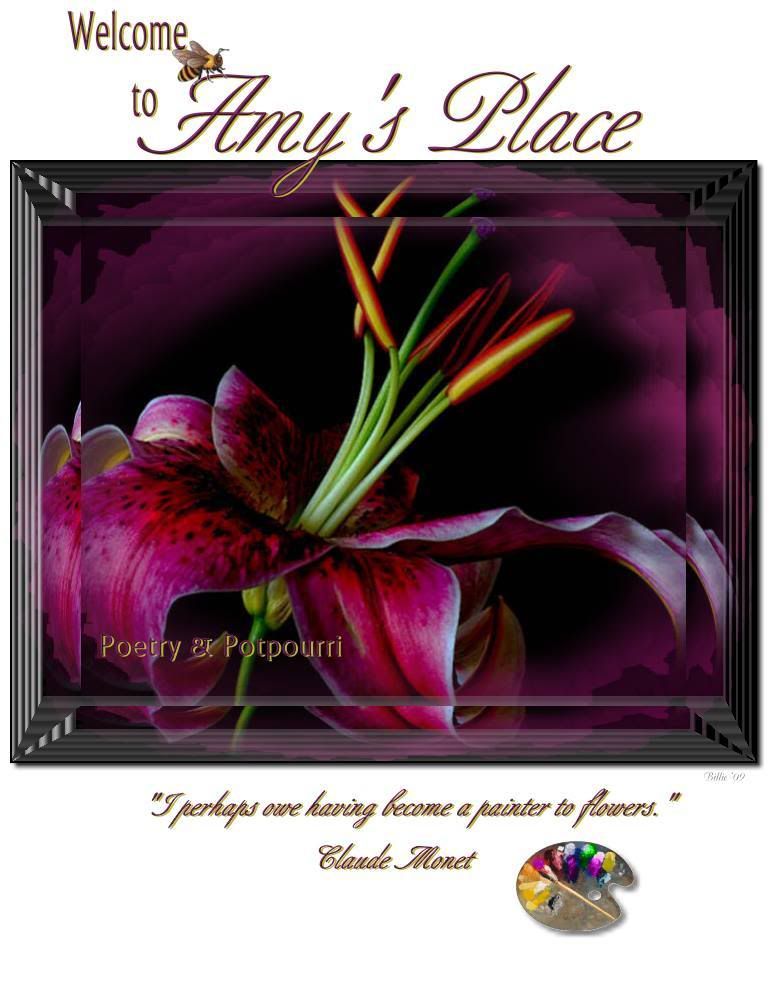 Graphic by Billie


---
To: JustAmy; Billie; GodBlessUSA; Lady Jag; yorkie; jaycee; Diver Dave; LUV W; Mama_Bear; DollyCali; ...
HAPPY TUESDAY TO AMY'S PLACE!
W. Eugene Smith - The Walk to Paradise Garden
May You Approach Each New Day With The Innocence, The Sense Of Wonder And The Optimism Of These Two Children!



Nos genuflectitur ad non princeps sed Princeps Pacem!

Listen, O isles, unto me; and hearken, ye people, from far; The LORD hath called me from the womb; from the bowels of my mother hath he made mention of my name. (Isaiah 49:1 KJV)
718
posted on
04/17/2012 9:22:18 AM PDT
by
ConorMacNessa
(HM/2 USN, 3/5 Marines RVN 1969 - St. Michael the Archangel defend us in Battle!)
---
To: JustAmy; All
To capture the beauty of flowers is extraordinaire. After all they are the creation of God, and they are or were a live plant. It is life that gives them the luminance of beauty that takes our breath away..The subtlety in a rose is truly indescribable nor captured. It is God's painting.
We often do not take notice of this amazing phenomenon ... Tried my hand at painting years ago. Truly loved doing it, only I was not able to produce what I desired to see on the canvas. It is usually an acquired ability ... with talent on loan from God.
Some develop their own style which we admire and are willing to pay high prices for. the rest of us get prints, and are glad to have them, or I am.

720
posted on
04/17/2012 11:15:19 AM PDT
by
geologist
(The only answer to the troubles of this life is Jesus. A decision we all must make.)
---
To: JustAmy; All; FRiends
Thank you All for the Beautiful Tuesday Posts!

722
posted on
04/17/2012 11:52:19 AM PDT
by
Kitty Mittens
(To God Be All Excellent Praise!)
---
To: JustAmy; geologist; FRiends
Monet's Garden in Giverny

*Oh To Be Able To Paint*
---
FreeRepublic.com is powered by software copyright 2000-2008 John Robinson