---
American Family Vacation in Kiruna Sweden - North of the Arctic Circle March 2006
Personal letters home to US friends and family | 5/23/2006 | schwing_wifey


Posted on 05/23/2006 9:56:10 AM PDT by schwing_wifey

At the end of March, Admiral Peary , Frosty , and myself flew up to Kiruna, Sweden, the home of the famous Ice Hotel, the world largest deep mine, and the area known as Lapland. It was an hour and 20 minute flight from Stockholm and took us inside the Arctic Circle. We were as far north as the Brooks Range in Alaska.



Now Kiruna Airport, what can I say but its a riot. It has one arrival lounge and one departure lounge, and had one plane (ours) at it. They rolled up steps and unloaded people from the front and rear of the aircraft. I have a special fondness for those times when you have to walk across the tarmac in all kinds of weather to get on or off a plane. (Except for Charles DeGaulle in Paris - I hate that place.) I snapped some pictures of the airport because its so empty and desolate.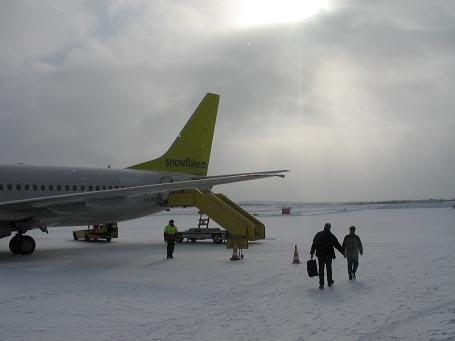 A guide, Michael was waiting for us with my name on a sign. We went to the Hotel Rallaren, www.hotelrallaren.se and checked in, then we were taken to lunch and the Ice Hotel for a tour. The Ice Hotel was really a sight to see. The hotel is made entirely of ice, the walls, the furniture, the ceilings, etc. The bathrooms are outside in another building. The beds are ice except for a central wooden platform that you sleep on. You don't lay on the ice. Every spring it melts and every fall they rebuild it with new artistic designs. We took tons of pictures and had a blast going through all the master suites and designer rooms.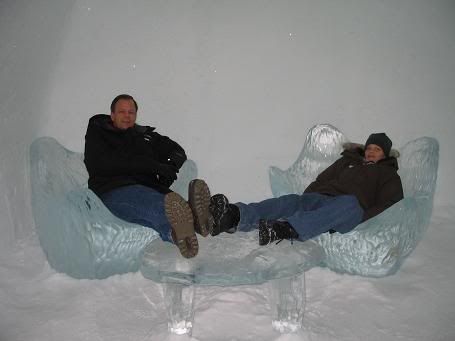 They did have some plain rooms and the only novelty there was platforms for up to 6 people to sleep together.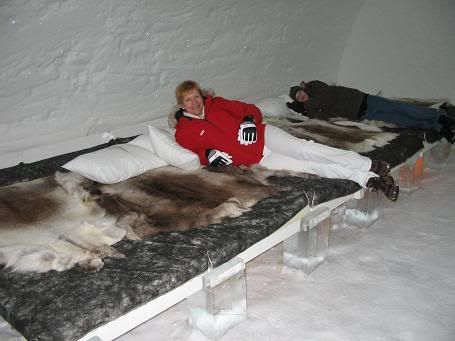 Two friends at the AWC in Stockholm actually spent the night in one of the rooms. My admiration for them is boundless. After about 90 minutes in the hotel, including a drink in the bar, I was happy to go back outside where it was a few degrees warmer. Back several months ago, I had tried via the Internet to see if I could book us into a room if they had a cancellation. Fortunately they never did. My one friend told me that it was a difficult experience staying in the room and after I toured the hotel, its easy to believe. The closest thing I could imagine that you could do at home to experience a night in the Ice Hotel (for the people in Georgia), is pick the coldest night in December or January, get naked, wrap yourself in a sheet, and sleep on your garage floor. Oh, and you can sleep on a thin exercise mat.

I picked up a price listing to stay in the Ice part of the Ice Hotel and the rooms were roughly twice the cost of a warm room, so about $500 for one night of misery. (Yes, they did have warm rooms for guests.) The best I can figure is that you only stay in an Ice Room for one night and only once in your lifetime. I will be happy to have never slept in the Ice Hotel. We got great pictures touring it and that's more than enough for us. Imagine relaxing and reading a book in an ice lounger in a deluxe suite - NOT! As a matter of fact, I interviewed my friend about her stay because you couldn't hang out in the rooms during the day, it was impossible, so where did everyone and their stuff go until bedtime?

After the Ice Hotel, the plan was to go dog sledding at 6pm, hopefully see the Northern Lights, and have dinner on the tour. At promptly 6 p.m., Anders comes to get us with a truck full of sled dogs and a sleigh on the roof. He takes us to a local building with a locker room/storage room where we get serious, heavy duty boots, hats, mittens, and overalls. For the whole weekend we used the boots, hats, and overalls nonstop. Our gloves were sufficient so we never used the mittens. We used our winter gear (coats and snow pants) under the coveralls. We were never cold and were truly able to enjoy all the outdoor experiences we had.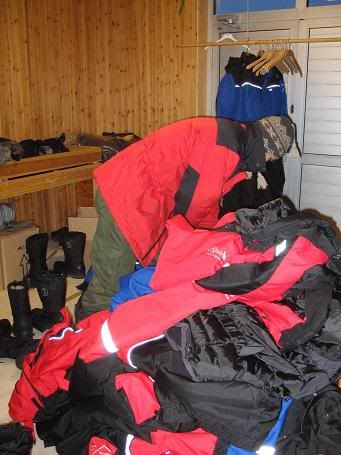 After gearing up, we drove down to an access area where we watched Anders unload the sled and start hooking up the dogs. He explained the sled construction, which was quite interesting and necessary for Frosty , who was expected to give a report on it when he returned to school Tuesday. The sled was layered birch and the joints were tied together because metal can snap when it gets too cold. The braking system was pretty interesting too, especially the snow anchor which resembled a giant treble hook. And the dogs, the dogs were going bonkers barking and whining in anticipation of the run. We were laughing over the sounds some were making. Now the thing that caught us by surprise is that the dogs were not your pretty, Iditarod, fuzzy-coated sled dogs. They had amazingly short coats and looked like a mutt you might adopt from the ASPCA. We said such to Anders who explained about the different breed characteristics. Basically, the "pretty" breeds have some disposition problems and are long distance runners. This breed is not pretty and runs more like sprinters and has wonderful dispositions. This was obvious because they were very friendly and begging to be petted. One young one "Chocolate" was especially sweet. It was also interesting to see that Anders trusted some dogs to run around him once he unloaded them from the truck while others he kept a tight hold on until he had them harnessed and hooked to the sled.

To my everlasting joy Admiral Peary and Frosty and I got to ride on the sled while Anders drove the dogs. It was wonderful flying through the woods and across some golf course fields just outside of town shortly after dark. When the dogs are running, they are totally silent and the only sound you hear is the sled runners on the snow. It was magical. We're bundled up and cruising through the woods and across ponds and just marveling over the experience. Unfortunately the sky was slightly overcast so we didn't see the Northern Lights. At one point I asked Anders if the pink glow in the sky was the Northern Lights, he said no that it was actually the lights reflecting from the town. I teased him that he should have just lied to us, we probably would have never known the difference. Remember this.

Finally we were going through the woods when Anders stopped the sled, anchored the dogs, and even took one off the line and tied it to a tree. What's going on? Then he leads us to a big Sami-style teepee just off the trail hidden in the woods. There he proceeds to start a fire and we realize this is where we're going to have dinner.


We had fun, talking about the dogs, other tourists, the weather up there, and all sorts of odds and ends about Kiruna. BTW, the dog was tied separately to a tree because Anders was afraid he might chew through his harness. The dogs still in the harness on the sled periodically would let us know that they wanted to run more.

We had a great dinner of reindeer stew with onions and cream, lingonberries, and new potatoes followed by a hot cup of tea. It was really different, almost like camping but surrounded by snow. As we were finishing, we saw it was starting to snow, and another group was showing up on sleds for dinner in the teepee. This was a group of about 8 or so, and on two sleds. As we loaded up and took off, it was funny to see the other drivers tightly holding their lead dogs. Anders explained that teams will go crazy when they see other teams take off. They all love to run and pull the sleds.

Our team was quite happy to be running again. Now a yucky fact about sled dogs, if they have to poop or pee, they do it while they're running. It doesn't fly up on you or anything like that but sometimes you catch a smell that's not quite the crisp, clean air that you've been enjoying so far. If anything flies up, its the packed snow from between the last dogs' paws. Admiral Peary and I got hit with a few crystals in the face that made us wonder if we should be wearing goggles. Since it was snowing on the way back, Frosty just hid his face in his coat because he was sitting in the front position on the sled.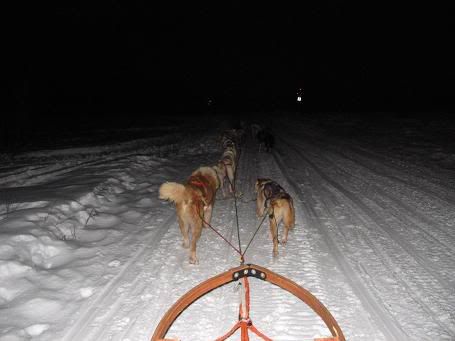 Once we got back to the access area and truck, it was fairly quick and easy loading the dogs. (I say this as we stood around watching Anders do the work.) The dogs were amazingly quiet and Anders said that they knew they were heading home and getting fed. He told us he keeps about 35 dogs. All I could think of is when a family has one pet and multiple kids and the mom is still the one taking care of it. Anyhow, as we were driving back Frosty pipes up "Hey, we didn't see Northern Lights so we get our money back right?" Not missing a beat, Anders replied, "Remember that pink glow?" We all laughed. The Best of Lapland web site had said that you'd get your money back if you didn't see the Lights but we had a great time and besides, you can't control nature. Its like wanting a guarantee to see a leopard in Africa. We tipped Anders when he dropped us off and obviously that was not expected from his reaction. (We tipped everybody on this trip and universally they were all obviously shocked.) Still, we're Americans and when we have a good time, that's how we show our thanks. I told Admiral Peary that I think we leave good impressions wherever we go. He said that tourists are ambassadors for their countries. I've never really thought of that.

When we got back to the hotel, Frosty headed to the shower and Admiral Peary and I went to the adjacent building for our first Swedish sauna. Yes, we've been here over a year and had yet to experience a Swedish sauna. We luxuriated in the warm, wet heat until we were almost ready to fall asleep. Since our room was maybe 30 feet away outside, we pulled on boots and shirts with our towels and strolled back. It was refreshing after the heat of the sauna and we were planning on a hot shower anyway before bed. We slept like the dead that night. You'll understand why I say that when I tell you about our last night here.

The next morning, we were getting picked up at 9 am to go snowmobiling overnight out to a Sami village so we only needed an overnight bag. The hotel was nice enough to keep the rest of our bags since we were coming back the following evening. I should mention that the hotel is a big old house that was remodeled into a hotel. The part we were staying in was obviously added at a later date.

Hans Johansson (www.nordk.se) found us in the breakfast room and took us off for our snowmobile adventure. What a wonderful guide. That morning it was snowing and we didn't have goggles and Hans insisted we have them. Unfortunately they were on the other side of town about 20 miles away, so he hit two gas stations and at the second purchased goggles for the three of us.

At the starting point, the four of us had three snowmobiles. Hans had a 4 stroke Ski Doo Bombardier and Admiral Peary and I had 2 stroke Yamaha VK540IIIs. (For the snowmobiling buffs in the audience.) Frosty rode with Admiral Peary and I had my own machine.


I also had the all important overnight bag strapped into the cargo frame. Our machines had governors on the throttles so our top possible speed was around 50 mph But we were never asked to sign a liability release. And my favorite option - heated handle grips.

Admiral Peary and I have both been snowmobiling before but, we couldn't believe it, we'd never taken Frosty before. Frosty had never been on a snowmobile. That's when we realized its been a long time since we had gone (before he was born). Anyway, we take off through the woods, across some ponds, along power lines at one point, and eventually out onto a frozen river. You could not have asked for better weather. The early morning snowstorm petered out and the sun was shining and it was beautiful.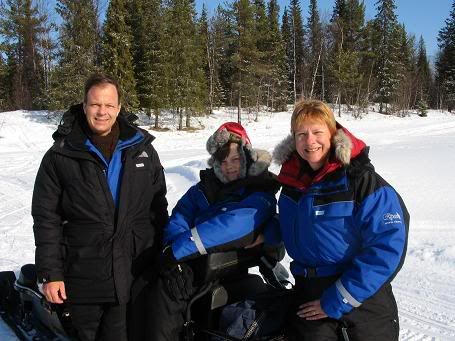 We're zooming along the river to the Ice Hotel. Hans said that would be the last convenient potty break for me until we reached the Sami Lodge. This trip was going to take roughly four hours and we were following a path known as the "Tobacco Trail" on the map. The trip would cover slightly more than 40 miles. Most of it was through the woods but a few spots were on rivers and across lakes. We're out in the middle of nowhere with few signs of civilization. One of the most outstanding for me was just before we reached the Ice Hotel. Sticking out of the pine trees, in the middle of the woods, was one of those huge, commercial satellite dishes. It looked like the scene from Star Wars - Return of the Jedi. Remember the "Forest Moon of Endor" and the big white satellite dish projecting the energy field protecting the Death Star? Yepper, you got it. Unfortunately I didn't snap a picture.

Because of our gear and the weather, we were perfectly warm and comfortable riding out through the wilderness. The views of the snowcapped hills and going through the snow-coated trees was beautiful beyond belief. I was snapping scenery shots every time we stopped for a short break. Hans stopped us roughly every hour for a leg stretch. Admiral Peary took some great panoramic shots with the camera. I'm glad I took so many scenery pictures because even though pictures rarely do justice, it was achingly beautiful out there and I experienced feelings similar to the African Safari. Awestruck.

At the halfway point, we stopped at a little cabin for lunch. Sandwiches, trail mix, and one of my favorite Swedish items - hot blueberry soup. (It tastes like the juice from a fresh baked blueberry pie but thick.) Hans told us he made it but with a secret smile on his face. I think it comes in a can in the grocery store and if it does, some is coming back with us to the US.

As we got closer to the Sami village, I noticed black plastic garbage bags on strings hanging over the trail. Hans explained its to keep reindeer off the snowmobile trails because if they get on them, they can go for miles and their owners can't find them. Fortunately, since they're wild animals, they spook really easy. I found that out when we came across one on the trail and I tried to get its picture. Hans sent me ahead on my snowmobile but I couldn't catch it and get a picture before it disappeared into the woods. Not to worry, we got other pictures.

Finally, in the mid-afternoon we arrived at the Sami Village and met Britt Marie. Britt Marie is a Sami Reindeer herder and has been made famous by the BBC Survival Guide Ray Mears. We didn't know that before we got there, but she had a copy of his hardcover book - "Bushcraft Survival" and she and the Moss Hut we stayed in are around page 224 if you are now motivated to rush out and buy the book. She was also on a BBC TV special. Otherwise, she has a web site www.mineallin.com and of course, we took pictures.

Shortly before dinner, Frosty was outside playing in the snow and trying to dig tunnels. Admiral Peary went out for some pictures of him and some great sunset shots.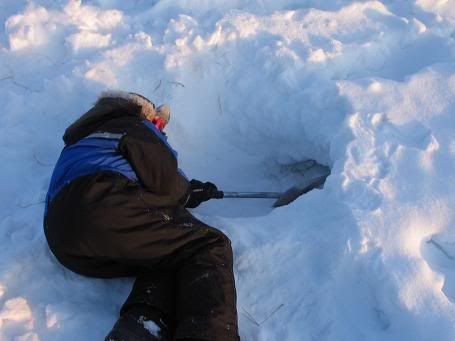 We called Frosty in just as dinner was being served. Reindeer stew with grated potatoes, lingonberry sauce, and wine and beer. Admiral Peary really liked the beer, it was Norwegian. Surprisingly, I had a red wine and after three small glasses was feeling pretty good. Hans was off to the sauna so we sat with Britt Marie to learn about Sami culture.

Britt Marie is trying to save the Sami culture and teach it to the local children. She also does a great job of teaching her guests. Keeping guests is her way of funding her education efforts. Thanks to Ray Mears, she's started getting a lot of people from the UK and the United States. A Norwegian guide was bringing a party from the US by dogsled the day after we left. She only takes one party (up to fourteen I think) at a time. BTW Swedes rarely go on vacation up here, only foreign tourists. Swedes go to warm places on vacation. Most Swedes working with Admiral Peary had no idea what he was talking about when he said we were going to visit a Sami village.

Think of the Sami as American Indians or African Masai. Their culture and lives revolve around animals, in this case - reindeer. Before you had countries here, the Sami followed the reindeer to Norway and the coast of the Norwegian Sea in the spring and summer, then back to Sweden and the coast of the Baltic Sea (known up north as the Gulf of Bothnia) for the fall and winter. They still do, but instead of using the traditional reindeer sled they now use snowmobiles. Britt Marie told us that when she was little and Norway formalized its borders, two of her brothers were up there at the time so they were made Norwegians while the rest of the family were made Swedes since they were in Kiruna at the time.

Britt Marie had some great stories about dealing with the Swedish government. Some made little sense to me and I'm not even a Swede. First of all, during her grandfather's time, Sami were not allowed to own land. Furthermore, just like American Indians, the concept of owning land was foreign to them anyway. Even today, the property concept in Sweden has this "Every man's Rights" law. Basically you can travel or even camp on any property as long as you don't destroy or litter it in any way. I still don't understand the land ownership issue.

The thing I really shook my head over was the yearly taxes on the reindeer. Reindeer are wild animals and if there was any doubt in your mind, the ones in Britt Marie's pen would educate you. There was a beautiful white one that still had his rack that Admiral Peary kept chasing around just to get a picture. True, the Sami notch the reindeer ears so they can tell who owns what, but then they turn them all loose. You can't keep them penned because they migrate. And guess what? There are all kinds of ways to lose reindeer. They can disappear for years, they can get ate by predators, they can die due to injury, starvation, or old age yet the government wants you to count and tell them how many you have so they can tax you. They are so obviously not like cows or sheep.

A fairly recent development with the government was truly disturbing for me to hear, let alone for the Sami to deal with. You see, Sami people respect nature and believe that if an animal is to be killed, it should be done quickly with the minimum of stress and fear for the animal. As a matter of fact, Britt Marie said that if the reindeer run counterclockwise in the pen instead of clockwise during the ear marking times, they stop because it means the animals are panicked. Anyway, every year, some reindeer are separated and slaughtered for all those wonderful steaks and stews we enjoy in Stockholm. It also allows the Sami to pay their taxes. Now it used to be that a refrigeration truck was sent to the penning area and the Sami would quickly kill the animals and then they would get loaded in the truck for shipment to the slaughterhouse. The government now insists that the animals be shipped live in multilevel trucks and killed at the slaughterhouse because its more sanitary. As Britt Marie was quick to point out, how does putting wild animals in a multilevel truck where they panic and poop and pee on the animals below constitute sanitary conditions? Also, if a deer with antlers goes down in a truck, it can't get back up and usually dies by being trampled by the others. You could see that it was a painful subject because its against Sami beliefs and Britt Marie feels that if the younger generation gets used to this, they'll lose their respect and feelings for the animals and consequently an important part of their culture. Personally, I felt PETA could make themselves useful for once in their history - go get the Swedish government. After all the reindeer ARE going to get eaten anyway but they shouldn't be made to suffer like that.

I could have talked more with Britt Marie but Hans came in to show Admiral Peary the sauna setup. It was getting late so when Admiral Peary came back to get Frosty and myself, I said good night. We went and had a family sauna in a real Swedish sauna. Real because it was wood fed and the one in the hotel was actually electric. This was really nice because it had an adjacent changing area and the sauna had wooden slats in the floor so we could wash with soap then rinse off with the extra water. The water is heated by burning wood in a basin outside. You bring it in by buckets, mix it with the right amount of cold water and then dump it over yourself (or have someone do it for you).

We're all in the sauna wrapped in our towels (because of Frosty ) and just relaxing when Admiral Peary asks me if I brought the camera. Of course not, I promptly forgot and left it on the table in the Moss Hut. Well it was obviously hot enough that I decided I would go back to the hut and get it since the hut was maybe 30 feet away from the sauna. This is what led to the towel and snow boots picture. It was so funny and reminded us of our first house and the hot tub parties in the dead of winter. Of course I had no intention of rolling in the snow, but it was still fun.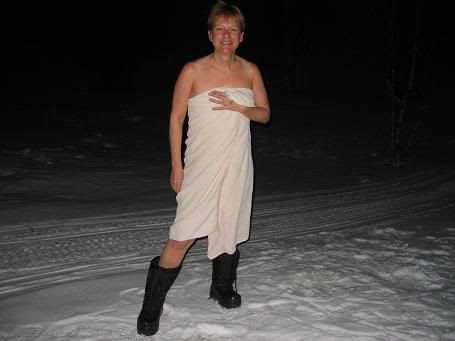 So I tromp back to the Moss Hut, dressed in a tank top, undies, and snow boots and proceed to climb into a top bunk bed. We were given sheets sewn like big pillowcases which we slid into before we slid into the sleeping bags. Needless to say, I had a great night's sleep. The hut had four bunk beds and we were a little surprised to find Hans bunking with us. No problem but unexpected. The next morning, we were supposed to be up at the main house for breakfast at 9 am. We made it up there at 10 am because we didn't realize the time changed overnight and the clocks went forward an hour. Britt Marie was waiting for us and had realized we didn't remember the change. Even Han's was caught by surprise.

After a great breakfast, Britt Marie showed us more about how the Sami use reindeer and birch trees. A reindeer skin is one of the best insulating skins because the hair is made up of hollow tubes. But, as it gets older, the hair breaks so it seems you have a big shedding dog in the house. When that starts to happen, the Sami used to take the skin and put it in a stream or lake so the hair rots off. Now they put it in a big plastic garbage bag. After about a month, they pull it out and rinse it in boiling birch bark water which removes the rest of the hair and colors the skin. Still, it leaves the skin pretty stiff so there's one more step and the young Sami hate doing it. You see, you take some of the birch bark water and the brains of the reindeer and work it into the leather. Britt Marie says it stinks to high heaven but makes the leather soft and pliable. This is funny for me because I remember reading this in some fictional story where one character asks another how much brains are needed. The clever response was that God gave each animal just enough brains to preserve its hide. (Think about it.)

Britt Marie went on and showed us how deer sinew is broke apart, wet, and used as thread to sew skins together. She showed us all the different types of clothing they make. We also got a lesson on the uses of antlers. Kitchen utensils and women's knives are made from reindeer antler. Men's knives have birch handles.

The womens' knives are interesting because the sheath has a bend in it. Britt Marie explained that its made that way so it pulls out easier if your hands are stiff with the cold. The other fascinating thing we learned was about the antlers themselves. The males drop their antlers in the winter and the antlers from the uncastrated deer are the ones they pick up and use to make the knives and different items. At about four years of age, they castrate the males which makes them stronger and better foragers, digging the snow out of the way so the weaker animals can feed. From the picture, you can see the difference in the antlers. I'm holding the non-castrated deer antler.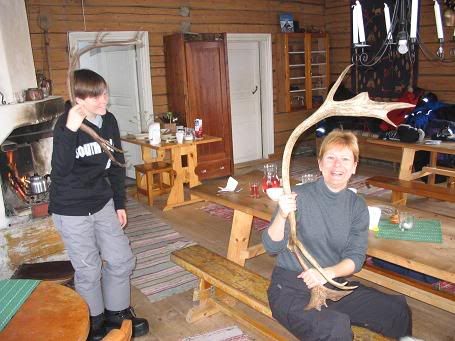 If we understood correctly, you don't want to know how they castrate the deer.

The antlers of the castrated deer are left in the forest. A number of years ago, Britt Marie said that the Japanese came and wanted to buy them for making medicinal powders. Not thinking anything of it, the Sami gathered them up and shipped them overseas. However, in a few years, they realized that the reindeer herds were not doing so hot health-wise. Then it was discovered that the reindeer nibbled on the dropped antlers, which were rich in calcium, so the shipments to Japan stopped and in a few years the herds recovered. Strange huh?

Now we got to go out and see the few reindeer Britt Marie was keeping in an enclosure. Since they can jump pretty good, there was yellow tape like police crime scene tape draped around the top of the fence. Again, they're wild animals and spook easily. They keep a few contained to use for pulling the sleds. After winter, they release them and train some new ones for the next year. We went into the pen with food and still they kept running about and eyeing us nervously. Even one old-timer with the bell wouldn't come to us or let us too close. Like I said, Admiral Peary was just about chasing some to get a good picture.

For the first part of the trip, I took Frosty on the snowmobile with me. Because Hans saw we could handle ourselves on the machines safely, we definitely traveled faster heading back. Surprisingly at our first stop, Hans said Frosty could drive the snowmobile a little while, so Admiral Peary had him back on their machine. He drove for about a half hour. At the next stop, Hans asked Frosty if he'd like to ride faster with him. I was so jealous because if you're not an experienced rider, its a real treat to ride with someone who knows what they're doing. (At least for me it is.) Needless to say Hans took off with Frosty , closely followed by Admiral Peary and myself. Across the lakes we went full throttle and Hans and Frosty were just dots on the horizon. Admiral Peary was almost able to keep up with Hans even with the speed governor because Hans was occassionally going off-trail into deep snow. Somehow I kept getting hung up in traffic.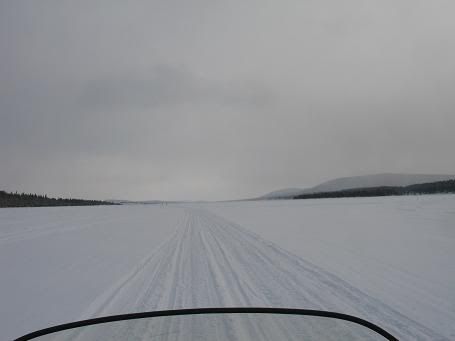 I must admit that at one point I thought I had Admiral Peary on one of the rivers when to my disgust he was sand-bagging and suddenly just about blew my doors off. Without Frosty riding with us, we definitely pushed the machines as hard as we could and it was a thrill.

Before we knew it, we were back at the Ice Hotel and stopping for lunch. It wasn't too long before we were back on the sleds and almost back to the starting point in Kiruna. As we pulled in and parked the snowmobiles I turned to Admiral Peary and told him I was sad it was over. He felt the same way. We really had a fabulous time out there, in the snow no less, with Frosty and Hans. Honestly, I'd love to do it again sometime and I'm saying this when the temperature never got above freezing the entire trip.

Hans dropped us back at the Hotel Rallaren but not before he showed us some local eating places within walking distance of our hotel. We arrive at the hotel and the door's locked and nobody is home. Hans is not about to leave until we're settled so Admiral Peary tries call the number listed on the door. BTW, its about 4 pm Sunday afternoon. Nobody is picking up. Meanwhile Hans is out of the van and happens to check the mail slot by the door. There's an envelope with a cryptic message that we're in the same place. The door key looks familar so we go over and check and sure enough, all our bags are back in our original room. Interesting how they do things there.

Now what do you do at the end of a cold day outside? Sauna! Family time in the sauna again! After getting cleaned up and dressed for dinner, we decided to climb the hill and look for O'Learys Bar and Restaurant, which Hans had shown us earlier. It seemed so out of place that we had to go for beer and bar food. It was maybe two blocks away and sure enough was styled after a Boston Irish Pub. There was all kinds of Boston Celtics and other North Eastern US sports teams memoribilia on the walls. I had a club sandwich, Frosty - a huge cheese burger, and Admiral Peary - a Philly Cheese Steak - no reindeer tonight! Admiral Peary said the Philly Cheese Steak tasted like chicken, so they had the authentic atmosphere but not quite the authentic taste.

Strolling back to the hotel, Admiral Peary remarked as he has once or twice before, that he no longer feels like we're walking around with big "TOURIST" signs on our backs. I hate to say it but this was the first trip where I felt totally relaxed, confident, and calm. Maybe because we've done so many? Maybe because we met the nicest people, who made us feel at home? Maybe it was because we weren't that far from our home in Stockholm? I've already been asked which trip I enjoyed more - Africa or Kiruna and I just can't say. Both were amazing and both were totally different except for the fact we had to fly and had guides on both. I need to re-read and edit my journal of the Africa trip, then maybe I can pick.

We promptly tumbled into bed and woke around 2am to muffled booms and the building shaking. Kiruna has an iron mine next to the town so we had a good idea what was happening. Of course, after the third boom, I was waiting for the town sirens to go off. They never did and the next morning, a girl in the hotel cafe told us that they blast every night at 2 am. Earlier we had learned from Hans and then later from Michael (I think) the mine has almost 250 miles of tunnels which are now approaching the town. The plan is to relocate the town starting with the rail line in a couple of years. My Discovery Channel Sweden guide says that the mine is the world's largest deep mine and during the summer you can take a bus tour through its double lane highways. That is definitely something that would be fun to do. Still, I'm surprised we didn't hear or feel it our first night there. I don't think they blasted Friday night because neither Admiral Peary or I heard or felt it.

Michael picked us up the next morning and we headed southeast from Kiruna to look for moose and stop at a craft shop/cafe/museum. No moose on the way down. After about an hour, we reached the turnaround point which was the craft shop/cafe/museum. I ended up getting a fabulous wool pullover made in Norway and more importantly we bought a real Sami "women's" knife. I have a secret fascination with knives so I was thrilled. Admiral Peary picked the most ornate one and it's now on display in our china cabinet.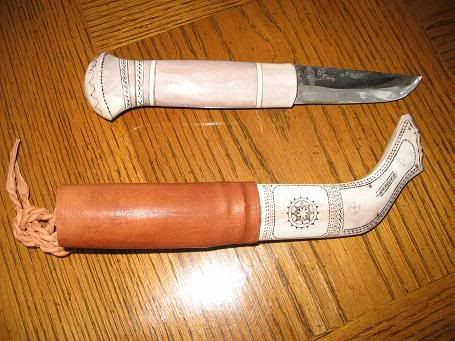 The cashier was curious where we were from because she wanted to be able to tell the Sami that made it, that eventually it was leaving the country and going to America.

On the way back, Admiral Peary and I spotted moose. Michael had told us to look for big black rocks with ears and sure enough, we spotted two right next to the road, laying down in the woods. We all (except for Michael) piled out of the van to take pictures. The younger one, that year's calf I believe, finally stood up for us while his huge mom refused. All we have of her are pictures of her immense head and shoulders.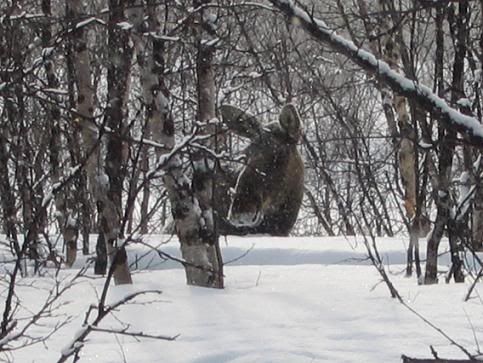 Unfortunately Michael didn't want us to step off the road and get any closer to them. Since I know nothing about moose, I wasn't going to argue. Again, we weren't asked to sign a release form. The preferred approach in Sweden (and most of Europe) is just use your common sense and stay out of trouble. And, if you get yourself in trouble, it's your own stupid fault.

Before we knew it, we were back in Stockholm. If we ever get the chance, I wouldn't mind going back to Kiruna during the summer for a tour of the mine and the midnight sun. We met some really nice Swedes that we'll never forget.

My final story for this spring is our trip to Italy. We went to Rome, Venice, and Milan and flew back to Stockholm on Easter Sunday. This was a great trip too but more like your typical vacation story. You can decide for yourself in a few weeks.

---
TOPICS: Education; Humor; Miscellaneous; Outdoors; Pets/Animals; Society; Travel
KEYWORDS: brittmarie; hansjohansson; hotelrallaren; icehotel; kiruna; kirunavaara; lapland; reindeer; sami; sweden; tabaccotrail; wwwbestoflaplandse; wwwmineallincom; wwwnordkse
---
---
---
---
---
---
---
---
---
---
---
---
---
---
---
---
---
---
---
---
---
---