---
NutRoot Outrage at Fake Video Bashing John Gibson of Fox News
Publius' Forum ^ | 2/20/09 | Warner Todd Huston


Posted on 02/20/2009 7:40:46 AM PST by Mobile Vulgus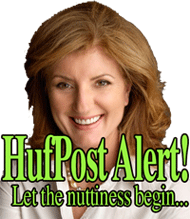 This is a tale that should serve as a cautionary one to all that inhabit the Internet. It's all about the instant outrage, the ginned up hatred, the immediate immolation, that one sees so often infesting the left in our fair country. It shows how unhinged many there are. It started on the Huffington Post on February 19, when poster Alex Leo found what he thought was a video of John Gibson of Fox News saying that new Attorney General Eric Holder was like a monkey with a "bright blue scrotum." In reality, though, what Huffposter Leo found was a spoof video, not a real one, of someone else's words edited over the top of John Gibson's video.
It wasn't true. It was a fake. Regardless of the truth, however, the left-o-sphere went wild with faux outrage over the obviously "racist" John Gibson and his evil remarks. Within hours the tale had spread over to DailyKos, and other lefty bloggers as well as the site of supposed bastion of troof, Keith Olbermann. Even the profane folks at Wonkette went for the manufactured lie. Naturally, comments of outrage accompanied each posting on this fake story. (Thanks to JohhnyDollar for the work on this)
Read the rest at Publiusforum.com...

---
TOPICS: Government; Politics; Society
KEYWORDS: brightbluescrotum; dailykos; ericholder; foxnews; huffpo; johngibson; nutroots; phonyoutrage
---
---
---
---
---
---
---
---
---
---
---