---
Hey Seniors! Just Die Already!
WhenWeAreQueen ^ | July 26, 2009 | Queen1


Posted on 07/26/2009 5:29:45 PM PDT by pharmamom
---
Navigation: use the links below to view more comments.
first previous 1-50, 51-55 last
---
To: Freedom'sWorthIt; All
Let me look into my bag of tricks...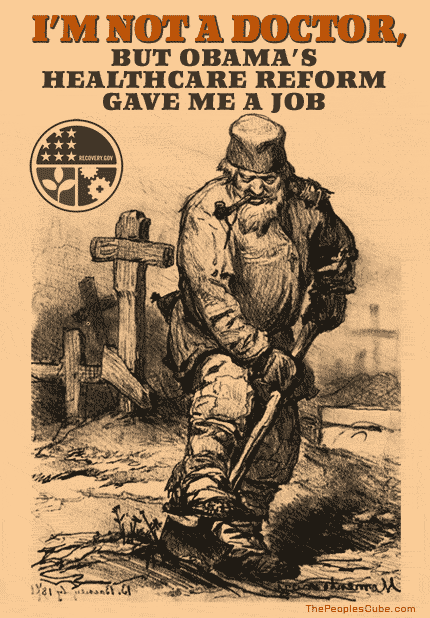 ---
And all this, leads up to...
51
posted on
07/27/2009 12:31:38 AM PDT
by
backhoe
(All across America, the Lights are going out...)
---
To: backhoe
Bravo Bravo! i knew some of these .....but not all Thanks!
---
To: Freedom'sWorthIt
---
To: utahagen
Just a little bit of information on government rules and regs. When I worked at the hospital in the 80's the government came out with guide lines for procedures and what they should cost..I was sitting at the nursing station talking with one of our GI specialists and ask him how the guidelines were working...He said well, he charges 250.00 for a gastronomy. The government put the cost of such a procedure at 350.00 dollars. They would reimburse the doctor 80% of the cost, that comes to 280.00. 30 dollars more than he charged..the remaining 20% was to be paid by the patient...
So he got a 30 dollar raise for doing the procedure and told the patients he would take only what the government gave and no patient was forced to pay the 20% extra...Many doctors told their patients that they would accept the government payment and not bill them for the difference...
The cost of health care going up is strictly on the governments back..Then it was decided that insurance companies had to paid for birth control pills. (they didn't cover that when the pills first came out)
The congress decided insurance company's should pay for elective surgery like breast implants, recently for Viagra so someone guy could get an erection. Insurance companies had to pay for that. The list of what insurance company's had to cover grew and grew...
When I got married, insurance companies did not cover maternity benefits until you had been married for 9 months.. Hubbys insurance with Michigan Bell covered him and he paid extra for wife and family...It wasn't a large amount the companies didn't cover non-employees..Costs were low and everyone had hospitalization...Doctor visits were paid by the patient not insurance...But hospitalization was covered almost 100%.
We are from the government and are here to help you....Yea right, they always are out to screw you...now people expect and think they have a right to Cadillac coverage at used car prices...

---
To: pharmamom
I figured in one of my daydreams that all members of congress should line up on the capital steps and only shoot every other one...send the rest back to shape up and return this country to its rightful owners, the taxpayers...but Alas it was just a daydream...
---
Navigation: use the links below to view more comments.
first previous 1-50, 51-55 last
---
---
FreeRepublic.com is powered by software copyright 2000-2008 John Robinson