---
VOTE HERE ObamaCare flops: which heads will role? Goofy Gates? Enforcer Rahm? Dr "End-Of-Life" Zeke?
8/16/09


Posted on 08/16/2009 2:38:58 PM PDT by Liz

Obama's punctured gravitas
http://www.americanthinker.com/blog/2009/08/obamas_punctured_gravitas.html
August 15, 2009 | Thomas Lifson
FR Posted by fiodora

Democrats and their media lapdogs labor mightily to sustain and reinforce the image of Obama the cool, clam, authoritative, brilliant, serious, likable, man of destiny. But ridicule is the most powerful solvent on earth. And a false gravity, once punctured, dissipates with the breeze. Barack Obama's political glass jaw is the illusion of gravitas that was successfully sold to enough Americans to get him elected. His stentorian deep voice persuades many, never mind the pablum of vague clichés he dishes out. Rush Limbaugh brilliant punctures the illusion by speeding up the tape and raising Obama's register when he plays excerpts of the president speaking. Minus the deep voice, with an altered rhythm no longer hypnotically caressing the listener, the banality of the actual words becomes clear.

For a man acclaimed as the greatest orator since Daniel Webster, how many people can quote even one memorable phrase from one of his speeches? "Acted stupidly" doesn't count, because it came in a press conference not a speech.

What Rush Limbaugh's audio wizardry does to Obama's voice, the Joker Poster artist does with Obama's mien. Minus any racial signifier, Obama suddenly loses a certain gravity. Add in the huge made-up smile, and it becomes clear that a massive joke has indeed been played on the American people. Watch the following YouTube re-creation of an Obama speech, as given by the Joker Poster: [http://www.youtube.com/watch?v=SZ8L0RE2Axs&eurl=http%3A%2F%2Fiowntheworld.com%2Fblog%2F&feature=player_embedded#t=97]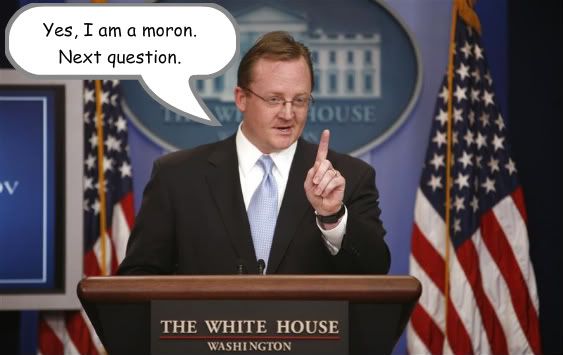 "After I do my Baghdad Bob impersonation, I go into my Vinnie Barbarino act. Who? What? Where?"
"DUH! Is this a trick question from one of those viscious MOMSTERS?"
"(Sob) I love hope and change."
"Under Obamacare I get a free high-tech penile implant with microscopic
cameras and remote video relays to wide screens in Planned Parenthood
offices....to make sure we Americans are using sanitary sexual organs.
Obama says this will save zillions on STD medical costs. "
"And with my sanitary Obamacare Penis-a-Go-Go, I never, ever have to use a
rolled-up sock again."

---
TOPICS:
Politics
KEYWORDS:
mrskippy
---
---
---
---
---
---
---
---
---
---
---
---
---
---
---
---
---
---
---
---