---
Obama Wins Nobel Peace Prize (Jackie and Dunlap weigh in)
Youtube ^ | 9 October, 2009 | travisandjonathan


Posted on 10/13/2009 9:24:55 AM PDT by Errant

Jackie and Dunlap weigh in on Obama's surprising Nobel Peace Prize win. Does he deserve it? (Youtube video)

---
TOPICS: Chit/Chat; Conspiracy; Humor
KEYWORDS: humor; nobel; obama; red
---
To: Errant
"Barack Obama won the Nobel Peace Prize for one thing – getting elected president in a country that has never had a woman or a person of color as its leader. I expect an Oscar, a Tony and a Pulitzer will all follow, and all will be equally deserved."
- Former San Francisco Mayor Willie Brown

---
To: Errant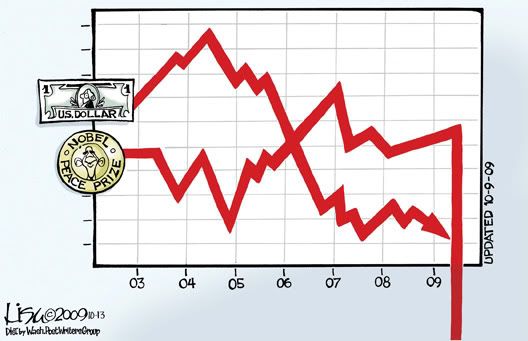 3
posted on
10/13/2009 10:08:28 AM PDT
by
preacher
(A government which robs from Peter to pay Paul will always have the support of Paul.)
---
To: Errant
It is obvious: Hussein Obama GOT the award because he was America's first BLACK President.
---
FreeRepublic.com is powered by software copyright 2000-2008 John Robinson