---
"On the Good Ship Jiffy Pop"/"Up, Up on the Screen (In My Helium Balloon)"
DUmmie FUnnies ^ | October 22, 2009 | Charles Henrickson, the wag tailoring the doggerel


Posted on 10/22/2009 7:24:49 AM PDT by Charles Henrickson
UP, UP ON THE SCREEN (IN MY HELIUM BALLOON)
Tune: "Up, Up and Away (In My Beautiful Balloon)" Original
Would you like to hide in my helium balloon
Would you ride untied in my helium balloon
We'll be famous like the stars on TV, you and I
For we can lie, we can lie
Up, up on the screen
In my helium, my helium balloon
It's just a little game in my helium balloon
It's fortune and it's fame in my helium balloon
We can sign a deal and keep it real--no, we're not shy
For we can lie, we can lie
Up, up on the screen
In my helium, my helium balloon
It's splendid knowing the spotlight shines on you
We'll use our kids when the networks show up
If by some chance we face a tough interview
We'll find a bag to blow up
We'll start to gag and throw up
Fame is waiting there in my helium balloon
Soon we're on the air in my helium balloon
If you'll hold your tongue we'll send our young across the sky
For we can lie, we can lie
Up, up on the screen
In my helium, my helium balloon
Balloon . . .
Up, up on the screen . . .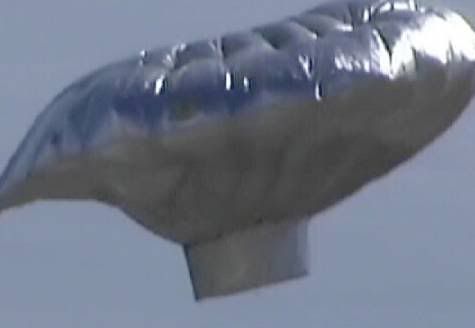 ON THE GOOD SHIP JIFFY POP
Tune: "On the Good Ship Lollipop"
You had your wife and boys
Helping on your balloon
Then it comes loose, deploys
That fateful afternoon
Soon it began to fly
You said your son's inside
When it came down, what we found
Was that Daddy lied . . .
On the good ship Jiffy Pop
Just a loose lip made your flight a flop
When Falcon slipped
And departed from the prearranged script
Cable news crews everywhere
More and more clues fill the air
And there you are
Heene standing at a criminal bar
You were on "Wife Swap," but you couldn't stop
You just had to get back on TV
So your kid did--ooh ooh
Just a fluke that he had to puke
Make a new ship Jiffy Pop
Use a foil strip from the prison shop
And sail away
On the good ship Jiffy Pop

---
TOPICS: Humor
KEYWORDS: balloon; balloonboy; heene; parodies

Click the music links and sing along!

---
To: Charles Henrickson; windcliff
2
posted on
10/22/2009 7:32:47 AM PDT
by
stylecouncilor
(What Would Jim Thompson Do?)
---
To: stylecouncilor
---
To: Charles Henrickson
Jiffy Pop makes a good fire detector:
---
FreeRepublic.com is powered by software copyright 2000-2008 John Robinson