---
DUmmie FUnnies 10-23-09 (The gasbag has landed! "Baloney Boy" Pitt back from the honeymoon)
DUmmie FUnnies ^ | October 23, 2009 | William Rivers Pitt, DUmmies, and Charles Henrickson


Posted on 10/22/2009 10:36:00 PM PDT by Charles Henrickson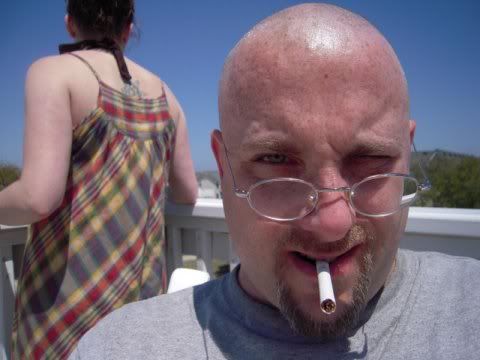 The gasbag has landed! No, not the good ship Jiffy Pop. No, I'm talking about "Baloney Boy" Will Pitt. Mr. Pitt has just gotten back from his honeymoon! Our Little Willie is now a married man! WOOOO HOOOO!!!!! Congrats, Will! We here at DUmmie FUnnies are very happy for you and your bride, and we wish you all the best. I'm series. If I could, I would buy you a beer at Bukowski's and raise a toast in your honor. Li'l Beaver would give you a cigar. We may have our political differences--oh, kind of like the difference between night and day--but on a personal level, we bear you no ill will . . . Will. We kid because we love.
So several threads to get to. A couple weeks ago, Will previewed his wedding in this THREAD, "So I'm getting married this weekend...." Then, a few days after the October 11 wedding, he posted this THREAD, "...so I have some wedding photos here...." Yes, follow that link and you will see actual photos from the actual wedding! Now finally Will reports that he has returned from the seclusion of his honeymoon and is back on the job (whatever that is, exactly), in this THREAD, "Catching Up With The Crazy."
And away we go! The words of Will and his well-wishers are in Blushing Bridegroom Red, while the commentary of your humble guest correspondent, Charles Henrickson, somewhat miffed that Will didn't ask me to perform the wedding, is in the [brackets]:
So I'm getting married this weekend...
[Will wonders never cease!]
Picking up my Best Man at the airport in an hour.
[The best man is a luggage handler.]
Heading to rural New Hampshire tomorrow morning. Rehearsal and rehearsal dinner tomorrow evening; dinner, btw, will be at my mom's house (DUer Raven for the uninitiated). . . .
[Will's having a hard time leaving the Raven's nest.]
Wedding on Sunday here:
[So I follow the LINK, and there's a pic of the church. But, lo and behold, the URL identifies it as "Nelson Congregational Church." It's a congregation of the United Church of Christ! But I thought Pitt was Roman Catholic! And the UCC is a very liberal mainline Protestant denomination! And the pastor is actually a pastorette! "Rev." Dawn E. Garrett-Larsen! Wha' hoppen, Will??? I know the RCs don't go for female impastors! Didn't you just recently say, when Teddy Kennedy died, that you were a "Kennedy Catholic"?? Oh, wait, now I get it. Teddy wasn't too true to Catholic teaching, either.]
Reception here:
[No, it's not Bukowski's, silly!]
Wish me luck.
[I think we should wish the BRIDE luck! Now to the DUmmie well-wishers . . .]
Must be a bye week for the Pats. . . .
[And a buy week for the Pitts.]
Please don't let this interfere with your major contributions to our community.
[You are a great boon to us insomnia sufferers!]
congrats and much happiness to you and Raven.
[Uh, Raven is Pitt's MOTHER!]
Note to Raven: Not losing a son, gaining a son-wrangler?
[The Bondage of the Will.]
DOES THAT MEAN I HAVE TO STOP STALKING YOU????
[Is that you, benburch?]
*hugs*
[*drugs*]
Best Wishes! Are you taking her name?
[No, but the husband of "Rev." Dawn E. Garrett-Larsen really did take HER name, which is on one side of that hyphen there. Yes, the "Rev." Garrett-Larsen is that rare bird, a NON-lesbian female minister. Speaking of birds, DUmmie Raven (Pitt's mom) checks in . . .]
He's getting married and I'm getting a daughter. . . . Will's Cailen is a GIFT, a wonderful, wonderful Gift.
[Well, that's sweet. I mean it. No joke here. . . . OK, after that brief interlude, now back to the jokes . . .]
May the road rise to meet you. . . .
[Usually the floor rises to meet Will.]
Love is grand! --asdjrocky
[Love Is Blue --Paul Mauriat]
Don't regale the guests with too many stories, Will Pitt.
[Asleep at the Will.]
We were married in NH, August '02, with a pig on the fire and kegs on ice - ya can't beat the Karma!
[The pig would probably disagree.]
Good luck and Darwin Bless
[The Survival of the Pittest.]
Are you William Pitt the Younger or the Elder?
[He's William Pitt the Balder.]
I heard once that two printer color inkjet cartridges got married. A short time later the bride said excitedly to her groom, "Darling, I think I'm pigment."
[That was the beginning of the Cartridge Family.]
I hope it's fantastic, the weather is perfect, and you're not so drunk that you pass out before it's over.
[This man knows his Pitt. . . . Next thread, after the nuptials . . .]
...so I have some wedding photos here...
[The new Mrs. Pitt looks quite lovely. How'd you manage that, Will?? I guess the old saying holds true: There's a lid for every pot--and Pitt!]
The deal goes down
[Pitt refers to this PHOTO, with a good view of the best man/luggage handler, the bald bridegroom, the tattooed bride, and the pastorette with the funky stole. Now to the DUmmies . . .]
Who is the bald dude?
[Pitt, in an altared state.]
Enjoy your time off the planet, sweetie...
[Off to Planet Pitt!]
Looks like one god-damned, liberal-assed affair if you ask me!
[The Day When Everything Finally Changed!]
Love the color of those bridesmaid's gowns!
[Bolshevik Red was a nice touch.]
Now let your hair grow back!
[Pitt's almost 38 now. More likely hair's going to grow ON his back.]
Will ??? - What Did You Do With Your Hair ???
[It's sealed in an envelope in Washington, D.C.]
Is this some sort of Sampson and Delilah thing???
[It's more like a Homer Simpson thing.]
Congratulations! . . . from someone who has admired your writing for so long.
[So YOU'RE the one!]
I'm sure your better half is very intelligent and will help keep your feet on the ground.
[That's always a challenge with Will.]
Didn't we tell you not to get married at the Temple of Manos, Hands of Fate?
[I now pronounce you Manos and Wife.]
dude , where is you hair ?
[Inquiring minds want to know.]
Does she know you have the power to move people with words?
[They tend to move away quickly.]
Mr. Pitt, any president who is not paying you to write speeches is not using America's best talent.
[Will the Shill blew any chance of a paying political job on May 12, 2006, the day of Rove's "indictment."]
There is something a-shimmering in you.
[That's one way to put it.]
Do I see a female clergy officiant? Hoot Hoot!
[Yep, Will Pitt, the loyal "Kennedy Catholic," got hitched in a UCC church by a female impastor. . . . Now for a little bit of Will's back-from-the-honeymoon thread . . .]
So, I got married two weekends ago, and spent all of last week honeymooning with my wife in front of a stone fireplace. . . .
[Better in front of a stone fireplace than in front of a fireplace stoned.]
in a tiny cabin by a tiny lake in the woods of New Hampshire.
[A cabin in the woods of New Hampshire? Hmmm, sounds familiar. . . . Nahh, couldn't be! Not on a man's honeymoon!]
No cell phone reception; no TV channels because the tube was still hooked up to an analog antenna on the roof that looked to have been there since the Truman administration. . . .
[D*mn Republicans! Maybe Obama can get us universal cable.]
Coming home, in retrospect, may have been an egregious tactical error. . . . One hour of television news . . . made me want to pile back into the car and race back to that cabin. . . . "Balloon Boy"? Seriously?
[Kid already can puke like the Pittster. . . . Finally, let's go to the comments, to this one in particular . . .]
How dare you cast asperations on that little cabin!!!! It's a gem on a golden pond.
[It's DUmmie Raven, AKA Mother Pitt! Yes, it's true! William Rivers Pitt, nearly 38 years old, took his bride, on their honeymoon, TO STAY WITH HIS MOTHER IN HER CABIN IN THE WOODS!!!]
Norman! The loons!
[William! The loons!]

---
TOPICS: Humor
KEYWORDS: dufu; dummie; dummiefunnies; dummies; pitt; williamriverspitt; willpitt
---
Navigation: use the links below to view more comments.
first 1-20, 21-40, 41-52 next last
---
---
---
---
---
---
---
---
---
---
---
---
---
---
---
---
---
---
---
---
---
Navigation: use the links below to view more comments.
first 1-20, 21-40, 41-52 next last
---
---