---
To: Saije; Bender2
The M-14 was better for the 1960s/post Nuclear battlefield. The 7.62mm ( is too powerfull for CQB.
This is more blame Bush and trying to excuse 0bama for a lack of policy in Afghanistan.
There is nothing wrong with the M-16. What is the main battle weapon of the israeli Army? Nuff said.
6
posted on
11/03/2009 5:10:09 AM PST
by
Perdogg
(Sarah Palin-Jim DeMint 2012 - Liz Cheney for Sec of State - Duncan Hunter SecDef)
---
To: Perdogg
The personal weapon of most IDF soldiers is the M16, particularly, the M16A2, shortened CAR-15, M4, and M4A1 assault rifles. The majority of regular-service Infantry Corps soldiers are equipped with the shortened M16, but the longer model is still in use among recruits and reserve forces. In 2005, the IMI Tavor assault rifle was brought to operational use, and is intended to become the corps' principal assault rifle in the future.
about the Tavor : http://en.wikipedia.org/wiki/IMI_Tavor_TAR-21
---
To: Perdogg
Israel is changing to Tavor assault rifles. The Pentagon is still evaluating a replacement to the M-16/M-4 family, and it is possible that the Tavor may be a candidate depending on how it performs with the IDF.
49
posted on
11/03/2009 7:36:31 AM PST
by
Thunder90
(Fighting for truth and the American way... http://citizensfortruthandtheamericanway.blogspot.com/)
---
To: Perdogg; Saije; Allegra; big'ol_freeper; Lil'freeper; TrueKnightGalahad; blackie; Larry Lucido; ...
When the AR-15 went to war in Vietnam it was a wonder as the weapon was a terror to the Cong. However, when the Army decided to make it issue and started tinkering it up to their 'standards,' mainly changing up the powder and such, it took some time to work out the kinks.
However, after that the M-16 and the numerous variations became a damn good weapon but it should never be considered the only one.
It lacks the ability to really reach out and touch the hell out of someone at 500 plus yards like the old Garand or M-14 can. It requires a cleaner touch than the AR-47 and the standard M-16 round does not have the punch of the AK's 7.62 at close range.
Having fooled around and fired just about all the issue small arms from World War One up to Iraq, I'd rate the M-16 family of rifles as an excellent choice within its designed envelope of use.
However, as Bob Heinlein taught me at a very early age, "There are no dangerous weapons; there are only dangerous men."
I keep that in mind even while holding...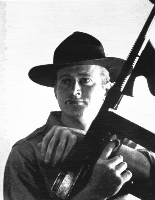 my old, out of date Thompson.
But I still keep my K-Bar on the nightstand.

55
posted on
11/03/2009 9:35:20 AM PST
by
Bender2
("I've got a twisted sense of humor, and everything amuses me." RAH Beyond this Horizon)
---
FreeRepublic.com is powered by software copyright 2000-2008 John Robinson