---
To: circumbendibus
---
To: HighWheeler; penelopesire; seekthetruth; television is just wrong; jcsjcm; BP2; Pablo Mac; ...
Excellent ! How'd ya do that? All I could
do was a small screencap.
9
posted on
12/14/2009 10:08:34 PM PST
by
STARWISE
(They (LIBS-STILL) think of this WOT as Bush's war, not America's war- Richard Miniter)
---
To: HighWheeler
Change little Barry's citizenship number to four after he went to Indonesia. A queer quad-national.
Barry's State Dept's take on dual nationals:
"The U.S. Government recognizes that dual nationality exists but does not encourage it as a matter of policy because of the problems it may cause. Claims of other countries on dual national U.S. citizens may conflict with U.S. law, and dual nationality may limit U.S. Government efforts to assist citizens abroad. The country where a dual national is located generally has a stronger claim to that person's allegiance. "
http://travel.state.gov/travel/cis_pa_tw/cis/cis_1753.html
14
posted on
12/14/2009 10:52:00 PM PST
by
Electric Graffiti
(Yonder stands your orphan with his gun)
---
To: HighWheeler
The graphic you posted is not the new ad. The graphic you uploaded was posted at JeffersonsRebels' blog in Nov 2009 and is the source graphic which was used with various additions and changes (with permission) for use in the new Kerchner v Obama & Congress ad in the 14 Dec 2009 issue of the Washington Times National Weekly edition. The real new ad printed in the Washington Times with additions and additional information, can be seen below, and can be seen at Attorney Apuzzo's blog at: http://puzo1.blogspot.com/2009/12/new-ad-obama-is-unconstitutional.html or at SCRIBD.com at: http://www.scribd.com/doc/24087943/Obama-an-Unconstitutional-Illegal-President-20091214-Issue-Wash-Times-Natl-Wkly-pg-15 or at: http://jeffersonsrebels.blogspot.com/2009/12/obama-is-usurper-washington-times.html The Real 14 Dec 2009 new ad in the Wash Times: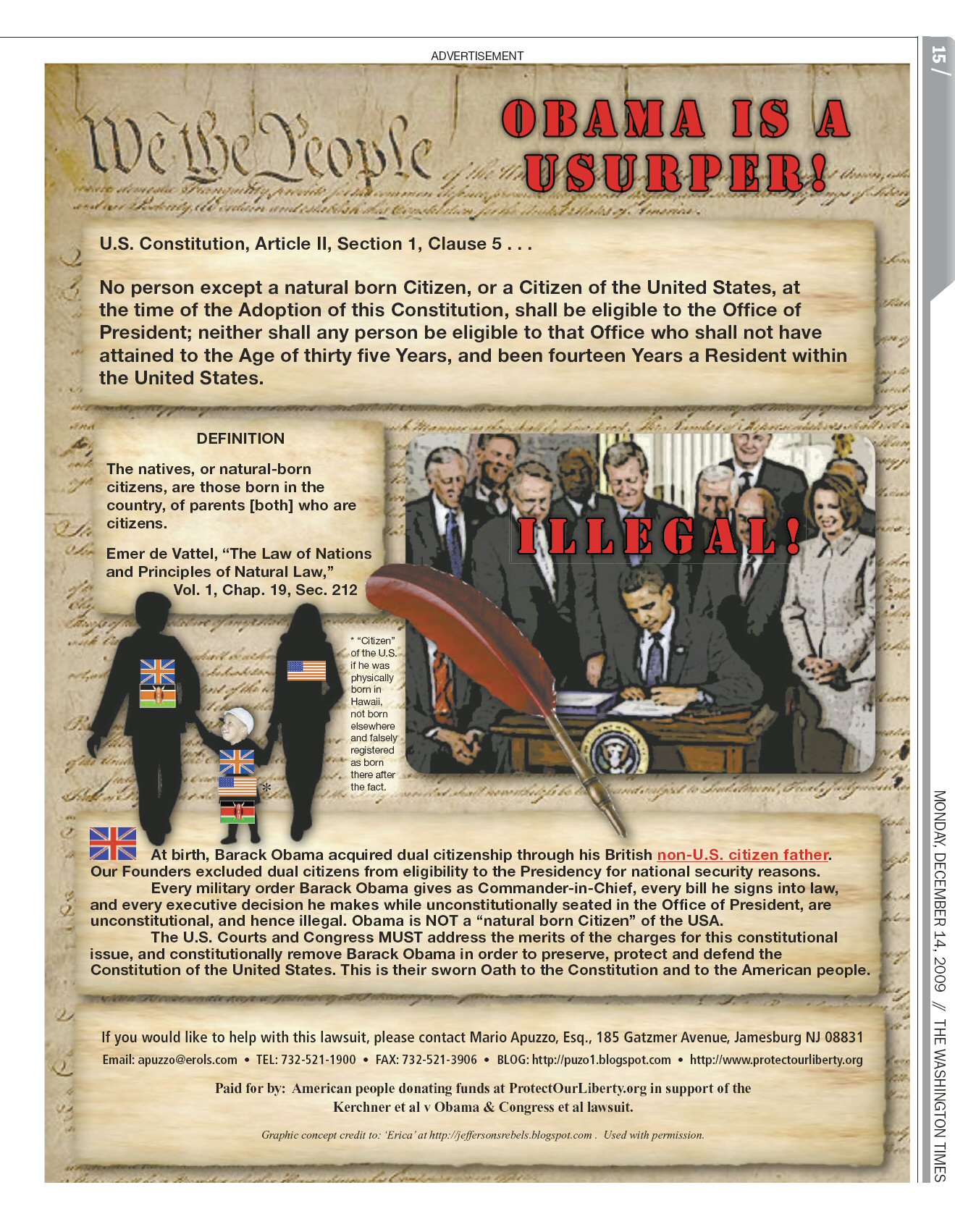 29
posted on
12/16/2009 12:44:10 PM PST
by
mtngoat61
(New ad, Washington Times, Obama is a Usurper, Apuzzo, Kerchner, Congress, Obama, lawsuit)
---
FreeRepublic.com is powered by software copyright 2000-2008 John Robinson