---
DUmmie FUnnies 04-15-10 (Tea Pitty: "Sarah Palin came to Boston and all I got was this lousy blog")
DUmmie FUnnies ^ | April 15, 2010 | Primed Minister William Pitt the Drunker


Posted on 04/15/2010 7:15:47 PM PDT by Charles Henrickson
Happy Tax Day! It's the DUmmies' favorite holiday (next to May Day). Of course, in "Tea Parties" all across our land, overtaxed Americans have been rallying AGAINST oppressive, intrusive Big Government. But that's not for the DUmmies. Like vampires drawn to blood, liberals rely on the taxes paid by others to support their socialist wealth-redistribution schemes and scams.
But surely you would think that in Massachusetts, in Boston, in the Cradle of Liberty, in the HOME of the ORIGINAL Tea Party, all the citizenry would rise up as one, fused in patriotic fervor against the taxing tyrants on the Potomac! But no. Fittingly enough, William Pitt, the namesake of the British prime minister, opposes the cause of freedom from overtaxation. And so William Pitt the Drunker took to blogging this week when the Tea Party--and guest speaker Sarah Palin--came to Boston. We'll read about it in this THREAD, "Tea On The Common (Palin and the 'Baggers are in Boston tomorrow...and I'm blogging the whole mess)," and this THREAD, "Sarah Palin came to Boston and all I got was this lousy blog...."
William Pitt and the DUmmies are in Redcoat Red, while the commentary of your humble guest correspondent, Charles Henrickson, is in the overtaxed [brackets]:
Tea On The Common (Palin and the 'Baggers are in Boston tomorrow...and I'm blogging the whole mess)
[Wee Willie will use the term "'Baggers" dozens of times throughout these threads. He seems obsessed with it. I think it goes back to games he and Jason Leopold used to play.]
By William Rivers Pitt
[Primed Minister William Pitt the Drunker]
they're coming to my town, hell, to my neighborhood, and tagging along with them is none other than the Queen Of Duh, Sarah Palin.
[Pitt is the King of DUh (or at least the prime minister).]
the former half-term governor of Alaska
[Which is more executive experience than a certain third-of-a-term, part-time, absentee senator had when he became president.]
From Boston, the 'Bagger parade heads to Washington, DC, for a rally on tax day, which will in all likelihood earn itself a first-ballot nomination to the Public Stupidity Hall of Fame.
[Pitt has his own wing in the Public Stupidity Hall of Fame.]
the average American has been well-trained to believe Massachusetts is some far-left haven dotted with statues of Howard Zinn and Noam Chomsky, with abortionists and gay marriage chapels on every street corner and drifts of marijuana seeds in the gutters.
[And that's such a distorted view! It totally neglects the Wiccans, for example.]
but the liberal stereotyping of Massachusetts does not dovetail with the reality on the ground. Massachusetts, and Boston, enjoys a decent-sized Republican/conservative contingent.
[They must take up, oh, two or three phone booths at their convention.]
Adding to this is the ugly subtext of racism, which is all too prevalent in . . .
[. . . the made-up stories about the Tea Parties.]
With Obama in the White House, the combination of 'Bagger bedlam and Boston-style racism will almost certainly turn Boston Common into an open-air insane asylum complete with pigeons poop and trolley services.
[And Pigeon Pooper Pitt.]
The front page of the Boston Herald . . . carried a picture of Scott Brown under a headline which blared "PARTY POOPER". . . .
[I sense a theme here.]
A friend suggested I show up with a big cardboard outline of Russia on my head, just to make Palin feel more at home, but that seems a little much.
[You could fit a life-size drawing of Russia on the bald pate of Planet Pitt.]
Sarah Palin came to Boston and all I got was this lousy blog...
[It's now the day of the Tea Party, and the Boston Blogger begins . . .]
8:35 a.m. - Woke up and turned the TV on. . . .
[Pitt had blacked out for a moment after an all-night bender at Bukowski's.]
9:50 a.m. - Tranquility Base, the Stupid has landed.
[Tequila Base, the Ego has Landed.]
It's a bright sunny day, so a lot of white people will be pink before the show is over.
[That's the Pitt calling the Caucasian white. Take a look at Ol' Pastyhead:]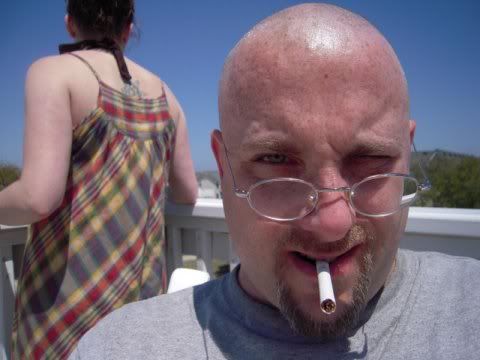 10:00 a.m. - This might be the oddest crowd I've ever seen.
[They're not all drunk, tattooed, and pierced.]
10:05 a.m. - All these people are carrying pro-Constitution signs, but I keep hearing . . . anti-Federal government comments. It begs the question . . . since the Constitution itself established federal governance to begin with, what document are these people actually reading? Maybe the Reader's Digest version?
[Maybe the version that limits the federal government to only those powers explicitly delegated to it in the Constitution. You know, the old document that Obama thinks is "fundamentally flawed."]
10:25 a.m. - Just spent ten bucks on five buttons. I'm wearing the red one with the Soviet symbol replacing the "O" in "Obama."
[Wear it with pride, Will.]
10:40 a.m. - I am throwing up into my mouth right now.
[Usually Will gets it all over the floor.]
I've never seen so many people metaphorically masturbate in public before. . . .
[At the prog rallies, it's no metaphor.]
11:05 a.m. - Palin is on, but the microphone just cut out. Can't hear a word she's saying.
["Hey, tell that sunburnt bald guy with the cigarette over there: Read my lips. No new taxes!"]
11:15 a.m. - The audio is working in fits and starts.
[Merry Fitsmas!]
Even at half volume, Palin's voice is like fingernails across the chalkboard of my soul.
[Uh, Will, have you listened to your own gravelly voice lately?]
11:15 a.m. - it appears the show is over. It's early, but d*mn, I need a drink.
[Coffee, tea, . . . or five beers at Bukowski's?]
11:25 a.m. - OK, this is Boston, right?
[Pitt is disoriented already. So, in closing, let's hear from at least one of the DUmmies . . .]
m$nbc just reported that 'sarah palin ROCKS boston' do you feel rocked will?
["Stoned" would be more like it.]

---
TOPICS: Humor
KEYWORDS: boston; dufu; dummie; dummiefunnies; dummies; massachusetts; palin; pitt; sarahpalin; taxday; teaparty; williampitt; williamriverspitt
---
Navigation: use the links below to view more comments.
first 1-20, 21-33 next last
---
---
---
---
---
---
---
---
---
---
---
---
---
---
---
---
---
---
---
---
---
Navigation: use the links below to view more comments.
first 1-20, 21-33 next last
---
---