---
To: norraad
"Ok, but how did he make such beautiful clean and perfect cuts on those interior I beams?"
~~~~
The "cuts" were not on so-called "interior 'I' beams". The most obvious "cuts" were in the 3' thick, 5' tall and 200' long "header" or "spandrel" beam that spanned the entire exterior of the north side of the MB -- at the third floor level.
At three points on that beam (at 40-foot intervals, aligned with the main external columns) that beam was sliced neatly in two, with the concrete completely pulverized and missing and with a smooth, granular fracture termination -- leaving ~22 inch gaps. And the intervening sections of that beam were totally unmarred by damage.
In the following graphic,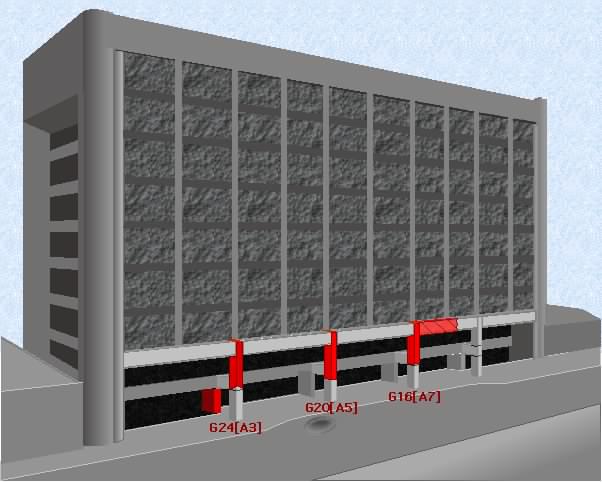 the concrete in the red-colored sections was totally missing - leaving only clean rebar. The sole exception is the cross-hatched half-span of the header on the western (right) end, which broke in mid-span in classic tension fracture (from overhead loading) apparently after support was lost on the eastern (left) end.
Absent evidence of criminal material deficiencies in those areas, no individual or organization has ever supplied even a theory as to how an air blast -- of any magnitude could have caused such selective damage. Certainly no one has ever explained how air blast from a ANFO/ANNM charge in a truck parked at the indicated crater site could have produced those results.
(Yes, before you ask, I have discussed this at length with General Ben Partin.)

---
To: AIM Freeper
Courtesy ping to #32...
(And, yes, Jayna and I have, on occasion, communicated...)
FReepmail if you wish...

---
To: TXnMA
With the generals help, it shouldn't be too hard to track down who among the relatively small group of specialists have been employed by Sneakyman Inc. to bring down large buildings and blame someone else?
Might'n that be a good start in the right direction, considering all the time and energy spent wontonly wonderin' in the wrong direction all these years?

---
FreeRepublic.com is powered by software copyright 2000-2008 John Robinson