---
Patent Lifts Veil on Boeing's Speed Agile
Aviation Week and Space Technology ^
Posted on 07/04/2010 8:39:52 PM PDT by ErnstStavroBlofeld
I am researching something on future airlifters and wanted artwork on the stealthy super-STOL tactical transport Boeing windtunnel tested under the US Air Force Research Laboratory's Speed Agile program. I asked Boeing if they had a releasable image. No, they said. I asked AFRL. No, said they. So there I was passing the time browsing the US Patent and Trademark Office website and what do I find but this: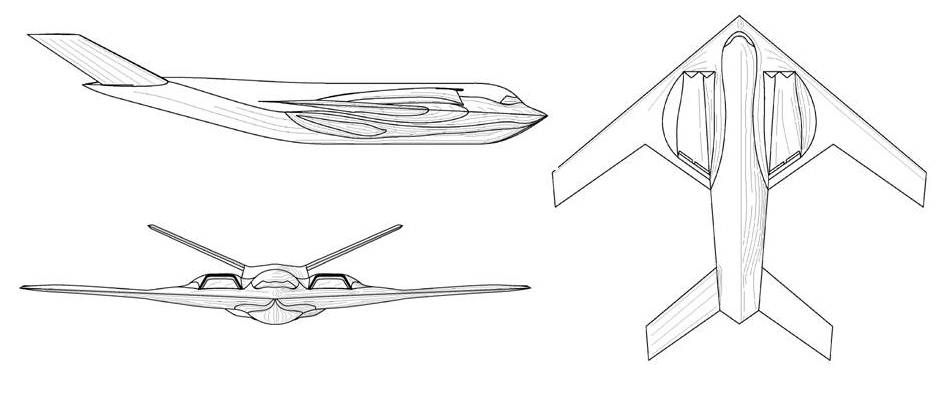 The patent is here and it's Speed Agile, or close to it based on the one image of a 2008 windtunnel model that I do have, from a presentation by the Boeing program manager at an AIAA conference. Speed Agile involved low- and high-speed windtunnel tests of a stealthy airlifter concept that could take off in 1,500ft and cruise at Mach 0.8. Usually STOL aircraft aren't that fast. Boeing's design achieves this "speed agility" using a "propulsive wing" - engines embedded in the wing exhaust throught slots at the trailing edge to provide lift as well as thrust.

(Excerpt) Read more at aviationweek.com ...
---
TOPICS: Military/Veterans; Politics; Science
KEYWORDS: aerospace; boeing; c130; pipedream; speedagile; stealth; stol; usaf
---
---
---
---
---
---
---
---
---
---
---
---
---
---
---
---