---
Top Ten most Left-Biased American Journalists - #3: Paul Krugman, The New York Times
Publius Forum ^ | 07/21/10 | Warner Todd Huston


Posted on 07/21/2010 9:31:14 AM PDT by Mobile Vulgus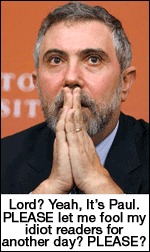 Number three on our list almost violates the criteria that I set up in the first piece I wrote for this series. I said then that denizens of the Old Media that are too much a "cartoon of journalism" would not be included on my list. Yet despite my dismissal of such Old Media clowns, in the number four slot on the list you'll find Paul Krugman of The New York Times.
Given this week's revelations about the JournoList, we now know Krugman either participated in a media conspiracy to get Obama elected or at least witnessed it first hand and did nothing to stop it. Consider this fact merely the latest insight into a man who's done more consistently left-biased journalism than nearly anyone in America.
Krugman is indeed quite a cartoon of modern liberalism. He is hidebound and far from a new or even a very free thinker. But he makes the list simply because he is not only a Nobel Prize winner but is one of the leading media figures in America today. So, despite that he is not an original thinker and is steeped in liberal orthodoxy, his prominence argues for his inclusion here.
And besides that he is a true liberal loon.
Read the rest at Publiusforum.com...

---
TOPICS: Business/Economy; Government; Local News; Politics
KEYWORDS: democrats; enemedia; fascistmedia; journolist; liberalmedia; liberalprogressivism; liberals; mediabias; msm; obamedia; oldmedia; paulkrugman

Only two more to go after this.

---
To: Mobile Vulgus
Should Paul Krugman really be considered a journalist?
---
To: Mobile Vulgus
You have to wonder if these losers were willing co-conspirators or coerced into being part of the group.
Imagine despising America so much that you would willingly take part in destroying this country.
3
posted on
07/21/2010 9:38:06 AM PDT
by
Carley
(For those who fought for it, freedom has a flavor the protected will never know.)
---
To: vbmoneyspender
ABSOLUTELY. Now, before anyone jumps on me, I would humbly ask you whether you have ever met an unbiased "journalist". I believe that none have ever existed. If you disagree, please name one that did not have an agenda.
---
FreeRepublic.com is powered by software copyright 2000-2008 John Robinson