---
Final Report: RightOnLine 2010
Publius Forum ^ | 07/26/10 | Warner Todd Huston


Posted on 07/26/2010 2:41:49 PM PDT by Mobile Vulgus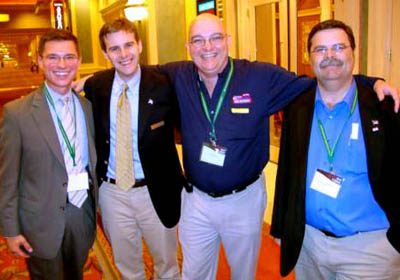 Pictured from the left: Robert Bluey [Heritage Foundation], Guy Benson [Chicago Radio Host], Ed Morrissey [HotAir.com], and Warner Todd Huston [PubliusForum.com]
I just flew in from Las Vegas where I attended Americans For Prosperity's RightOnLine 2010 conference. As always, it was an uplifting experience, educational, and a whole lot of fun. I caught up with old friends, met with business partners, and made new friends.
For those unaware of what this whole RightOnLine thing is, think of it as an activist's training program. If you attend you'll find sessions and panels that range from such introductory programs as "Blogging 101" ad "podcasting 101," to more in depth online activities as "Citizen Journalism" and "Global Warming and Energy Policy." It really is a worthwhile endeavor and if the conference ever comes to a town near you, please do yourself a favor and attend.
This third annual RightOnLine conference was spearheaded by AFP's Erick Telford who has been at the helm for all three such conferences. Here is Erik Telford's segment on Fox News as he discussed what we were doing in Vegas (he appears toward the end of the segment)…
Read the rest at Publiusforum.com...

---
TOPICS: Computers/Internet; Government; Politics
KEYWORDS: afp; michellebachman; stevenkruiser

These conferences are great. If one comes to your area, be sure and attend.

---
FreeRepublic.com is powered by software copyright 2000-2008 John Robinson