---
How to win big in November (humor)
http://www.poserindex.com ^ | 8/30/2010 | Self


Posted on 08/30/2010 3:39:05 PM PDT by ExxonPatrolUs

Humor …

Just in case the independents swing back left, here's how to win big in November...

> First, explain to your employer that you have pledged the weeks leading up to the election to get out the vote. Be bold. Ask your employer for a matching financial contribution. There will be a lot of gas to pay for. If your employer is a conservative Republican, conclude the discussion with the secret society handshake. If your employer is a RINO or Democrat you should make sure your eyes are watering. Just think about all of the paid time off you never took.

> Be proactive. Send in your own absentee ballot as early as possible before someone else does in your name. Remember, absentee ballots are now sent automatically to people who historically do not vote. This used to be limited to people who are confined because of age, illness or disability. But now sloth has become the new qualification for receiving this ballot. You can be sure that many of these will be intercepted before the government mails them or while they are in route, but many will arrive to their intended destinations. You can search for them safely each day in the mailboxes of certain neighborhoods just before and after sunrise as the sloths of society are incapacitated at these hours and liberal union activists don't start until about 10 am. Note: These mailboxes are emptied only twice a month. State databases of voters and drivers are now available nationwide to community organizing groups. The name ACORN is already taken. Create another organization name to find out who votes, who drives and whose license is suspended. This will help with demographics.

> Early voting locations are typically not at the regular locals and are likely not staffed with folks who know you. Case these locations on their first days of operation and find out where they take their smoke breaks. Ask someone for a light, strike up conversation and find out their political leanings. Suggest that someone should do something radical this time. In no time someone will tell you how you can help. Accept their offer, only if you are trusted to place the fraudulent ballots in the box yourself and can do so several times a day. Do not identify yourself! IDs are not required for voting in most states. If votes are not counted until the last day, you are safe to return daily in early voting.

> Voter intimidation is a crime, so quietly egg on would-be liberal voters while waiting in line. They are easy to identify because they will not shut up. When election officials interfere, suggest the liberal misunderstood you and should not be ejected. This will surly agitate them further and they will be removed, charged up to $100,000 or put in prison for a few years. If they merely get kicked out without voting, remember their names for any remaining absentee ballots you may have. Keep moving with the line until it is your turn to vote again. If you have run out of registered identities to claim, same day registration without ID is allowed in some cities and states. If they have the gall to ask you for an ID, a fake university ID should do as they are usually not allowed to check for state residency. If you are further challenged on your identification, meekly suggest you are being disenfranchised yet again, just like in 2000 and 2004. Then leave quietly with your head hanging low. Hopefully you'll disenfranchise a few violent libs as you walk out the door.

"I'd try to vote ten times ... to keep those bastards out" – Ed Schultz

http://www.huffingtonpost.com/2010/01/16/ed-schultz-on-ma-election_n_426068.html

---
TOPICS:
KEYWORDS: community; november; organizer; vote



---
To: ExxonPatrolUs
The day after tell liberals that they had their chance, now sit down & shut up.
Real Americans have spoken.
I plan on phone calls to randi rhodes an her lesbo buddy, ed schultz and the rest.
Just to tell them and all the libs who are listening.
2
posted on
08/30/2010 3:50:25 PM PDT
by
reefdiver
("Let His day's be few And another takes His office")
---
To: reefdiver
How to win is pretty simple: GO VOTE but first demand that your voting process generates a verifiable PAPER TRAIL or the other guys will steal another one.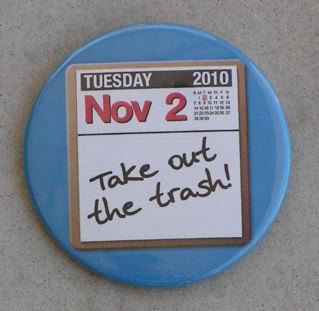 Mark your calendars now because you can bet THESE IDIOTS are gonna be there!!
3
posted on
08/30/2010 4:21:19 PM PDT
by
Dick Bachert
( The next 2 elections are the most important in our history. YOU'D BETTER BE THERE!!!)
---
FreeRepublic.com is powered by software copyright 2000-2008 John Robinson