---
The Coupon Whisperer: My FREE Thanksgiving Dinner
The Coupon Whisperer ^ | January 20, 2011 | PJ-Comix


Posted on 01/20/2011 8:22:23 PM PST by PJ-Comix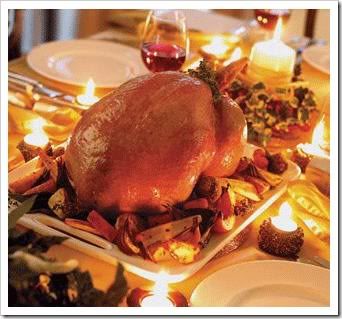 >A few days ago I was in the checkout line when I recognized the cashier. She was the same young woman from whom I bought a FREE 24 pound turkey the weekend before Thanksgiving. I remembered that her eyebrows jumped up a bit when the total price of my turkey rang up at only about 40 cents or something in that neighborhood (I like to owe a few cents so I don't feel completely guilty). Anyway, I mentioned to her that I bought my turkey from her prior to Thanksgiving but she didn't remember it. No wonder. Thousands of customers buying food from her and she is going to remember me, even though I did buy my turkey virtually for FREE.
Anyway, I thought back to those shopping days leading into Thanksgiving and recalled how my theme for that holiday was FREE. I had resolved that everything I would buy would be FREE. And it worked out even better than I planned due to couponing Not only did I get FREE turkey but also FREE stuffing, cranberry sauce, gravy, pumpkin pie, and other trimmings. I even got a case of Key West Beer for FREE (okay, really a couple of bucks due to tax).

(Excerpt) Read more at couponwhisperer.blogspot.com ...
---
TOPICS: Food; Humor
KEYWORDS: coupons; thanksgiving
---
---
---
---
---
---
---
---
---
---
---
---
---
---
---
---