---
The Coupon Whisperer: "Extreme Couponing"---Episodes 1 & 2
The Coupon Whisperer ^ | April 6, 2011 | PJ-Comix


Posted on 04/06/2011 8:09:41 PM PDT by PJ-Comix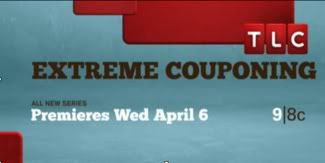 The first two episodes of "Extreme Couponing" aired this evening on TLC. Many similarities with the original show which aired in December although I noticed some new bits of interesting information. Specifically "money maker" deals or "making money" was alluded to. For those of you new to couponing that means when you have a coupon so good that it is worth more than the product you are buying. The amount of "overage" aka "moneymaker" aka "mm" is applied toward your other products. That is why you saw the people on today's show able to buy meat, milk, etc. and end up owing hardly anything.
One criticism I do have of the show is that for dramatic purposes the people bought HUGE amounts of items on each shopping trip. The Coupon Whisperer prefers not to do that for two reasons:

(Excerpt) Read more at couponwhisperer.blogspot.com ...
---
TOPICS: Business/Economy
KEYWORDS: coupons; extremecouponing
---
Navigation: use the links below to view more comments.
first 1-20, 21-40, 41-60, 61-80 next last
---
---
---
---
---
---
---
---
---
---
---
---
---
---
---
---
---
---
---
---
---
Navigation: use the links below to view more comments.
first 1-20, 21-40, 41-60, 61-80 next last
---
---