---
Obama Can't Say the Word "China"
Forbes ^ | 8/7/2011 | Gordon G. Chang


Posted on 08/09/2011 6:40:36 PM PDT by bruinbirdman
"There is no doubt this has been a tumultuous year," said President Obama on Friday as he began his speech at the Washington Navy Yard by talking about the American economy. "We've weathered the Arab Spring's effect on oil and gas prices, the Japanese earthquake and tsunami's effect on supply chains, the extraordinary economic uncertainty in Europe. And recently, markets around the globe have taken a bumpy ride."
Each of the events he mentioned lowered growth in America, yet all of them were marginal and temporary. If we want to start a meaningful conversation on the topic, there is one word he needs to utter: "China."
~snip~
Xinhua also had this to say: "China, the largest creditor of the world's sole superpower, has every right now to demand the United States to address its structural debt problems and ensure the safety of China's dollar assets."
There's no question the United States must reduce its debt load, but at the same time it is issuing its demands, Beijing is making it hard for us to implement necessary adjustments. China, after all, maintains predatory policies designed to take advantage of America's open economy. So, for instance, the Chinese central government fixes the value of the renminbi at an artificially low level to stimulate Chinese exports and impede imports. It has also been systemically violating its World Trade Organization obligations, especially by blocking imports.
The result of these policies is that China has persistently run large merchandise-trade surpluses against the United States. Last year, for instance, that surplus amounted to $273.1 billion, the largest deficit the U.S. has ever had with any country.
Washington has, for years, been trying to get Beijing to permit more balanced trade and stop buying dollar-denominated obligations, but Chinese officials have refused to take good

(Excerpt) Read more at blogs.forbes.com ...
---
TOPICS: Business/Economy; Conspiracy; Government; Politics
KEYWORDS: coward; limpdck



---
To: bruinbirdman
So Ol'bummer speaks at the Navy Yard? During business hours? Many of Washington's MOST EXPENSIVE government employees work there. I'm sure that this essentially shut down all of the govy work in that part of DC all day. GEEZE! Good job there, Ol'Bummer.
---
To: bruinbirdman
Ah yes. He has the China Syndrome...
3
posted on
08/09/2011 6:53:18 PM PDT
by
null and void
(Day 929. When your only tools are a Hammer & Sickle, everything looks like a Capitalist...)
---
To: bruinbirdman
Obama has lost credibility in the world as a leader. There is nothing this administration can do to impact trade with China. Geithner got smacked down the last time he was there. So any mention of "China" by Obama highlights yet another failure of his administration.
There is plenty Obama can do to offset China. First, he can stop spending which will stop China from having a safe haven for their US dollars. Second, he can take his shackles off of the economy to allow our business to compete against China. Our "China" problem is in fact an "Obama" problem.

---
To: bruinbirdman
---
To: mlocher
Geithner got smacked down the last time he was there.
Geithner's meeting below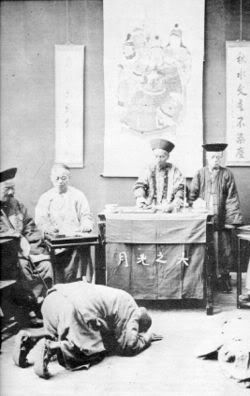 ---
FreeRepublic.com is powered by software copyright 2000-2008 John Robinson