---
To: Travis McGee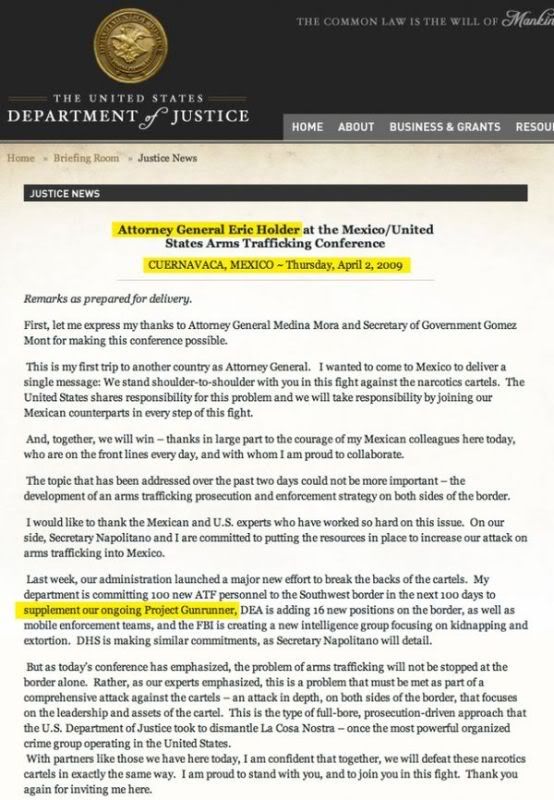 38
posted on
10/11/2011 7:08:39 AM PDT
by
mojitojoe
(WH says potus didn't feel the earthquake. No worries. Another is scheduled for November 2012)
---
To: mojitojoe
40
posted on
10/11/2011 7:36:30 AM PDT
by
stevie_d_64
(I'm jus' sayin')
---
To: mojitojoe
Wow! April 2, 2009, Holder makes his first trip to another country as AG and says the whole purpose of his trip is to announce a big step-up of of a new approach using Gunrunner in Arizona, adding 100 ATF people, 16 DEA people,.....
Look at the letter: ..."DHS is making similar commitments, as Secretary Napolitano will detail."
Hey!
Does anybody have Napolitano's remarks from April 2nd, 2009 at the in Cuernavaca, Mexico?

50
posted on
10/11/2011 8:25:50 AM PDT
by
cookcounty
(2012 choice: It's the Tea Party or the Slumber Party.)
---
To: mojitojoe
Amazing document from DOJ and Holder's speech there.
1. The Conference is called "The Mexico/United States Arms Trafficking Conference."
2. He notes it's his first trip outside the US as AG (subtext: "this is important to me").
3. Holder says he's focused on the single issue of going after the cartels.
4.The topic of cross-border arms trafficking "could not be more important."
5, The AG says the centerpiece of this important strategy centers around an augmentation of Project Gunrunner.
6. Holder says the Obama administration has launched a "major new effort" involving 100 new ATF people focused on the SW border, as well as resources from the DEA and the FBI.
...but he never heard of the details of the "major new effort" until April of this year....
Oh my,either he's lying or he is stupid. Make that deeply stupid.
55
posted on
10/11/2011 8:58:38 AM PDT
by
cookcounty
(2012 choice: It's the Tea Party or the Slumber Party.)
---
FreeRepublic.com is powered by software copyright 2000-2008 John Robinson