---
Hating on the Koch Brothers(Obama Pep Rally In Manhattan)
American Rattlesnake ^ | December 13, 2011 | Gerard Perry


Posted on 12/13/2011 12:21:10 PM PST by OddLane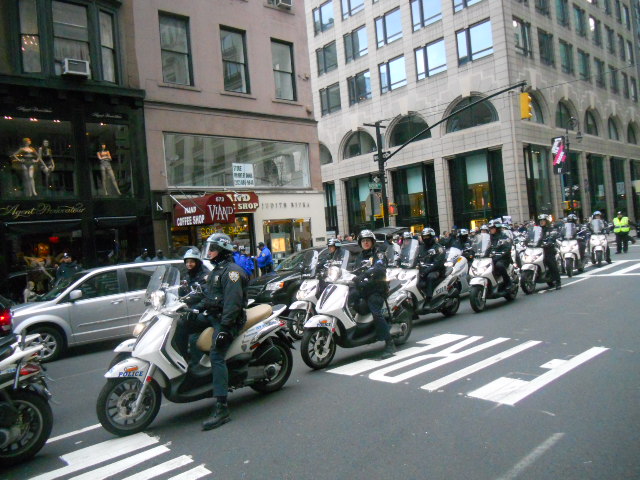 The police presence at the anti-voter verification rally that took place in Manhattan this weekend was pretty substantial, although it still wasn't quite as large as the security perimeter established around the diminished Occupy Wall Street protests at Zuccotti Park. In addition to the NYPD officers, there were also a series of minders brought in by the SEIU and other unions to corral unscripted protesters.
Not that there were that many unscripted messages being presented. The overriding theme seemed to be a manichaean vision that voting rights were under assault by a ruthless cabal of Koch brother-bankrolled institutions and Republican elected officials intent on disenfranchising minorities. The biblical analogy seen below was not anomalous in this regard.
(Excerpt) Read more at american-rattlesnake.org ...
---
TOPICS: Local News; Politics
KEYWORDS: biglabor; obama; socialism
---
To: OddLane
funny how they ignore Soros and all the wealthy who give millions to the left.
As for that dope with the sign, since when is a felon a race?
The left
Here go out , carry the sign and shout this slogan and we'll pay you .
the right.
if you believe in the cause, make what you want and do what you want for the cause.
The left are so dumb, they need to be told to carry and shout slogans.
2
posted on
12/13/2011 12:27:20 PM PST
by
manc
(Marriage is between one man and one woman.Trolls get a life, I HATE OUR BIAS LIBERAL MEDIA.)
---
To: OddLane
---
To: Post5203
The fact that him and his hordes of delusional acolytes were able to bully the state of Pennsylvania into abandoning the capital verdict in his case is an illustration of justice gone awry.
I admire Maureen Faulkner's courage, but they really failed her and her family in this case.

4
posted on
12/13/2011 12:56:07 PM PST
by
OddLane
(If Lionel Hutz and Guy Smiley had a lovechild together, his name would be "Mitt Romney." -KAJ)
---
To: OddLane
the lay abouts at these protests which carry commie, socialist and pay my bill signs now want end to the death penalty, want felons to vote, ex felons to vote, and being a felon is a race.
What poor saps they are, paid a little off the likes of Soros and they go out to make themselves look stupid
5
posted on
12/13/2011 2:05:03 PM PST
by
manc
(Marriage is between one man and one woman.Trolls get a life, I HATE OUR BIAS LIBERAL MEDIA.)
---
FreeRepublic.com is powered by software copyright 2000-2008 John Robinson