---
War on Wealth III | National Debt Review
Natural Born Conservative ^ | February 27, 2012 | Larry Walker, Jr.


Posted on 02/27/2012 5:25:49 PM PST by NaturalBornConservative
* Great Debt Spikes in American History: 1792 to 2014 *
By: Larry Walker, Jr. -
By the end of 2012, the national debt per citizen will reach $52,222 for every man, woman, and child in the United States of America. But even more sobering and significant is the fact that the national debt per U.S. taxpayer will reach $144,539 for each and every American taxpayer. So while Mr. Obama portends to be fighting wealth disparity, what he has accomplished in all his efforts has only made every American citizen poorer.
The public debt of the United States can be traced back as far as the American Revolution. In 1776, a committee of ten founders took charge of what would become the U.S. Treasury, and they helped secure funding for the war through "loan certificates" (equivalent to bonds) with which they borrowed money from France and the Netherlands. This committee morphed over the next decade into the Department of Finance. Robert Morris, a wealthy merchant and Congressman was chosen to lead the new Department of Finance in 1782. On January 1, 1783, the public debt of the new United States totaled $43 million.
By 1792 the public debt had climbed to $80 million. The debt ratio, as a percentage of Gross Domestic Product (Debt-to-GDP), stood at just 34.6% in 1792. However, as of February 26, 2012, the gross public debt of the United States now totals $15.4 trillion, and the Debt-to-GDP ratio equals more than 100%. Of all the wars America has fought, none has been more costly than Obama's War on Wealth. So what is the War on Wealth? How costly is this campaign compared to other wars? And when will it end?
(Excerpt) Read more at larrymwalkerjr.blogspot.com ...
---
TOPICS: Business/Economy; Government; History; Politics
KEYWORDS: debt; history; war; wealth



---
To: NaturalBornConservative
It appears that Alexander Hamilton, so often reviled at FR, set our finances on a sound trajectory.
---
To: NaturalBornConservative
I am convinced that Obama's war against "wealth" is actually driven by his racism.
To Obama, everything is about race. He and Michelle could not bring themselves to a real church where they had to acknowledge their own sins before God, seek Him, and learn His Word. Oh no.
They had to go to a racist, hate-filled, cesspool where they could revel in their political anger and stew in their bitterness. It was the black-liberal equivalent of a Nuremberg rally.
When you hear about "share the wealth" - translate that to "take from whitey."
Obama's tyranny is the same as the tyranny of the black jury that found OJ not guilty of torture and murder and the 98% of American blacks who approved of that verdict.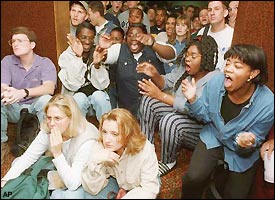 There is no right or wrong, it is only "us" vs "them." There is no law of God, there is only race.
That mantra is evil - and it is the lifeblood of this regime and the Democrat party.

---
FreeRepublic.com is powered by software copyright 2000-2008 John Robinson