---
When the ugly truth comes out 'Arab-Muslims target Jews, for being Jews'
Posted on 03/27/2012 1:29:06 AM PDT by Milagros
Specific obvious clear cases of targeting Jews for the sole reason of being Jewish
[Where they have difficulties masking it under some "struggle" crap].
* The June 1976 Entebbe operation, where Arab Palestinian terrorists [PFLP] with German extremists, [were selecting out Jewish names] separated Jews from non-Jews, and held the Jews cative for seven days, until Israeli commando freed them.
"Israeli Couple Hails Impact Of Entebbe."
Miami News - Aug 25, 1976
By William Tucker
Miami News Reporter
http://news.google.com/newspapers?id=DZUzAAAAIBAJ&sjid=QuoFAAAAIBAJ&pg=899,1361933
"Court Won't Revive Entebbe Damage Suit."
The Hour - May 3, 1979
http://news.google.com/newspapers?nid=1916&dat=19790503&id=9cU0AAAAIBAJ&sjid=8m0FAAAAIBAJ&pg=2612,340432
---
* 1985 Achille Lauro hijacking, Arab-Palestinian terrorists single out American tourist Leon Klinghoffer, beacuse he was Jewish.
"U.S. Refuses Palestinian Demand To Free Abbas," Sun Sentinel
By Dan Eggen The Washington Post, April 17, 2003
http://articles.sun-sentinel.com/2003-04-17/news/0304161228_1_achille-lauro-abul-abbas-palestinian-authority
---
* March, 1994 'Brooklyn Bridge murder' by Lebanese-Arab Rashid Baz who shot at 15 Jewish passengers and murdered young Ari Halberstam, admitted (in March 2012) he aimed at Jews, he was racially motivated.
"Brooklyn Bridge gunman admitted he wanted to kill Jews," Jennifer Lipman, JC, March 26, 2012
http://www.thejc.com/news/world-news/65706/brooklyn-bridge-gunman-admitted-he-wanted-kill-jews
"Brooklyn Bridge killer finally admits he picked targets of 1994 attacks because they were Jewish," Daily Mail, March 26, 2012
http://www.dailymail.co.uk/news/article-2120479/Rashid-Baz-1994-Brooklyn-Bridge-killer-finally-admits-chose-targets-Jewish.html
Larry Celona, "Killer: Jews my target." 'Cabby in '94 B'klyn Bridge outrage 'fesses,' NYPost, March 26, 2012
http://www.nypost.com/p/news/local/killer_jews_my_target_gOgyDs9rPP92Z5irIUqK1H
"Rashid Baz, killer of Ari Halberstam in 1994, admits to anti-Semitic motive," JTA, March 26, 2012
http://www.jta.org/news/article/2012/03/26/3092332/rashid-baz-killer-of-ari-halberstam-in-1994-admits-to-anti-semitic-motive
---
* Itamar massacre, March, 2011, where a Jewish family (Fogel), including a baby, was attacked while asleep by Arab-Palestinian terrorists. They confessed on a "desire to kill Jews," and "die as martyrs."
Next Steps in the Middle East :: Gatestone Institute
Next Steps in the Middle East. by Mark Silverberg April 15, 2011 at 4:00 am.
http://www.gatestoneinstitute.org/2044/next-steps-in-the-middle-east
"Next Steps in the Middle East."
By Mark Silverberg
http://www.marksilverberg.com/article/WarOnTerror/PerceptionsonWarDefeat/160/
---
* March, 2012 'Jewish School massacre,' in Toulouse France by an Arab, member of Jihadi Caliphate-promoting group Forsane Alizza, Mohamed Merah, who selected Jews. Especially barbaric was his savagery on 8-year old Miriam Monsonego after she was already bleeding, holding her hair, reload and shoot at her head again. All the while filming the entire crime proudly. His brother was also proud of him.
Sad thing is Merah is being held up as an martyr in some quarters, with Jewish cemeteries targeted in attacks which police are linking to the Merah atrocities.
'Toulouse killer executed the little girl'
Ynetnews
Mar 20, 2012
... killer's savagery, state he carried out execution-style killing of 8-year-old Miriam Monsonego, shooting her repeatedly in order to confirm kill.
http://www.ynetnews.com/articles/0,7340,L-4205221,00.html
Toulouse gunman Mohammed Merah's brother charged with 'complicity'
Mail Online
Peter Allen
March 24, 2012
http://www.dailymail.co.uk/news/article-2119782/Toulouse-gunman-Mohammed-Merahs-brother-charged-complicity.html
French police seize video of footage shot by Toulouse killer Mohammed Merah From: AFP March 27, 2012 10:27AM
The Australian
http://www.theaustralian.com.au/news/world/french-police-seize-video-of-footage-shot-by-toulouse-killer-mohammed-merah/story-e6frg6so-1226311072826?from=hot-topics-World
____________
"The Hamas advocates Killing Jews, simply for being Jews." IMRA, Monday, November 25, 2002.
The Iz-Adin Al Qassam Brigades, the military wing of the Hamas, published (23 November 2002) a bulletin on their official website, advocating the murder of Jews simply for the fact of that they are Jews.
The bulletin was published to commemerate the anniversary of the death of Imad Akal, a senior Hamas official, killed in the Gaza Strip on November 24, 1993. The bulletin quotes Akal as saying: "We will knock on the doors of Heaven with the skulls of the Jews". The bulletin depicts an axe shattering the word "Al-Yahud" (Jews) and splintering the skulls of Jews. The words Al-Qassam are engraved on the axe. http://www.imra.org.il/story.php3?id=14650
'We will not waver!'
More than a thousand rally for Israel, cheer Canadian government's support
By Joel Goldenberg
[Jun 9, 2010 ]
More than 1,500 people (despite the Gazette's claim of only "hundreds") rallied in support of Israel in front of the Israeli consulate at Westmount Square Monday afternoon. They gathered to express solidarity with Israel and respond to the criticisms of the country's operation against the recent flotilla attempting to break the blockade on Gaza.
... Mount Royal Liberal MP Irwin Cotler said that Hamas is a "terrorist entity with a genocidal objective, not because I say so, but because Hamas says so in its charter. And its genocidal objectives are embedded in an anti-Semitic ideology, not because I say so, but because Hamas says so with regard to the Protocols of the Elders of Zion, a centrepiece in that charter and covenant... and it targets Jews because they are Jews. That's what Hamas is all about." Cotler added that he commended Harper and the Canadian government for its initiatives regarding Israel.
http://www.thesuburbannews.ca/content/en/4138
Alan M. Dershowitz, "The Case Against Israel's Enemies: Exposing Jimmy Carter and Others Who Stand in the Way of Peace," 2009, p. 157
"The so-called Arab-Israeli conflict represents the first instance since the Holocaust that Jews, as Jews, are being specifically targeted by an international organization."
http://books.google.com/books?id=LBnn7AR5R6YC&pg=PA157
Hizbullah's real goal is racist: To free the Middle East holy lands of Jews / The Christian Science Monitor
By Alan M. Dershowitz
July 27, 2006
http://www.csmonitor.com/2006/0727/p09s01-coop.html

---
TOPICS: Politics; Religion
KEYWORDS: arabs; jews; muslims; racism



---
To: Milagros
Oh, it's not just Jews.. It's all mankind.
Sura 9:29-33 " upon such of those to whom the Scriptures have been given as believe not in God,
Sura 4:89 "seize them and slay them wherever you find them
Mohamed commands his slaves to murder by any means. Mohamed commits mohamicide.
Murdered by isalm
Toulouse 2012 March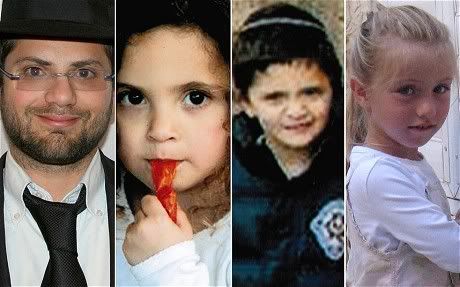 2
posted on
03/27/2012 1:34:10 AM PDT
by
rawcatslyentist
(3 little girls murdered by islam, Toulouse March 2012 . Time for the Final Crusade!!!!!)
---
To: rawcatslyentist
Mohamicide
I all use this term.

---
To: rawcatslyentist
Oh, it's not just Jews.. It's all mankind.
I know that, they are first looking for an 'easier' target where they might be able to hide under a carp of "Middle East politics...", but that should really scare all of us infidels.

---
To: dennisw; Cachelot; Nix 2; veronica; Catspaw; knighthawk; Alouette; Optimist; weikel; Lent; GregB; ..
Middle East and terrorism, occasional political and Jewish issues Ping List. High Volume
If you'd like to be on or off, please FR mail me.
..................

5
posted on
03/28/2012 5:11:48 AM PDT
by
SJackson
(I used to eat a lot of natural foods until I learned that most people die of natural causes)
---
To: rawcatslyentist
Of course it's all mankind. They target Jews in order to cause the rest of mankind to either empower them, or ignore their actions while they grab it. Same as the Nazis, except for the uniforms.
6
posted on
03/28/2012 4:52:55 PM PDT
by
Eleutheria5
(End the occupation. Annex today.)
---
FreeRepublic.com is powered by software copyright 2000-2008 John Robinson