---
M. Wallace: 1) Nation of Islam's racist Farrakhan; 2) interviewing Malcolm X before assassination



Posted on 04/11/2012 10:46:17 PM PDT by PRePublic

A conversation with broadcast journalist Mike Wallace with Mike Wallace
in Movies, TV & Theater, Current Affairs on Monday, June 17, 2002

http://www.charlierose.com/view/interview/2500

15:18 - 15:55



In 1964, Malcolm X is interviewed by 60 Minutes' Mike Wallace. Malcolm speaks out against "honorable" Elijah Muhammad had impregnated several sisters in the black community... Mike asks him if he isn't afraid... Malcolm responses that he is a "dead man already." Shortly after, he is assassinated.



16:07 - 20:21



In the 1990s, (Nation of Islam infamous racist) Louis Farrakhan told Mike Wallace that he is "misunderstood" in the Jewish community and he would like to meet some "business people," Jewish businessmen. Mike brokered between him and Edgar Bronfman who was very excited to help African-Americans and offered to set up a hotel which would be run by black people. They all had dinner (including the couples Farrakhans & Bronfmans) and Mr. Bronfman said he has just the right man for the job. Next day, Farrakhan goes to Brooklyn and his rhetoric is as hateful as ever. Mrs. Bronfman doesn't understand all of this, calls Mike and cancels the plan.
---
Farrakhan Excels At Playing Race Card - Chicago Tribune Feb 26, 1997
By Clarence Page
http://articles.chicagotribune.com/1997-02-26/news/9702260008_1_islam-minister-louis-farrakhan-mr-farrakhan-jewish-leaders
Bronfman: Farrakhan 'Evil Personified'; After secret, pleasant dinner
Nov 15, 1996
Eric J. Greenberg
The Jewish Week
[http://www.jweekly.com/article/full/4572/farrakhan-unrepentant-after-meeting-jewish-leader/]


---
TOPICS: Politics; Religion
KEYWORDS: farrakhan; malcolmx; mikewallace; noi



---
Comment #2 Removed by Moderator
---
To: PRePublic
Don't forget to post Mike Wallace's upcoming interview with his infernal majesty Satan, as he is only one city block away from ol' Slewfoot down in his new neighborhood.
---
To: mkjessup
---
To: PRePublic
Louis Farrakhan, Santiago de Cuba, February, 1998:"There is not a member of the black masses in the United States who is not proud of the example set by Cuba and its revolution, with Comandante Fidel at its head"
Source: http://www.fiu.edu/~fcf/farakhan21898.html#says
_______________________________________________________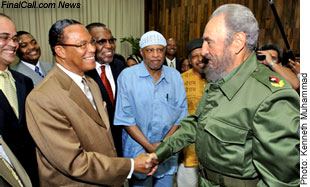 "Minister Farrakhan and his delegation met privately with President Fidel Castro of Cuba."
http://www.finalcall.com/media/cuba/
_______________________________________________________
Unity generates power to change reality
By the Honorable Minister Louis Farrakhan
"The time has never been more ripe for a strategic relationship between the Black, Brown, Native American and the poor of this nation and the world."
"We need a Ministry of Defense. Our young men are born soldiers, but they are in the wrong war. They are fighting a war in the streets of America against each other, or they are fighting an unjust war overseas in Afghanistan and Iraq. We need to bring our boys home and put them into the Ministry of Defense, so we can defend our communities, rather than destroy our communities.
We need a Ministry of Art and Culture. We applaud the hip hop community, the leaders of young people all over the world, but I want the young generation of artists to know there is a bigger purpose for art and culture than popping our fingers and shaking our backsides.
Mao Tse Tung, throughout his long march to conquer China, had a billion people whose lives he had to transform. Many of them were victims of opium, drugs and prostitution, like we are. But Mao Tse Tung went to the cultural community and they accepted his idea. Then, through song, dance, poetry, drama, documentaries, movies and books, the idea of Mao Tse Tung became the idea of a billion people. China became a world power on the base of culture and the artistic community. If we had a Ministry of Art and Culture in every city, [we'd] create this movement [in the U.S.], we could say to our young people, "What is the idea of the Time and are you reflecting that idea in your songs, dance and music?
We need a Ministry of Trade and Commerce. Do you think that a Millions More Movement should not be involved in the development of Africa, the Caribbean and Central America? ... we need a Ministry of Trade and Commerce that can link the struggle here with Africa and the Caribbean, Central and South America.

Source: FinalCall.com
This is Farrakhan's own "Nation Of Islam" website
http://www.finalcall.com/artman/publish/article_4328.shtml
_______________________________________________________
Farrakhan hails Obama as 'hope of entire world'
Louis Farrakhan, at the annual Saviours' Day celebration in Chicago, Feb. 25, 2008: "This young man is the hope of the entire world that America will change and be made better"..."If you look at Barack Obama's audiences and look at the effect of his words, those people are being transformed."
Source: http://www.msnbc.msn.com/id/23333598/
Video of Farrakhan's Obama endorsement at the above 'annual Saviours' Day celebration in Chicago, Feb. 25, 2008'. Hear him (Farrakhan) call Obama "The Messiah" And speak of "universal change":
http://www.youtube.com/results?search_type=&search_query=farrakhan+messiah+obama&aq=0&oq=Farrakhan+messiah

5
posted on
04/11/2012 11:55:49 PM PDT
by
ETL
(ALL (most?) of the Obama-commie connections at my FR Home page: http://www.freerepublic.com/~etl/)
---
FreeRepublic.com is powered by software copyright 2000-2008 John Robinson