---
Mr. Obama This is the Result of Government Before Free Enterprise
Free Republic | July 16, 2012 | Self


Posted on 07/16/2012 12:22:07 PM PDT by PittsburghAfterDark

"Somebody invested in roads and bridges. If you've got a business -- you didn't build that. Somebody else made that happen." Barack Hussein Obama

Lets just find an example of where in the world this is true without fail, without exception without any shred of doubt that roads, bridges and infrastructure came before the free market paid for it via confiscated wealth.

Why, such a utopia exists. The Democratic People's Republic of Korea. Now this seems to be such a softball that the meme of the left will become "Oh every response to something Obama says is now going to be North Korea." The real world example of the logical extension of this thinking exists. You can hear the gnashing of teeth and contempt dripping from their voices as they say this. Yet the President making this outrageous statement in the first place will be praised.

So without further ado, here is your slide show tour of what happens when government spending and projects are put ahead of the free market.
Here some western tourists show their fear of traffic on the Pyongyang to Kaesong highway. This highway's U.S. equivalent would likely be I-95 between New York and Washington DC.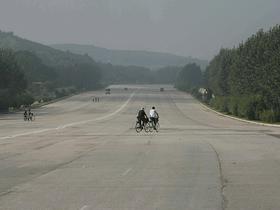 Here we show another magnificent DPRK 10 lane superhighway and its real world use.
Unlike many rest stops or scenic views in the United States fighting for parking spaces with obnoxious tourists is not a big concern. Behold the magnificent result of government needs before the free market of the DPRK.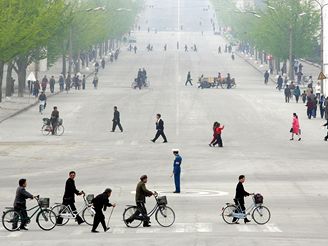 Pyongyang is a bustling city during the day. Behold the magnificent result of building roads and infrastructure before supporting the free market.
Behold rush hour in the DPRK where government projects come before supporting the free market. Is this the mass transit version of the Volt?
You see Mr. Obama there are real world examples that exist where "someone else made that happen". I could have just as easily uploaded my photos from my 1982 trip across East Germany and day in East Berlin. However 30 years later those smart people scrapped that system in favor of ours.
I'm just trying now to figure out how you are so far removed from reality. Perhaps the Choom Gang has been re-birthed in the West Wing?

---
TOPICS: Business/Economy; Government; Politics
KEYWORDS: capitalism; communism; dprk; obama
---
---
---
---
---
---
---
---
---