---
New Poll Proves Mitt May Lose - Coulter Right the First Time?
PolitiJim.com ^ | 7-19-12 | PolitiJim (@politiJim)


Posted on 07/19/2012 1:37:16 PM PDT by rightjb
Completely ignoring her original CPAC speech claiming that the GOP would loose if Mitt Romney was their nominee, she and others proceeded to make the exact opposite case that ONLY Mitt Romney had a chance in hell of winning in November. It seems hell is closed for expansion renovations.
A new Economist/YouGov poll shows that twice as many Americans believe that Mitt Romney eliminated many jobs as opposed to creating many. Wasn't this supposed to be his big selling point?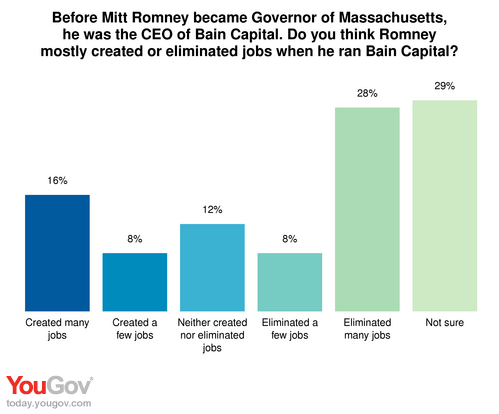 Remember, all the reasons the RINO's, and betraying turncoats like Coulter, gave us to toss aside the most powerful conservative Speaker in our time who could legitimately claim the creation of 12 million jobs while balancing the budget four consecutive times, and beginning entitlement reform? Let's take a quick mid-term grade report:
As mentioned yesterday, since Mitt can't spend is general election dough and can only use his primary money he is getting hammered in total ad spending.
Conn Carroll writes this morning:
Continued at: New Poll Proves Ann Coulter Was Right the First Time

(Excerpt) Read more at politijim.com ...
---
TOPICS: Politics
KEYWORDS: 2012election; anncoulter; chosenloserromney; loserromney; mittromney; rinoromney; romney
---
Navigation: use the links below to view more comments.
first 1-20, 21-29 next last
---
---
---
---
---
---
---
---
---
---
---
---
---
---
---
---
---
---
---
---
---
Navigation: use the links below to view more comments.
first 1-20, 21-29 next last
---
---