---
To: RWGinger
Here's "no theory," Obama either wrote the bio for his first book, 'Dreams from My Father,' or he gave the information to the Publisher that he was born in Kenya.
And if you think Obama's Publisher made it up, you're a candidate to buy swampland for $10,000 an acre.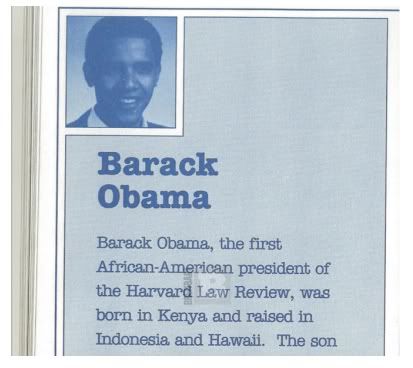 ---
To: Red Steel
??
Did you read my post?
Did you read the link?
Root says 0dumbo was known as barry soetoro at the time at Columbia and then says he, root , has NEVER heard of 0dumbo.
As i pointed out this is the kind of contradiction the obamites and lefties will jump all over
I am not sure how you got from that that i think 0dumbo is anything but a vile lying pos
---
To: Red Steel
---
To: Red Steel
I love that picture:
Barack Obama - First Birther...
51
posted on
08/07/2012 7:35:20 PM PDT
by
GOPJ
(..convinced if you put a compass in the hands of a liberal, it will point south -Fr Neveronmywatch)
---
FreeRepublic.com is powered by software copyright 2000-2008 John Robinson