---
Say What?...Stupid Things Liberals Say; Aug 15th Edition
Flopping Aces ^ | 08-15-12 | Gary Kukis


Posted on 08/15/2012 9:40:12 AM PDT by Starman417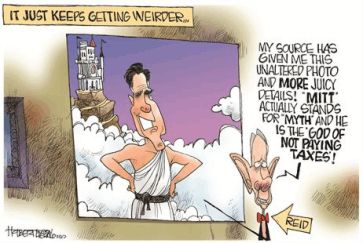 Liberals:
President Obama to some Olympic wrestlers: "You know, for wrestlers you smell pretty good."
Rep. Alcee Hastings (D-FL), remembering that, six months ago, conservative Allen West brought Chick-fil-A food in for the Congressional Black Caucus to eat: "We have fried chicken. And we have catfish and BBQ. We do not have watermelon, although sometimes people will have fruit. We serve a full course meal with collard greens. We have Jamaican beans and rice...[But West] sent Chick-fil-A with biscuits. Ok? That was an `in your face.' Every member of the Congressional Black Caucus that was there was offended." 6 months ago. He's still offended and talking about it.
Liberals on the economy:
President Obama: "And listen the reason we do that is not because we love paying taxes, I would end up having to pay more under my plan, and it's not like I love paying taxes, but I understand that I have to do more, I've been so blessed and invest in things like education that will help us grow the economy."
President Obama: "I said, I believe in American workers, I believe in this American industry, and now the American auto industry has come roaring back. Now I want to do the same thing with manufacturing jobs, not just in the auto industry, but in every industry."
President Obama: "[W]e've come too far to turn back now. We've got too much more work to do. We've got too many good jobs we've got to create. We've got too many teachers we still need to hire. We've got too many schools we need to rebuild."
Liberals on Obamacare:
Obama campaign person, Stephanie Cutter: "...on top of the savings we've already achieved; you know, I heard Mitt Romney deride the $700 billion cuts In medicare that the president achieved through healthcare reform." Which, the legislation never did anything which actually cut this or that wasteful portion of medicare; they just legislatively reduced their budget by that amount.
Liberals going green:
Senate leader Harry Reid: "These people [who oppose the Democrat "green agenda"] aren't just on the other side of this debate. They're on the other side of reality. It's time for us all - whether we're leaders in Washington, members of the media, scientists, academics, environmentalists or utility industry executives - to stop acting like those who ignore the crisis or deny it exists entirely have a valid point of view. They don't. Virtually every respected, independent scientist in the world agrees the problem is real, and the time to act is now. Not tomorrow. Not a week from now. Not next month or next year. We must act today."
Liberals going pink:
CodePink email: "CODEPINK is asking activists and artists across the nation to submit artistic representations of vaginas for us to deliver to the Republican Headquarters in Tampa. Draw out a message that the Republicans need to see bright and bold! We suggest you create vagina artwork on 8 1/2? x 11? fabric or paper. We will quilt the art together to carry in the March on the RNC on August 27th. We are also calling for vagina costumes that we can wear in the streets. Is sewing your passion? Do you love repurposing thrift store finds? We'd love to wear your costume!"
Perhaps these ladies just enjoy playing "dress up"?
Liberal war on Christianity:
President Obama: "Thomas Jefferson once held a sunset dinner here with an envoy from Tunisia - perhaps the first Iftar at the White House, more than 200 years ago. And some of you, as you arrived tonight, may have seen our special display, courtesy of our friends at the Library of Congress - the Koran that belonged to Thomas Jefferson. And that's a reminder, along with the generations of patriotic Muslims in America, that Islam - like so many faiths - is part of our national story." Muslims make up less than 1% of the population of the United States. Although Thomas Jefferson owned a Koran, this appears to be more for his general education, rather than giving ascent to anything found in the Koran. Jefferson went to war against the Muslims, against their Barbary pirates of that time period (if memory serves, I did an article on this some time ago in an old CR).
The Liberal agenda:
AFL-CIO President Richard Trumka on the White House approving the Keystone XL pipeline project in Obama's second term: "A lot of people try to say it is either/or. Either you do the project or you destroy the environment. I think there is a way to do things both ways. Where you can do things without destroying the environment. I think that project and others have every chance of success doing it the right way." Or, simply elect Romney, so it's a sure thing.
Liberals on the 2012 election:
First Lady Michelle Obama: "So if you're making calls, knocking on doors, bring that friend, that little lazy friend, bring them."
Michelle Obama: "All of us know that one person in our lives, that one knucklehead nephew who's not registered to vote; that one neighbor who's not really payin' attention; or that one person in your office that's confused about how Barack's tax plan will benefit that individual." There's a tax plan?
The knuckleheads and confused types that I know seem to already belong to a political party.
Michelle Obama: "Are you ready for this? Are you ready to roll up your sleeves, find that one person? Shake them up. Get them involved."
(Excerpt) Read more at floppingaces.net...

---
TOPICS: Government; Politics
KEYWORDS: biden; obama; pelosi



---
To: Starman417
I sent code pink a photo of Chris Matthews and told them he's a real representation of a vagina.
2
posted on
08/15/2012 9:46:06 AM PDT
by
blueunicorn6
("A crack shot and a good dancer")
---
To: Starman417
---
FreeRepublic.com is powered by software copyright 2000-2008 John Robinson