---
Homosexual Hatemonger Wayne Besen Reaffirms Smear of FRC as 'Hate Group'
Americans for Truth About Homosexuality ^ | Aug 22 2012 | Peter LeBarbara


Posted on 08/22/2012 7:03:56 AM PDT by scottjewell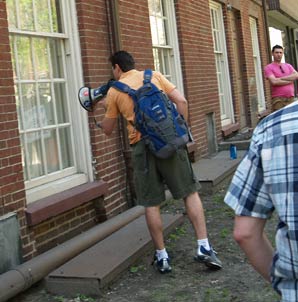 God willing, the last few weeks could go down as a turning point in the struggle against the intolerant, aggressive — and often very hateful — Homosexual Lobby in America.
First, as many of you know because you participated in it, Americans rallied by the hundreds of thousands behind Chick-fil-A in what I'm calling the first national repudiation of pro-"gay" political correctness in a long time. Then, those of us whose news was not filtered by the liberal media [see this report by Media Research Center] learned of the anti-Christian (politically motivated) "hate crime" at the Family Research Council — which might have been a bloodbath had hero Leo Johnson not stopped "gay" activist Floyd Corkins from going on a shooting spree.
I used to work at FRC, in the same building at 8th & G Streets NW, in Washington, D.C., where gunman Corkins walked in carrying 15 Chick-fil-A sandwiches and 50 rounds of ammunition. It lends a whole new meaning to the term "Culture War" to realize that people you know — wonderful Christian advocates like Peter Sprigg [interviewed recently by AFTAH: see Part 1; Part 2; and Part 3]– could have lost their lives at the hands of a sexually-confused, homicidal hatemonger. (Corkins volunteered at a D.C. "gay" center — a fact conveniently left out in some major media reports of the attack.)
As you can imagine, this story hits close to home for those of us engaged in cultural battle against self-styled "queer" militants. Just last October, AFTAH, Christian Liberty Academy, and our pro-family honoree Scott Lively were targeted with a brazen brick attack by pro-homosexual activists, accompanied by a bizarre, al Qaeda-like threatening manifesto published on a left-wing Chicago website.
But what happened at FRC takes it up a notch and shows the truly dangerous implications of the Gay Lobby's fanatical propaganda campaign to redefine historic, Judeo-Christian sexual morality as "hate." Of course, Floyd Corkins is responsible for this crime, but homosexual activists, the leftist Southern Poverty Law Center (SPLC), and the "gay"-cheerleading media are responsible for indulging a preposterous and evil narrative that equates Christian pro-family groups like FRC and AFTAH with racist fringe groups like the KKK.
We will not stand idly by and be smeared by hateful pressure groups using ends-justifies-the-means, Saul Alinsky-type dirty tactics to demonize their opponents. Thankfully, many millions of Americans are finally seeing through the media bias and "getting it" that the real (and well-organized) haters in America are on the Left.
Besen's Bigoted Bluster
Make no mistake: the homosexualist vilification campaign against pro-family people of faith continues unabated even after Corkins' attempted terrorism. You can read HERE how homosexual activist Wayne Besen — largely considered by my conservative colleagues to be one of the nastiest "gay' activists on the LGBT side — arrogantly writes that despite its protestations, FRC must still be considered a "hate group." My jaw nearly dropped to the floor as I read this line by Besen — who proudly coined the hateful smear "Porno Pete" for yours truly:
"If the FRC wants to stop being labeled a hate group, it must stop doing and saying hateful things." READ MORE @ LINK.

---
TOPICS: Society
KEYWORDS: 2012; democrats; frc; homofascism; homosexualagenda; liberalviolence



---
To: scottjewell
If that were my window that a**hole with the bullhorn would be needing surgery to remove it from his larynx.
2
posted on
08/22/2012 7:07:57 AM PDT
by
Lurker
(Violence is rarely the answer. But when it is it is the only answer.)
---
To: Lurker
Yes, Besen is aggressive and obnoxious, and known for being so. How he has gotten away with it for so long is a question without an answer.
---
To: scottjewell
Thanks for the reminder that today is Wednesday, Chick-Fil-A day.
It is now a regular in my office. And we can only hope that some hatemonger will be at our local establishment with a bull horn.
Hope he/she/it likes that bullhorn with sauce.
---
To: Da Coyote
---
To: AdmSmith; AnonymousConservative; Berosus; bigheadfred; Bockscar; ColdOne; Convert from ECUSA; ...
---
FreeRepublic.com is powered by software copyright 2000-2008 John Robinson