---
In 1842 Abraham Lincoln Once Nearly Dueled a Rival with a Broadsword
Mental Floss ^ | September 22, 2012 | Julia Davis


Posted on 09/22/2012 11:11:14 PM PDT by DogByte6RER

The Time Abraham Lincoln and a Political Rival Almost Dueled on an Island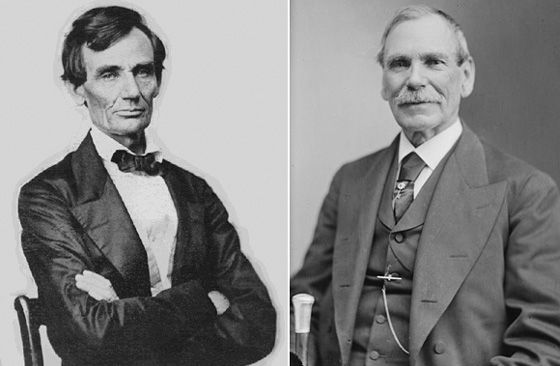 Exactly 170 years ago today, the Mississippi River levee in Alton, Illinois, was crammed full of spectators awaiting the results of a highly anticipated duel — a smackdown between Abraham Lincoln and political rival James Shields. Only one man could emerge victorious. Onlookers held their breath in suspense as they spotted a boat approaching with a blood-soaked body draped over the bow.
It had all started where so many skirmishes do: the Illinois state legislature. Though at the time Lincoln was a Whig and Shields was a Democrat, the two politicians had an amicable relationship and worked together to address the state's enormous debt problem.
The relationship cooled, however, when Shields became the State Auditor. He passed a number of controversial measures and even instituted a policy whereby the state stopped accepting its own paper money as payment of taxes and other debts.
Lincoln expressed his disapproval in the most professional, statesman-like fashion he could think of: by anonymously lampooning Shields in print. He began composing letters to a Springfield paper deriding Shields' character as well as his policies.
Poking fun at Shields wasn't hard to do. He was notoriously pompous, vain, and a tad eccentric. Opponents dubbed him "an irresistible mark for satire." Putting his infamously sarcastic wit to work, Lincoln created two fictitious characters — Jeff and Rebecca — who were unable to pay their debts because the state no longer accepted paper money.
He also poked fun at Shields' lack of romantic game. One letter, signed "Rebecca," quoted Shields as saying, "Dear girls, it is distressing, but I cannot marry you all . . .

(Excerpt) Read more at mentalfloss.com ...
---
TOPICS: Chit/Chat; Government; History; Miscellaneous; Society
KEYWORDS: 1842; abrahamlincoln; duel; lincoln; swordfight; tacticaladvantage; troll; whigparty
---
---
---
---
---
---
---
---
---
---
---
---