---
If You Can't Control A Network, Give The Owner's Wife A Meaningless Diplomatic Post
Flopping Aces ^ | 10-04-12 | Skookum


Posted on 10/04/2012 9:30:14 AM PDT by Starman417
If you can't control a news outlet, make the owner's wife our representative to the UN
President Obama made a smart, but underhanded move to control the Spanish television news outlet Univision.
Univision has been highly critical of the Obama/Holder plan to supply Mexican Drug Cartels with military grade weaponry through the notorious and highly illegal gun running scheme called Fast and Furious, an operation that would have brought down an administration except for the unique situation of the president controlling the press and in effect, making a mockery of the First Amendment.
Weapons from the operation have killed two federal agents so far and hundreds of Mexican nationals.

Obama's and Holder's contributions to the Mexican Drug War
It is imperative for the president to maintain the loyalty of the Hispanic community to have a chance of reelection, and although the Spanish speaking Univision has not mentioned Obama or the racist lackey posing as Attorney General specifically, they have chosen the ATF to be the responsible party. Univision did interview Obama, and for the first time during his presidency he was asked difficult questions, including questions about Fast and Furious.
Although Cheryl Saban has no real qualifications for the post (she has been active in charity work); she is the wife of Haim Saban , an Israeli billionaire who donated a million dollars to an Obama Super Pac. Haim is the owner of Univision, the Spanish network currently conducting its own investigation of Fast and Furious.
The Spanish language television news network Univision unleashed a bombshell investigative report on Operation Fast and Furious Sunday evening, finding that in January 2010 drug cartel hit men slaughtered students with weapons the United States government allowed to flow to them across the Mexican border.

"On January 30, 2010, a commando of at least 20 hit men parked themselves outside a birthday party of high school and college students in Villas de Salvarcar, Ciudad Juarez," according to a version of the Univision report in English, on the ABC News website.

"Near midnight, the assassins, later identified as hired guns for the Mexican cartel La Linea, broke into a one-story house and opened fire on a gathering of nearly 60 teenagers. Outside, lookouts gunned down a screaming neighbor and several students who had managed to escape. Fourteen young men and women were killed, and 12 more were wounded before the hit men finally fled."

Citing a Mexican Army document it obtained and published, Univision reported that "[t]hree of the high caliber weapons fired that night in Villas de Salvarcar were linked to a gun tracing operation run by the Bureau of Alcohol, Tobacco, Firearms and Explosives (ATF)." That operation was Fast and Furious.

The "massacre," as Univision described it, was not the only bombshell the network unveiled in its Sunday evening report.

"Univision News identified a total of 57 more previously unreported firearms that were bought by straw purchasers monitored by ATF during Operation Fast and Furious, and then recovered in Mexico in sites related to murders, kidnappings, and at least one other massacre,"
Skeptics are insinuating Obama is using a diplomatic appointment to shut down the investigation.
Mrs Saban was appointed one day before President Obama was to appear on the Spanish network for an interview.
Q Mr. President, you told me during an interview that you -- Eric Holder or you did not authorize the Fast and Furious operation that allowed 2,000 weapons from the United States to Mexico, and they were in drug-trafficking hands. I think that up to 100 Mexicans might have died, and also American agent, Brian Terry. There's a report that 14 agents were responsible for the operation. But shouldn't Attorney General Eric Holder -- he should have known about that. And if he didn't, should you fire him?

THE PRESIDENT: Well, first of all, I think it's important for us to understand that the Fast and Furious program was a field-initiated program begun under the previous administration. When Eric Holder found out about it, he discontinued it. We assigned an inspector general to do a thorough report that was just issued, confirming that, in fact, Eric Holder did not know about this, that he took prompt action and the people who did initiate this were held accountable.

But what I think is most important is recognizing that we've got a challenge in terms of weapons flowing south. And the strategy that was pursued, obviously, out of Arizona, was completely wrongheaded. Those folks who were responsible have been held accountable. The question now is how do we move forward with a strategy that will actually work.

And we are going to have to work with Mexican law enforcement to accomplish this. But I will tell you that Eric Holder has my complete confidence because he has shown himself to be willing to hold accountable those who took these actions and is passionate about making sure that we're preventing guns from getting into the wrong hands.

Q But if you have nothing to hide then why are you not releasing papers to this?
(excerpt) Read more at floppingaces.net...

---
TOPICS: Government; Politics
KEYWORDS: guns; mexico; obama



---
To: Starman417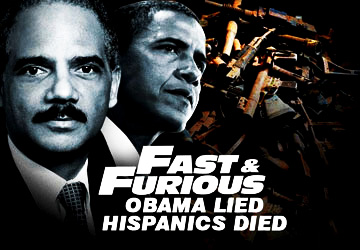 ---
To: Starman417
...Fast and Furious, an operation that would have brought down an administration except for the unique situation of the president controlling the press...
I don't think that's it; I think it's because he has a (D) after his name. The press wouldn't have been on Clinton either, but if Fast and Furious had happened under a Republican administration, impeachment would've been in the air a year ago.

3
posted on
10/04/2012 9:44:58 AM PDT
by
libertylover
(The problem with Obama is not that his skin is too black, it's that his ideas are too RED.)
---
To: Starman417
If You Can't Control A Network, Give The Owner's Wife A Meaningless Diplomatic Post...
to Benghazi?
---
To: Starman417
If You Can't Control A Network, Give The Owner's Wife A Meaningless Diplomatic Post
The execs at NBC, CBS, ABC, CNN, MSNBC ... are going to be pissed - they've been kissing his ass all these years for free!

5
posted on
10/04/2012 10:36:46 AM PDT
by
The Sons of Liberty
("Get that evil, foreign, muslim, usurping, gay bastard out of MY White House!" FUBO!)
---
FreeRepublic.com is powered by software copyright 2000-2008 John Robinson