---
Awesome photos: Romney supporters pack rally in West Chester, Ohio
Twitchy ^ | 11/2/12


Posted on 11/02/2012 5:53:37 PM PDT by markomalley

The next President of the United States is in West Chester, Ohio, tonight for a campaign rally, and from the looks of things, it's a rousing success:
PHOTO: Great crowd building for @MittRomney in Ohio tonight #RomneyRyan2012 #tcot http://t.co/UuFx9wCX—
Zac Moffatt (@ZacMoffatt) November 02, 2012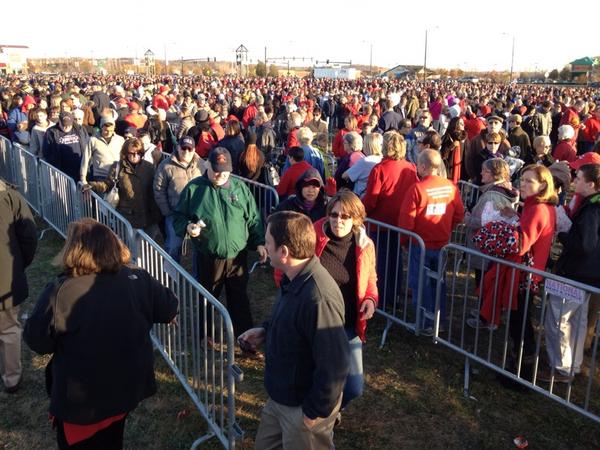 RT @rcmahoney This sea of thousands isn't the crowd in West Chester It's the line to get in. #huge @ West Chester, OH instagr.am/p/RixuwqCqq1/—
Sister Toldjah (@sistertoldjah) November 02, 2012
Oh wow!! =>"@greghartmann: West Chester ready for Romney and The Kid! twitpic.com/b9qwz0" #Ohio #MittMentum #tcot #tiot—
(@EdwardMKE) November 02, 2012
WOW ~ @DTCahill: On my, oh my, oh my .. RT @1450WMOHNEWS Waiting for Mitt Romney in West Chester, Ohio http://t.co/p32hydYT"—
Larry Cragun (@LarryCragun) November 02, 2012
Nicole Scholes of West Chester cheers on Kid Rock at Mitt Romney rally – #ohel – http://t.co/3aAbXVxB—
WestChesterBuzz (@westchesterbuzz) November 02, 2012
Don't tell me Ohio don't like Romney,this was overflow !!
Proud coal miner son :-) http://t.co/aIcSoa7s—
Rodney Evans (@RodneyEvans) November 02, 2012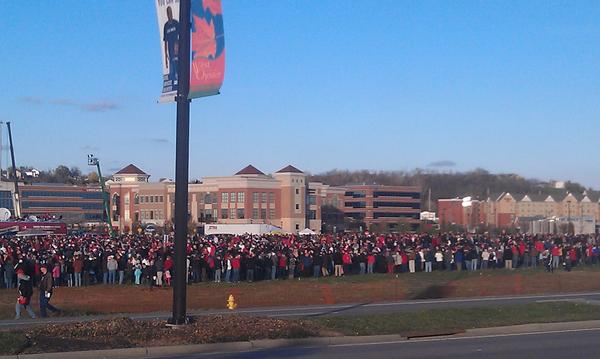 #RomneyRyan #WestChester #Rally @ Romney-Ryan Rally West Chester, Ohio instagr.am/p/Ri2d5wijr6/—
Brennan Hall (@bren_nan) November 02, 2012
Insane. There are 35k people at Romney rally in West Chester #Ohio. Thats the Mo in #momentum RT @Rick_Gorka: Kid Rock po.st/pqQFU2—
(@LiberTeaTarian) November 02, 2012
Kid Rock, at Romney Rally: "Born Free," yells, "Go Romney! Go Ryan! We can get this done Ohio!"" #AmericasComebackTeam—
Philip Boynton (@Philip_Boynton) November 02, 2012
Pssst THIS -> @jimacostacnn: Kid Rock sings Romney campaign theme song "Born Free" to massive Ohio crowd instagr.am/p/Ri3JHvguYZ/—
SalenaZito (@SalenaZitoTrib) November 02, 2012
More #Romney rally photos: RT @LindaCarmel: RT @DanTheDaily: the Romney crowd in West Chester #Ohio http://t.co/f0uBEBbk—
Hoosier Mama (@WhyAskWhy2U) November 02, 2012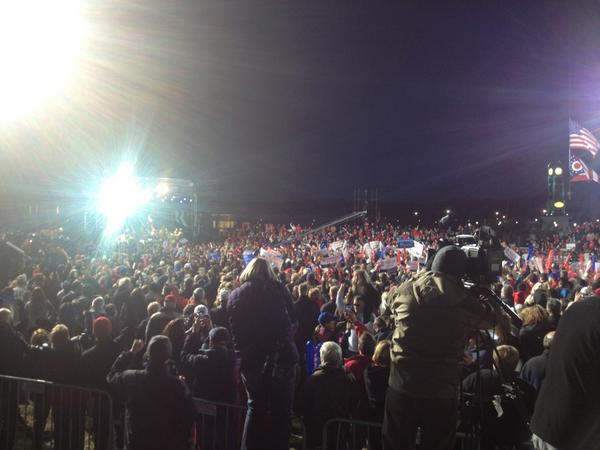 https://twitter.com/fifthinstructor/status/264500825144049664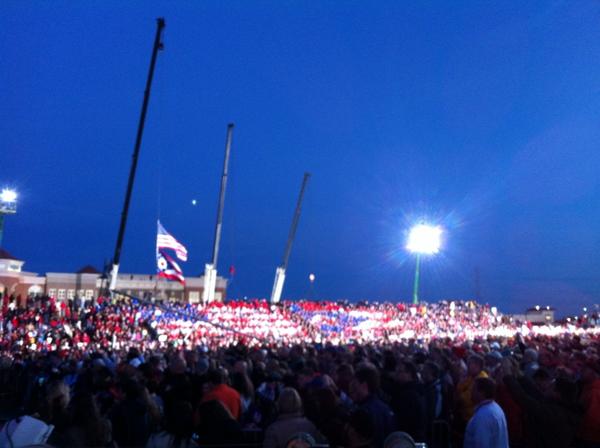 A view from backstage. Just a sea of fired up Ohioans ready for real change. #romneyryan2012 #tcot instagr.am/p/Ri9V1OscpA/—
Rick Gorka (@Rick_Gorka) November 02, 2012
AWESOME!! #360panorama Photo of Romney/Ryan Rally In Ohio! 360.io/gjYXHP—
Alicia Turner (@libertyjibbet) November 02, 2012
We're still waiting on an official head count (estimates range from 20,000 to 35,000 or more), but we're willing to bet that Sandra Fluke is green with envy.
LOVE seeing the crowd in Ohio to see Romney/Ryan. Makes me feel like there is hope to win OHIO and the country!!!—
(@MomsMotivated) November 02, 2012
Update: The Dayton Daily News estimates the crowd at 25,000.
Romney rally in West Chester is biggest in Ohio yet. Estimated crowd at 25,000 in Republican heartland of the state. #ohiopolitics—
(@Ohio_Politics) November 03, 2012
***
Related:
#RomneyRyan2012 rally in NC: On-scene reports, photos show overflow crowd fired up, ready to go
Squirrel! Romney packs Red Rocks; libs want to talk … New Deal?
Wow! Romney/Ryan rally rocks in swing state Nevada with massive, diverse crowd
Momentum: Pics show huge crowd braving frigid temps to support Romney/Ryan in Ohio
Fired up! Pics show massive Romney crowd in Pensacola, Fla.; Form flag, chant '10 more days'

---
TOPICS:
Politics
KEYWORDS:
---
Navigation: use the links below to view more comments.
first 1-20, 21-40, 41-50 next last
---
---
---
---
---
---
---
---
---
---
---
---
---
---
---
Comment #15 Removed by Moderator
---
---
---
---
---
---
Navigation: use the links below to view more comments.
first 1-20, 21-40, 41-50 next last
---
---