---
Palestinian by Proxy (Anti-Israel Hate Rally in Times Square)
American Rattlesnake ^ | November 20, 2012 | Gerard Perry


Posted on 11/20/2012 6:11:21 PM PST by OddLane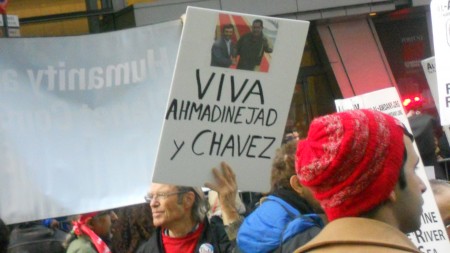 One image taken from the pro-Hamas rally held by Al-Awda NY, among other anti-Israel organizations, in Times Square this weekend. I wish I could say that it was anomalous in some way, but the inexorable truth is that the physically and intellectually etiolated creature you see above was probably as representative of the spirit of this demonstration as any of the participants. That a decrepit red diaper baby extolled the Marxist, Latin American despot Hugo Chavez is not surprising, although neither should be his admiration for Chavez's staunch ally Mahmoud Ahmadinejad. A man who shares with his equally anti-Semitic friend a history of manipulating election results.
The domestic alliance between socialist and communist true believers and obscurantist, apocalyptic Islam is mirrored to a large degree in the Gaza Strip itself, where rejectionist strands of the PLO, such as the Marxist-Leninist PFLP, join forces with the Al-Qassam Brigades in shelling Israeli civilians. I'm not sure what end game the Trotskyites in the Spartacist League have in mind, but I have the nagging suspicion it doesn't quite sync with the ultimate goals of Hamas, Palestinian Islamic Jihad, or the Al Qaeda-inspired salafists currently vying for control of the Gaza Strip and West Bank.

(Excerpt) Read more at american-rattlesnake.org ...
---
TOPICS: Government; Politics; Religion
KEYWORDS: hamas; islam; israel
---
---
---
---
---
---
---
---
---
---
---
---
---
---