---
Fantasy v. Reality (The Fight For Israel's Reputation)
American Rattlesnake ^ | November 23, 2012 | Gerard Perry


Posted on 11/23/2012 4:58:51 PM PST by OddLane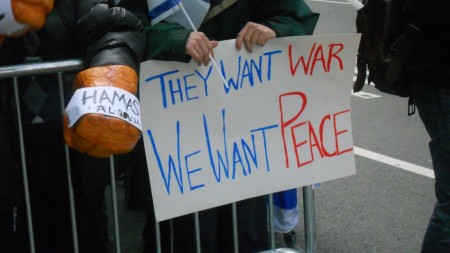 One of the chief distinctions between the anti-Israel rally and the slightly smaller, yet equally exuberant, pro-Israel counter-demonstration held in Times Square this weekend was the sentiments expressed by the participants. While the former vocalized their antipathy towards Israel and the United States and demanded ordinary Israelis be punished-through measures such as the BDS movement-and spent most of their time anathematizing Jews in the most historically inaccurate way possible, the latter concentrated mostly upon messages of solidarity with Israel.

(Excerpt) Read more at american-rattlesnake.org ...
---
TOPICS: Government; Miscellaneous; Politics; Religion
KEYWORDS: gazastrip; hamas; israel

There were, of course, expressions of hostility towards the jihadists who have instigated the current wave of bloodshed, and who continued to barrage terrified Israeli civilians with Iranian-designed missiles even as this was being written.

However, I saw no generalized contempt for the Palestinian people, or even the bellicose Islamist leaders of neighboring countries who exhorted those currently entrusted with power in the Gaza Strip to stand their ground.
---
To: SJackson; Yehuda; PGalt
---
To: justiceseeker93; firebrand; dervish
---
To: OddLane
Israel already has about 600 nukes.
Turkey as a NATO member has nukes in their country to store and use at will.
Pakistan also has nukes.
It's not gonna make any difference if Iran obtains nukes. There's nobody they can use it against without being hit back. Low yield tactical is used for first strike for offensive conventional engagements .
Retaliation strikes are for annihilation .
---
To: Morris70
Demography is the real atom bomb in this scenario.
---
Comment #6 Removed by Moderator
---
FreeRepublic.com is powered by software copyright 2000-2008 John Robinson