---
To: EternalVigilance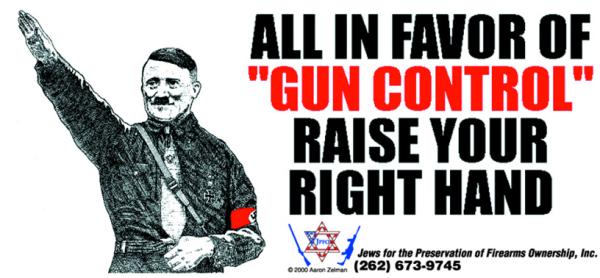 ---
To: fieldmarshaldj
"Before a standing army can rule, the people must be disarmed, as they are in almost every kingdom in Europe. The supreme power in America cannot enforce unjust laws by the sword, because the whole body of the people are armed, and constitute a force superior to any band of regular troops that can be, on any pretense, raised in the United States. A military force, at the command of Congress, can execute no laws, but such as the people perceive to be just and constitutional; for they will possess the power, and jealousy will instantly inspire the inclination, to resist the execution of a law which appears to the unjust and oppressive."

– Noah Webster, An Examination of the Leading Principles of the Federal Constitution (October 17, 1787)
---
To: fieldmarshaldj
My boots don't click and I can't raise my arm due to a rotator cuff operation and I need my right arm to hold my gun.
Sorry.
So sad....
19
posted on
01/03/2013 12:16:16 AM PST
by
Vendome
(Don't take life so seriously, you won't live through it anyway)
---
To: fieldmarshaldj
But what good would it have done only 10 years ago to say, "we will! Not stop smoking?" Then they taxed it out of existence. Watch for taxes on bullets and magazines...we will be usig sling shots In 10 years. (Well that is "some" of us).
28
posted on
01/03/2013 4:52:50 AM PST
by
ThePatriotsFlag
(...and to the Republic for which it STOOD...)
---
FreeRepublic.com is powered by software copyright 2000-2008 John Robinson