---
Woman Faints and Falls on Subway Tracks
Former Fetus


Posted on 01/21/2013 2:07:56 PM PST by Former Fetus

A 51-year old woman in Madrid (Spain) fainted and fell on the subway tracks, just as a train was approaching the station. The story is reported in El Pais. Since it is in Spanish, I will summarize the story here, and you can watch the VIDEO .

When the woman fell on the tracks, an off duty policeman jumped on the tracks, picked up the unconscious woman and carried her away from the incoming train. Because of the waving of the people at the station, the conductor was able to stop the train on time, and the policeman lifted the woman on the platform with some help from other people. Meanwhile, the conductor called an emergency, stopping all trains on that line until the woman had been removed from the tracks. The woman was taken to a hospital and the policeman went on to his scheduled class (he's trying to get a promotion).

What a difference between this incident and the ones that have taken place in NY! There's a hero, willing to risk his life to save somebody else's, the people on the platform reacted and stopped the incoming train, and the conductor made sure there were no other trains running until the woman had been removed to safety.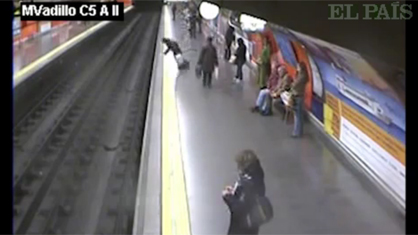 ---
TOPICS: Local News; Society
KEYWORDS: rescue; subway
---
---
---
---
---
---
---
---
---
---